To better understand the health needs of our community, the Chicago Department of Public Health (CDPH) conducts a Community Health Assessment and develops a Community Health Improvement Plan every five years. CDPH completes these through collaboration with the Partnership for Healthy Chicago. This work aligns with requirements for National Public Health Department Accreditation and local public health certification.
CDPH utilizes the Mobilizing for Action through Planning and Partnerships framework for planning, which was developed by the Centers of Disease Control and Prevention (CDC) and the National Association for County and City Health Officials.
The Healthy Chicago 2025 Assessment has many phases, including:
The Partnership for Healthy Chicago (Partnership) members represent entities that contribute to the health of our communities, including: governmental agencies; provider, hospital and health center associations; schools and academia; research and policy organizations; faith-based organizations, business associations; and community and social service organizations. The Partnership for Healthy Chicago is co-chaired by the CDPH and one partner organization, the Metropolitan Planning Council (as of 2018). CDPH staffs the Partnership.
The Partnership developed this vision for Healthy Chicago 2025 as "A city where all people and all communities are empowered, free from oppression and strengthened by equitable access to resources, environments and opportunities that promote optimal health and well-being."
Community Themes and Strengths: An analysis of community feedback on the strengths and areas for improvement in their community and Chicago. Data were collected through an online survey, focus groups, priorities identified in community plans and feedback on voter equity campaigns. CDPH worked with the Alliance for Health Equity, West Side United, LISC Chicago, United Way of Metropolitan Chicago, Health & Medicine Policy Research Group, Chicago United for Equity's Vote Equity Project and the UIC Center for Healthy Work. For the results of the Community Themes & Strengths Assessment, click here.
Forces of Change: An analysis of forces and trends that may impact Chicagoans' health and the public health system within the next five years. These data were collected from an online survey of public health system stakeholders and refined by the Partnership. For the assessment results, click here.
Community Health Status: An analysis of data on many factors affecting community health, including health statistics and data on social determinants of health (education, income, demographics, housing, environment, etc.). The CDPH Office of Epidemiology completed this assessment in partnership with the Partnership data committee. For the results of the Community Health Status Assessment, click here.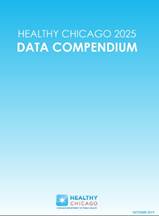 For more data, see CDPH Data Compendium, released October 2019
Local Public Health System: An analysis of the capacity of the public health system to forward health equity. The assessment was developed by the Partnership and focused on five components of health equity and the Ten Essential Public Health Services. Almost 80 stakeholders participated in this assessment. For the assessment results, click here.
CDPH, the Partnership, stakeholders and community members reviewed findings from the above four assessments in comparison to the Healthy Chicago 2025 vision. We held three community meetings in North Lawndale, Woodlawn and Humboldt Park where we shared what we've learned and heard priorities from community organizations and community members. From these meetings, four goals emerged to help us reach our vision:
Transform policies and processes to foster anti-racist, multicultural systems
Strengthen community capacity and youth leadership
Improve Systems of Care for populations most affected by inequities, related to:

Behavioral Health
Maternal and Child Health
Access to Health and Human Services

Further the health and vibrancy of neighborhoods most affected by inequities in the areas of:

Affordable, safe and healthy housing
Food access
Healthy environments
Community safety
Neighborhood development
Next Steps
Starting in September, work groups are meeting to finalize strategies for each of the areas identified in the above goals. Over 600 public health stakeholders and community members are engaged in this work.
Please send your feedback, suggestions and questions on Healthy Chicago 2025 by emailing: healthychicago2.0@cityofchicago.org