Chicago Cultural Center > Visual Art Program > Exhibitions > Past Exhibitions > Adebukola Bodunrin, Cecil McDonald, Jr. and Mahwish Chishty
(click on images to enlarge)
Film, video and installation artist Adebukola Bodunrin, photographer Cecil McDonald, Jr. and Painter Mahwish Chishty represent the inaugural group of DCASE Artists in Residence working in a private studio at the Chicago Cultural Center. This exhibition presents a view of the studio practice that evolved during their residencies.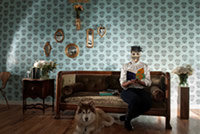 Adebukola Bodunrin researched and tested new projection and animation techniques exploring our collective obsession with destruction and the artist's own interest in creation myths. Cecil McDonald, Jr. is currently engaged in a studio practice at the Chicago Cultural Center that uses photography to reconstruct everyday moments that he will incorporate into an evolving installation that blurs the line between private practice and public exhibition. Mahwish Chishty vastly expanded the scale of her work beyond her formal training as a miniaturist to richly embellish the enigmatic images of drones, shining light on and through them, effectively disarming them in the process.
Dates:
Through August 9, 2015
Reception: Friday, June 19, 2015 from 5:30–7:30 pm in the Michigan Avenue Galleries. Join Artists and Curatorial Fellows as they discuss their work in the Garland Gallery.
Gallery Talks:
Monday, July 6, 5pm: Gallery Talk with Adebukola Bodunrin with Amir George
Thursday, July 16, 12:15pm: Gallery Talk with Mahwish Chishty
Thursday, July 30, 12:15pm: Gallery Talk with Cecil McDonald, Jr.
Hours:
Open when artists are present
Location:
Chicago Cultural Center, Michigan Avenue Galleries, 1st Floor South
78 E. Washington St
Chicago, IL 60602
Admission:
FREE
Accessibility:
The following services are available for persons with disabilities:
Accessible entrance, 77 E. Randolph St.
Accessible restroom facilities
Wheelchair loans, see information desk for availability
ASL interpreters are provided with 72 hours notice
Assisted Listening Devices available for public event
Public Transportation:
El: Pink, Orange, Green, Brown, Purple to Randolph; Blue to Washington; Red to Lake.
Bus: 3, 4, 6, 10, 14, 26, 143, 144, 146, 147, 151, 157.
Metra and South Shore to Millennium Station.
For more travel information, visit www.transitchicago.com