Leadership
Audrey L. Mathis
Director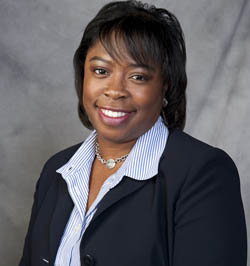 ---
Audrey Mathis was appointed to the position of director of 311 City Services in September 2010. She has nearly twenty years of experience in project management in City government, private development, and the non-profit sector. During this time, Audrey has worked with local businesses providing technical assistance to help leverage City programs for business retention and expansion. As a project coordinator for a real estate developer, she assisted with the planning, coordination, and implementation of development projects and later obtained her real estate license. While at the City's Department of Planning and Development, Audrey directed and managed the City's participation in joint development projects undertaken with public and private agencies, developers, and other municipal organizations. She also received a certificate for completion of the City of Chicago's Government Assistance Program for the Mayor's Management Institute at DePaul University.
As a special project manager for the Office of Emergency Management and Communications (311 City Services), she monitored, evaluated, and provided information to City departments and expedited areas of concern to ensure efficient and timely response for delivering city services to improve the quality of life of Chicago residents. As Deputy Commissioner of the Department of Community Development, Audrey was responsible for the direction and oversight of the creation, preservation, and sustaining long-term affordable ownership opportunities for residents of Chicago. In addition, her division managed programs and community service agencies focused on enhancing neighborhood business districts and industrial corridors throughout the City.
Now, as the Director of 311 City Services, Audrey believes her extensive experience provides a unique perspective on what is needed to ensure that 311 is run both efficiently and effectively for the citizens of Chicago.
Audrey was born in Chicago in the West Garfield community and shortly moved to the North Lawndale community. She attended St. Agatha elementary and later became a product of Providence St. Mel, the hard work high school. Audrey attended Illinois Institute of Technology majoring in Management Information Systems. She is married and has three lovely daughters.
Department Facts
Department: