Leadership
Patricia Jackowiak
Director/Chief Administrative Law Judge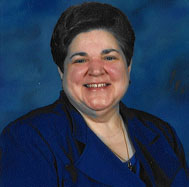 Patricia Jackowiak is the Director/Chief Administrative Law Judge of the City of Chicago's Department of Administrative Hearings. Ms. Jackowiak also served as the Deputy Director/Deputy Chief Administrative Law Judge until being appointed by Mayor Richard M. Daley as the Acting Director on August 27, 2010. Her appointment was confirmed by the City Council on October 6, 2010. Prior to serving in the Department of Administrative Hearings, Ms. Jackowiak was the Deputy Commissioner in the Chicago Department of Consumer Services' Consumer Protection Division. Before Ms. Jackowiak joined the City of Chicago, she was a Supervising Cook County Assistant State's Attorney assigned to the Child Support Enforcement Division.
Ms. Jackowiak, a lifelong Chicago resident, obtained her Juris Doctorate Degree from the John Marshall Law School in 1984. She received her Bachelor of Arts from Loyola University of Chicago, graduating with a Distinction in Political Science and minors in English and Philosophy. She was a member of Pi Sigma Alpha, the Political Science Honor Society.
Ms. Jackowiak is active in the community serving as Chairperson of the Santa Lucia Parish school board, Religious Education Instructor, past chair of the St. Barbara High School Advisory Board and Freshman Recruitment/Fund Raising Committees for Loyola University of Chicago. She has also served as Chairperson of the Ford Consumer Appeals Board, is a member of the Chicago Bar Association, the American Bar Association and the National Association of Administrative Law Judges. Ms. Jackowiak received a Youth Ministry Award from the Archdiocese of Chicago, a Distinguished Graduate Award from the National Catholic Education Association and a Superior Public Service Award from the City of Chicago.
Ms. Jackowiak's civic and community work has also been acknowledged by her inclusion in Who's Who publications of The World, American Law, American Women, Emerging Leaders and America's Midwest. Patricia was also included in the first edition of Who's Who Among Polish Americans.