Municipal Hearings Division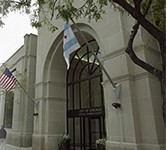 The Municipal Hearings Division hears cases initiated from the Departments of Police, Revenue and Water. Most violations involved:
Vehicle impoundments;
Police-issued tickets (i.e., curfew, disorderly conduct, trespassing, drinking on the public way, vandalism);
Business-related tax collections;
False burglar alarms;
Unauthorized placement of outdoor pay telephones; and
Wage garnishment.
For more information, please contact: Administrative Hearings, Municipal Hearings Division, 312.742.8209.
Supplemental rules of procedure for contested hearings before the Department of Administrative Hearings Tax Section.