Lost Pets and Stray Animals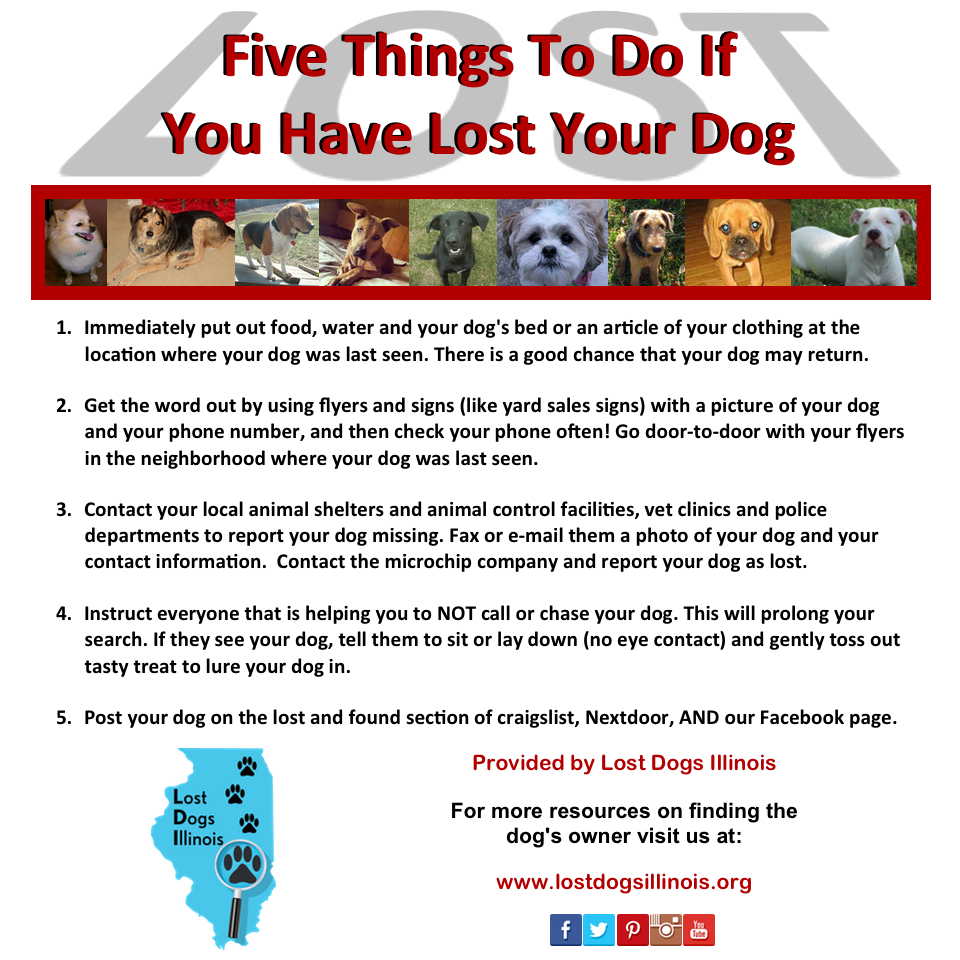 If you lost your pet in Chicago, please visit Chicago Animal Care & Control at
2741 S. Western Ave.
Photographs of stray animals are posted online as soon as animals arrive at the shelter and can be found at www.petharbor.com/chicago
If you find your pet on Petharbor, please make a note of the Animal ID number and bring it with you.
When you arrive at CACC to look for your pet, you will be asked to sign in at our Security Desk and complete a Lost Pet Report Form. In an effort to save time, you may print the Lost Pet Report Form, fill it out in advance and bring it with you. You will then be asked to view the lost animals on the Kiosk located in our lobby. If you have already viewed www.petharbor.com/chicago and you think you found your pet, please notify the staff at the front desk to expedite this procedure.
Kiosk Procedures: Click on Lost Dogs or Lost Cats and proceed to the bottom of the webpage. You will see a set of page numbers, the highest page number has the most recent animals impounded at our facility. View each animal record to see if you can find your pet. If you do find a photo where the pet resembles your pet, write down the Animal ID number and present it to the front desk staff along with your Lost Pet Report Form. If you do not find a your pet, you may still request to take a Lost Pet Tour.
Staff will review the Animal ID number and compare the information available on the Lost Pet Report Form and document the location of the animal in our facility. At that time, you will be escorted to the location of the animal for visual identification.
A Lost Pet Tour will still be provided if you do not see your pet on Petharbor. CACC provides Lost Pet Tours at 12:15 pm, 1:15 pm, 2:15 pm, 3:15 pm, 4:15 pm, 5:15 pm, and 6:15 pm seven days per week.
Please note: Dogs that arrive at our shelter without a tag, microchip or other form of identification will be made available for adoption and transfer to rescue agencies after 3 full viewing days at the shelter. Cats impounded without tags, microchip or other form of identification will simultaneously be marketed for redemption to owner, adoption, and transfer to rescue as soon as they arrive at the shelter.
Historic data shows that dogs that arrive in a shelter without an ID has a less that 2% chance of being reunited with their owner on the 4th of 5th day of impoundment, and stray cats without ID have a less than 2% chance of being reunited with an owner irrespective of the length of time the animal is held at the shelter. We strongly encourage pet owners to microchip and tag their pets.
To redeem a lost pet from Chicago Animal Care & Control, a valid photo ID is required to sign in at the facility and proof of animal ownership (veterinary records, purchase receipt, or pictures of the pet) must be provided.
---
LOST312 is a texting program to help reunite lost pets with their owners in the City of Chicago. LOST312 provides guidelines, tips, and resources to educate owners on how to find their pets sooner, which will also relieve some additional stress on the overcrowded shelters. Pet owners simply text the word "LOST" to 1-855-LOST312 to begin receiving step-by-step instructions on what they need to do to find their pet. LOST312 will also be offered in Spanish for our Spanish speaking community.
---
Redemption Fees will vary per situation:
Per chapter 7-12-120 of the municipal code of the City of Chicago, the Department shall charge and collect a redemption fee of $65.00 for the release of the animal from the Animal Control Center. This fee will include an updated rabies vaccination (if required), a microchip (if required), spay or neuter surgery (if required) and City Dog License (if required).
If your pet was involved in an animal bite incident, a fee of $150.00 will be incurred for the 10 day requirement impoundment.
Daily housing fee of $8.00 per day after the initial 10 day impoundment.
You may purchase a City Dog License from the Department with proof of your dog's rabies vaccination for the following:
Un-Altered Pet - $50.00
Altered Pet - $5.00
Un-Altered Pet - (Senior Citizen owner) - $5.00
Altered Pet - (Senior Citizen) - $2.50
Payment is accepted in the form of cash (exact amount required), personal check or credit/debit card.
---
Other agencies in Chicago that are approved to take in stray animals:
Animal Welfare League

6224 S. Wabash Ave

773.667.0088

Treehouse (Cats Only)

1212 W. Carmen Ave

1629 N. Ashland Ave

773.784.5488

Garrido Stray Rescue Foundation

Please call

773.416.4111

Harmony House for Cats (Cats Only)

2914 N. Elston Ave.

773.293.6103

Please contact these agencies directly for hours & fees associated with redeeming a lost pet.
Service Facts
Department:
People We Serve: