Chicago Animal Care and Control will be partnering with Cook County Animal and Rabies Control, One Tail at a Time and other agencies to provide FREE Pet Vaccine and Microchip Clinics in the communities.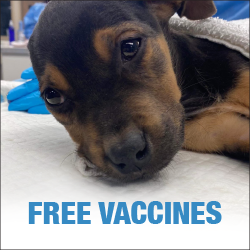 Below are the dates, times and locations of the clinics that are currently scheduled:
None scheduled at this time
Vaccine Clinic Rules:
Only open to Cook County Residents 18 years of age or older with valid Photo ID.
IF YOU OR YOUR PET IS SICK, YOU WILL NOT BE SERVICED. Pets showing signs of respiratory illness will not be serviced.
Be prepared for a long wait. Bring your own chair and water and expect to wait in any possible weather condition.
No petting of animals other than your own. No animal socialization will be allowed. You must maintain a distance of 6 feet between each animal.
Only TWO (2) pets per household are allowed at each clinic. Handling of animals must be self-sufficient by a competent adult greater than 18 years of age. Animal Control personnel or volunteers will not be allowed to handle leashes, hold or move cages, assist in restraint or touch animals or animal equipment of any kind.
ALL Dogs MUST be on a leash no longer than 6 feet long or in a carrier (DO NOT use retractable leashes).
ALL Cats MUST be in a carrier.
If your pet requires a muzzle during vaccinations or around other animals, YOU MUST bring your own. Muzzles are not available at the clinic. You MUST be able to handle your pet around other animals.