Chicago's first on-street bike parking corral installed
July 29, 2011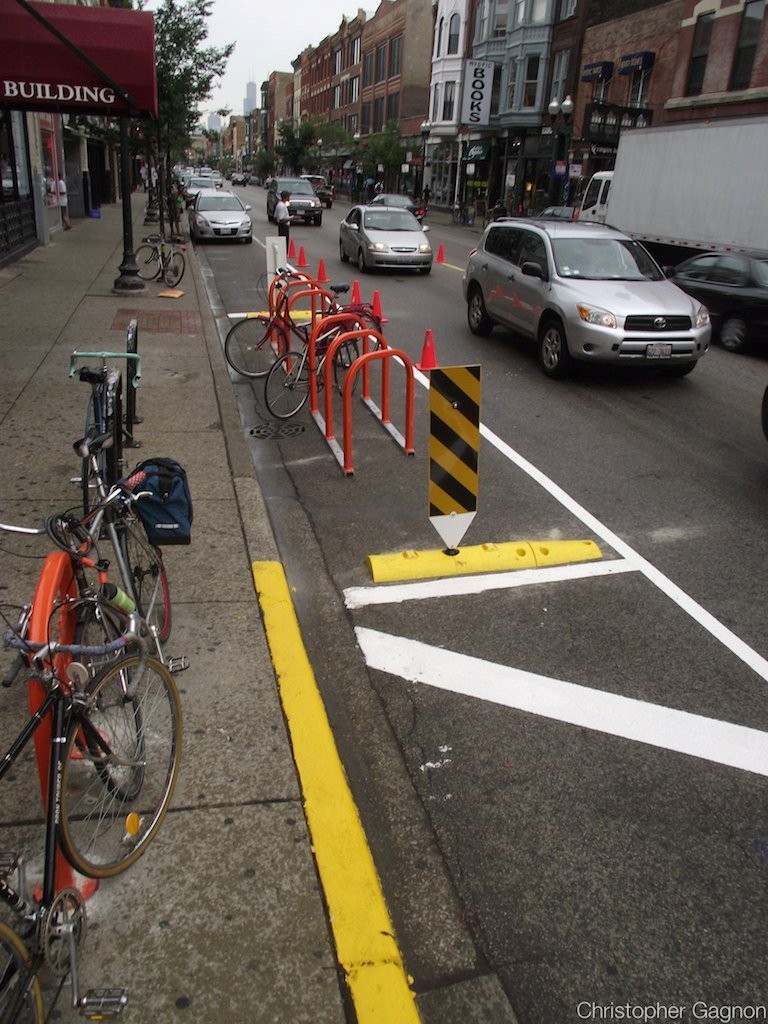 On Friday, July 29 at 5 p.m., CDOT will celebrate the installation of the city's first on-street bike parking corral on Milwaukee Avenue just south of North Avenue.
The new, multi-space corral provides space for 12 or more bicycles, in a space otherwise occupied by one or two cars. The corral, funded by the Wicker Park Bucktown SSA and installed by CDOT, is the first of several planned throughout the city.
Background
At the Bike to Work Day Rally in June, the Wicker Park Bucktown SSA received an MBAC award for its generous contribution to Chicago's cycling community: the City of Chicago's first on-street bicycle parking corral. Growing in popularity in cities across the United States, from Portland to Baltimore, bike parking corrals replace a small amount of car parking with a large amount of bicycle parking.
This new facility resulted from a public-private partnership between the Wicker Park Bucktown SSA and the Chicago Department of Transportation. The SSA generously donated the facility, which was designed and installed by CDOT.
What is a bicycle corral?
On-street bicycle parking corrals make efficient use of the parking lane for bicycle parking in areas with high demand. Corrals typically provide room for 12 or more bicycles in a space otherwise occupied by 1 or 2 cars.
Why use bicycle corrals?
Corrals provide a 10-to-1 customer to parking space ratio, increase foot and bike traffic, and advertise "bike friendliness." They also improve the pedestrian environment by removing bicycles from the sidewalk.
Corrals improve bicycle parking availability at popular destinations, and increase the visibility of bicycling as a transportation choice.
Corrals improve sightlines at intersections by eliminating the opportunity for larger vehicles to park at street corners.
Corrals also improve the visibility of businesses from the street, by eliminating the parking of large vehicles in front of the businesses.
What do businesses think about the potential loss of car parking?
Businesses support the removal of car parking for on-street bicycle corrals because:
Storefronts become more visible.
The presence of many bicycles parked in front of a business sends a message that the business is busy—and popular.
The novelty of the facility attracts the attention of cars, bikes, and pedestrians alike.
Businesses appreciate the increased pedestrian foot traffic that corrals promote by creating a more pleasant public space
Businesses can advertise "bike friendliness."
When installed adjacent to sidewalk cafes, corrals can provide an additional buffer between people and passing vehicles.
What do bicyclists think about corrals?
Cyclists prefer to park in high-visibility environments, because it reduces the risk of bike theft.
Cyclists enjoy parking at—or close to—their destination.
Corrals offer a space where cyclists can maneuver and lock up while avoiding conflicts with pedestrians.
What do pedestrians think about corrals?
Pedestrians appreciate the reduction in conflicts with cyclists as they lock their bikes to racks.
Pedestrians enjoy the increased availability of space on busy sidewalks with heavy foot traffic.
Sometimes bicycles locked on the sidewalk tip over, presenting a pedestrian tripping hazard. Corrals eliminate this hazard.