Children Learn Cycling Skills Through Week-Long Bike Safety Camp
August 20, 2012
Inaugural Event Provides Cycling Skills Education and Bikes for Kids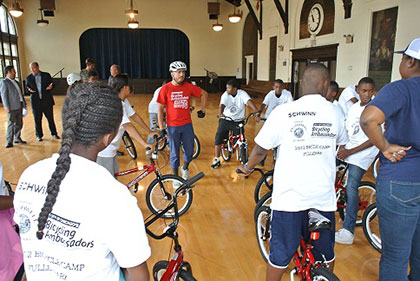 As part of the effort to make Chicago the greatest and safest city for bicycling in the United States, 80 children are participating in a bicycle safety camp, which provides a week-long riding and safety course taught by the City's Bicycling Ambassadors, as well as a new bike and helmet.
The four camps, taking place in parks in the 3rd, 25th, 47th and 48th wards, will involve training on bike-riding skills, riding safely, route selection, map reading, as well as a series of neighborhood group rides.
The pilot program was the idea of four aldermen – Pat Dowell (3rd), Daniel Solis (25th), Ameya Pawar (47th) and Harry Osterman (48th) – who recently observed a similar bike safety camp for children in Demark, and wanted to bring the education course to Chicago.
"It is important to teach children the skills they need to ride their bikes safety and confidently so they have a lifetime of enjoyment on a bicycle," said Dowell, who celebrated the opening of the camp at Fuller Park at 331 W. 45th St. "These bike safety camps can help increase the number of Chicagoans who choose active transportation, and contribute to a healthier, happier, and more productive city."
"The goal of these camps is to provide each child with the basic bike-handling skills that will encourage them to ride more," said Gabe Klein, Commissioner of the Chicago Department of Transportation (CDOT). "The more that kids learn to ride confidently and safely, the more they will want to keep riding."
Each camper will receive a new Schwinn bicycle, donated through Bikes Belong, a national coalition of bicycle retailers and suppliers. The Chicago Bicycling Ambassadors program is also providing each camper with a new bike helmet. The campers were chosen to participate by the Boys & Girls Clubs of Chicago and the Chicago Park District.
"We are pleased to help facilitate the gift of bikes to these Chicago summer camps for kids," said Bikes Belong Board President Chris Fortune. "Innovative programs such as this one will connect more people on bikes in Chicago and will enhance the quality of life for the community."
Bikes Belong also sponsored the newly launched Green Lane Project, a new effort that works closely with six cities to help them build world-class cycling networks by facilitating a partnership between the cities and provide them with strategic and technical assistance, while expanding the national knowledge base and sharing it widely.
Chicago's Streets for Cycling Plan 2020, to be released by CDOT this summer, sets forth a strategy to achieve Mayor Rahm Emanuel's goal of making Chicago the best big city for bicycling in America. The Plan, developed through a community process, identifies a 645-mile bike network of on-street bikeways that will allow all Chicagoans to feel more safe and comfortable riding on city streets.
The Plan's network was developed using three key principles: provide a bicycle accommodation within half-mile of every Chicagoan; provide more bikeways where more people live; and build more infrastructure where ridership is high, while establishing a strong backbone of infrastructure where ridership is currently lower.
Chicago's Bicycling Ambassadors are the City's bike-safety and public-awareness outreach team that promotes safety for all road users – bike riders, motorists, and pedestrians – and encourages all Chicagoans ride their bikes more. Ambassadors do outreach at city festivals, neighborhood block parties and farmers markets. They also give bicycle safety demonstrations at day camps, libraries, and schools, as well as bike-to-work presentations for area businesses.
# # #