Mayor Emanuel Opens Two-Way Bike Lane Through Loop on Dearborn
December 14, 2012
30 Miles of New Bikeways Built in 2012, Part of Plan to Make Chicago Most Bike-Friendly City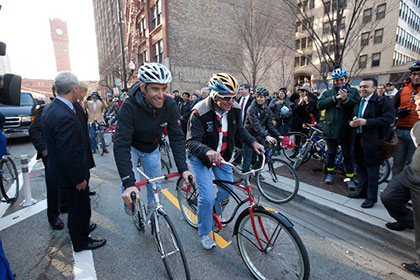 Mayor Rahm Emanuel today officially opened protected bike lanes on Dearborn Street through the Loop, the first two-way bike route with dedicated bicycle traffic signals in Chicago.
The Chicago Department of Transportation (CDOT) also announced today it has constructed approximately 30 miles of new bicycle lanes in neighborhoods across the city this year, and upgraded another nine miles of older bike lanes with new paint.
Since Mayor Emanuel took office in May 2011, CDOT has built more than 58 miles of new bikeways and refreshed another 20 miles of older bike lanes. More than 30 miles of the new bikeways are protected with barriers or buffers, keeping pace with the mayor's commitment to build 100 such miles in his first term in office.
"Building a bicycling network is important to creating a quality of life in Chicago that will attract businesses and families to the city," said Mayor Rahm Emanuel. "As our city grows, our streets should include safe bicycle infrastructure that encourages all residents to ride their bikes."
Dearborn Street will continue to be one-way northbound for vehicle traffic, but will now function as a two-way street for bicyclists: southbound bicyclists will travel adjacent to the west curb; and northbound bicyclists located between southbound bicyclists and parked cars.
To install the protected bike lanes, one motor vehicle travel lane was removed between Polk Street and Wacker Drive.
Each intersection now has bicycle-specific traffic signals to provide guidance for southbound bicyclists, and to separate northbound bicyclists from motorists turning left off Dearborn Street onto westbound cross streets.
For motorists, new left turn lanes and dedicated left turn arrows at westbound cross streets will allow for more efficient turns off Dearborn. Loading zones and parking lanes are clearly marked to ensure their proper use.
"The Dearborn Street two-way protected bike lane project will balance roadway space to ensure pedestrians, transit users, bicyclists and motorists can travel along and across the street safely," said CDOT Commissioner Gabe Klein. "The barrier-protected bike lanes will provide bicyclists with a safe and comfortable route, making a key connection for people who commute via bicycle through the heart of the Loop."
Also today, CDOT formally released the Chicago Streets for Cycling Plan 2020, which calls for a 645-mile network of biking facilities to be in place by 2020 to provide a bicycle accommodation within half-mile of every Chicagoan.
The plan sets forth a strategy to achieve Mayor Emanuel's goal of making Chicago the best big city for bicycling in America. It was developed through a community process with assistance from the Mayor's Bicycle Advisory Council, and identifies a network of on-street bikeways that will allow all Chicagoans to feel more safe and comfortable riding on city streets.
The Plan's network was developed using three key principles: provide a bicycle accommodation within half-mile of every Chicagoan; provide more bikeways where more people live; and build more infrastructure where ridership is high, while establishing a strong backbone of infrastructure where ridership is currently lower.

# # #