Near West Side Celebrates Opening of Divvy Station at United Center
September 9, 2013
New Way for Fans to Get to Stadium and Travel Around the Neighborhood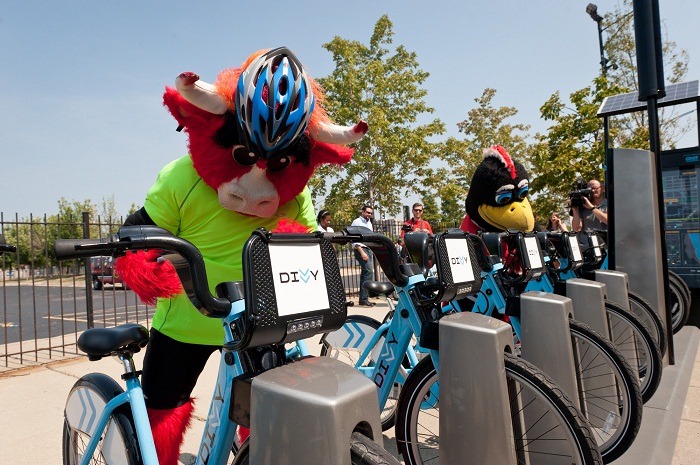 The mascots of the Chicago Bulls and Chicago Blackhawks, Benny the Bull and Tommy Hawk, joined the Chicago Department of Transportation (CDOT) to celebrate the opening of the new Divvy bike sharing station at the United Center with an inaugural bike ride.
"Divvy is a great way for fans to travel to and from the United Center for a game or concert," said CDOT Commissioner Gabe Klein. "Many fans of the Blackhawks and Bulls already know that public transit, biking and walking are the best ways to get to the stadium. Bike sharing is now another great option."
The new Divvy station, located across the street from the United Center's main entrance on Madison Street, is one of 20 stations throughout the Near West Side neighborhood.
"Divvy is a key part of our neighborhood network of biking facilities, which include several miles of new and improved bike lanes throughout the community," said Alderman Walter Burnett, Jr. (27th). "Biking in the Near West Side is a great way to travel to the United Center, visit neighborhood restaurants and shops, and to better access public transit."
Divvy features thousands of bikes at hundreds of stations across Chicago neighborhoods, with the largest number of planned stations than any other bike sharing system in the country.
As the Divvy bike share system expands further into Chicago's neighborhoods, Chicagoans and visitors to the city have taken more than 310,000 trips and have collectively ridden an estimated 900,000 miles this summer. Divvy will ramp up to 300 stations and 3,000 bikes this year, and 400 stations and 4,000 bikes by next spring.
Chicagoans can find out more about the system at www.divvybikes.com or through social media on Twitter at @DivvyBikes and on Facebook at www.facebook.com/DivvyBikes.
# # #