Divvy to Expand Next Spring by 175 Stations and 1,750 Bikes
August 21, 2014
Chicago to Have Most Bike Share Stations and Largest Service Area in North America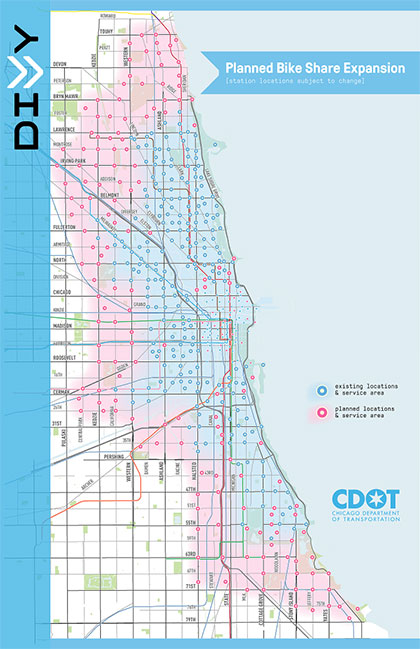 Mayor Rahm Emanuel and the Chicago Department of Transportation (CDOT) announced today that the planned expansion for Divvy, Chicago's bike share system, will take place early next spring, bringing the system to 475 stations and 4,750 bikes and giving Chicago the most bike share stations and largest service area in North America.
The planning process for the expansion involved significant community engagement, including the review of hundreds of suggestions from Chicagoans on where the new stations should be located. CDOT and Divvy presented a new map today that includes the planned locations of the new 175 stations.
"Bike sharing works best when more neighborhoods in the city are served. With this expansion, Chicago will have the most number of bike share stations covering the largest service area than any other program in North America," said Mayor Emanuel. "We are encouraged by Divvy's popularity, which will create more opportunities for expansion into new Chicago neighborhoods in the future."
At 475 stations, Divvy will surpass Montreal's current operation of 450 stations to become North America's largest system in terms of stations. Divvy's service area will also expand to 87 square miles across 31 wards, which will also be the largest of any North American city.
With this expansion, Divvy will reach Touhy Avenue on the north, 75th Street on the south, and as far west as Pulaski Road. There will also be new stations in existing areas to fill in the system for greater service and accessibility.
"Divvy has been a tremendous success, and we are excited to expand the system into more neighborhoods for Chicagoans and visitors to move around this city in fun, affordable and healthy ways," said CDOT Commissioner Rebekah Scheinfeld. "Chicagoans gave great suggestions for the locations of new stations, and we look forward to placing them where they were requested."
The expansion from the current 300 stations and 3,000 bikes had been planned for this year. However, the bankruptcy of a key equipment supplier significantly delayed the ability of Alta Bicycle Share, Divvy's operator, to acquire new equipment. The new stations and bikes will be built over the next several months and delivered to Chicago for installation in the early spring.
CDOT also announced since Divvy launched in June 2013, Chicagoans and visitors have taken more than 2.3 million trips on Divvy bikes, collectively riding more than five million miles. Making the data available allows designers and programmers to analyze and present the data in visually compelling ways.
The new station map and trip data is available at www.divvybikes.com.
List of 175 Planned Stations (Subject to Change)
• Loomis St & Archer Ave
• Ashland Ave & Archer Ave
• Shields Ave & 28th Pl
• Princeton Ave & 31st St
• Wentworth Ave & 33rd St
• Racine Ave & 35th St
• Wentworth Ave & 35th St
• Lake Park Ave & 35th St
• State St & Pershing Rd
• Union Ave & 42nd St
• Shields Ave & 43rd St
• Prairie Ave & 43rd St
• Halsted St & 47th Pl
• Princeton Ave & 47th St
• Woodlawn Ave & 44th Pl
• Cermak Rd & Archer Ave
• Calumet Ave & 51st St
• Greenwood Ave & 51st St
• Cornell Ave & Hyde Park Blvd
• Ellis Ave & 53rd St
• Lake Park Ave & 53rd St
• Ellis Ave & 55th St
• MLK Dr & 56th St
• Payne Dr & Morgan Dr
• University Ave & 57th St
• Hyde Park Blvd & Museum Dr
• Harper Ave & 59th St
• Ellis Ave & 60th St
• Cottage Grove Ave & 63rd St
• Dorchester Ave & 63rd St
• Cottage Grove Ave & 67th St
• MLK Dr & 63rd St
• Stony Island Ave & 64th St
• Lake Shore Dr & Hayes Dr
• Stony Island Ave & 67th St
• Jeffery Blvd & 67th St
• South Shore Dr & 67th St
• Stony Island Ave & 71st St
• Jeffery Blvd & 71st St
• South Shore Dr & 71st St
• Stony Island Ave & 75th St
• Jeffery Blvd & 75th St
• Yates Blvd & 75th St
• Exchange Ave & 75th St
• Rainbow Beach
• South Shore Dr & 74th St
• Cottage Grove Ave & 71st St
• Lakefront Trail & LaSalle Dr
• Burton Pl & Wells St
• State Pkwy & Banks St
• Larrabee St & Division St
• Rush St & Cedar St
• Larrabee St & Oak St
• Halsted St & North Branch St
• Mies van der Rohe Way & Chestnut St
• Rush St & Superior St
• McClurg Ct & Erie St
• Kingsbury St & Kinzie St
• Rush St & Hubbard St
• Field Blvd & South Water St
• Desplaines St & Randolph St
• Wacker Dr & Washington St
• LaSalle St & Adams St
• Wabash Ave & Adams St
• Desplaines St & Jackson Blvd
• Financial Pl & Congress Pkwy
• Columbus Dr & Congress Pkwy
• Clinton St & Polk St
• Federal St & Polk St
• Shedd Aquarium
• Museum Campus Dr & Waldron Dr
• Calumet Ave & 21st St
• Clark St & Lake St
• Lakefront Trail & Randolph St
• Clark St & Touhy Ave
• Sheridan Rd & Greenleaf Ave
• Clark St & Lunt Ave
• Glenwood Ave & Morse Ave
• Ridge Ave & Pratt Blvd
• Clark St & Columbia Ave
• Western Ave & Albion Ave
• Sheridan Rd & Loyola Ave
• Western Ave & Granville Ave
• Clark St & Schreiber Ave
• Broadway & Granville Ave
• Maplewood Ave & Peterson Ave
• Damen Ave & Peterson Ave
• Clark St & Elmdale Ave
• Broadway & Thorndale Ave
• Lakefront Trail & Bryn Mawr Ave
• Clark St & Bryn Mawr Ave
• Broadway & Ridge Ave
• Ravenswood Ave & Balmoral Ave
• Clark St & Berwyn Ave
• Damen Ave & Foster Ave
• Marine Dr & Margate Ter
• Ridge Ave & Touhy Ave
• Western Ave & Lunt Ave
• Talman Ave & Lincoln Ave
• Halsted Ave & 51st St
• Princeton Ave & Garfield Blvd
• Halsted Ave & 56th St
• Halsted Ave & 63rd St
• Wentworth Ave & 63rd St
• Halsted Ave & 69th St
• Perry Ave & 69th St
• King Blvd & 71st St
• Balmoral Ave & St. Louis Ave
• Kedzie Ave & Foster Ave
• Francisco Ave & Foster Ave
• Lincoln Ave & Winona Ave
• Christiana Ave & Lawrence Ave
• Washtenaw Ave & Lawrence Ave
• Kedzie Ave & Leland Ave
• Manor Ave & Leland Ave
• Rockwell St & Eastwood Ave
• Drake Ave & Montrose Ave
• Kedzie Ave & Montrose Ave
• California Ave & Montrose Ave
• Campbell Ave & Montrose Ave
• Keeler Ave & Irving Park Rd
• Monticello Ave & Irving Park Rd
• Sawyer Ave & Irving Park Rd
• Oakley Ave & Irving Park Rd
• California Ave & Irving Park Rd
• Pulaksi Rd & Eddy St
• Drake Ave & Addison St
• Troy St & Elston Ave
• Talman Ave & Addison St
• Leavitt St & Addison St
• Western Ave & Roscoe St
• Kedzie Ave & Bryn Mawr Ave
• Keystone Ave & Montrose Ave
• Avers Ave & Belmont Ave
• Kimball Ave & Belmont Ave
• California Ave & Fletcher St
• Avers Ave & Diversey Ave
• Central Park Ave & Elbridge Ave
• Richmond St & Diversey Ave
• California Ave & Logan Blvd
• Drake Ave & Fullerton Ave
• Campbell Ave & Fullerton Ave
• Winchester Ave & Elston Ave
• Spaulding Ave & Armitage Ave
• Humboldt Blvd & Armitage Ave
• Central Park Ave & North Ave
• Kedzie Ave & North Ave
• Spaulding Ave & Division St
• Albany Ave & Bloomindale Ave
• California Ave & Augusta Blvd
• Kedzie Ave & Chicago Ave
• Western Ave & Walton St
• Sacramento Blvd & Franklin Blvd
• Artesian Ave & Hubbard St
• Kedzie Ave & Lake St
• California Ave & Lake St
• Western Ave & Madison St
• Western Ave & Congress Pkwy
• Ashland Ave & Harrison St
• Kedzie Ave & Harrison St
• Roosevelt Rd & Ogden Ave
• Kedzie Ave & Roosevelt Rd
• California Ave & Roosevelt Rd
• Washtenaw Ave & 15th Pl
• Central Park Ave & Ogden Ave
• Kedzie Ave & 21st St
• Lawndale Ave & 23rd St
• Kedzie Ave & 24th St
• California Ave & 23rd Pl
• Millard & 26th St
• Albany Ave & 26th St
• California Ave & 26th St
• Western Ave & 28th St
• Wood St & 35th St
• Leavitt St & Archer Ave
# # #