DIVVY And The Chicago Blackhawks Countdown To Playoffs
April 5, 2016
Ten Special-Edition Bikes Released Into The City, Chances To Win Blackhawks Gear And Experiences
Mike Claffey 312.744.0707 Michael.Claffey@cityofchicago.org
Susan Hofer 312.742-2006 Susan.Hofer@cityofchicago.org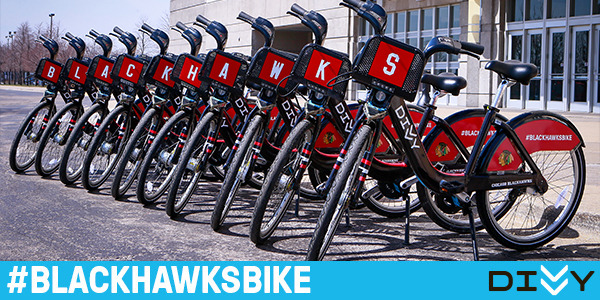 In celebration of their recently secured Stanley Cup playoff spot, the Chicago Blackhawks are teaming up with Divvy, Chicago's popular bike share system, to give the city a fun ride. Over the next week leading up to the Blackhawks' first playoff game, Divvy, operated by the Chicago Department of Transportation (CDOT) in conjunction with the bike share company Motivate International, Inc., will be releasing ten Blackhawks-themed bicycles, celebrating the hockey team's eighth playoff qualifying season in a row, and giving riders a chance to win great prizes from the team.
"Back in 2013, we actually launched Divvy on the same day as the Blackhawks 2013 Championship Parade," said Divvy general manager Elliot Greenberger. "We've always had a special connection with the Blackhawks because of that. We're thrilled to be bringing these bikes back to celebrate pride in our hometown hockey team."
The bikes will be unveiled over the next week at ten major Chicago landmarks, which will be announced shortly before their release via Divvy's and the Blackhawks' social media accounts. In lieu of the traditional "Chicago blue" color, these Divvy bikes are black and red, contain the Blackhawks team logo and the hashtag #BLACKHAWKSBIKE on the back fenders, and will spell out B-L-A-C-K-H-A-W-K-S when all are released. Each of the front baskets displays a letter of the word Blackhawks.
The release of the bikes also begins the #BLACKHAWKSBIKE contest, with prizes awarded at the end of each week through the end of the Blackhawk's playoff run. Spotting one of these bikes and posting a photo on social media with the hashtag #BLACKHAWKSBIKE makes Chicagoans and visitors eligible to win great prizes, including, but not limited to:
Signed Blackhawks memorabilia (Photos, Pucks, Jerseys, Sticks)

Gift Cards to the Blackhawks store

Fan experiences

Blackhawks tickets

Blackhawks convention passes

Divvy Annual Memberships
Taking a picture of the bike and posting it on Facebook, Twitter, Tumblr or Instagram with the hashtag #BLACKHAWKSBIKE automatically counts as a contest entry.
Since 2013, The Hawks and Divvy have partnered twice to offer bikes clad in jersey numbers, and the years of the team's Stanley Cup wins. However, this year's partnership is the biggest to date, and the bikes will be released into Divvy's largest system network yet, with 475 stations covering 87 square miles. More Divvy stations will be announced and deployed later this Spring.
For more information on the #BLACKHAWKSBIKE contest, and for full contest rules, please visit www.DivvyBikes.com/blackhawks