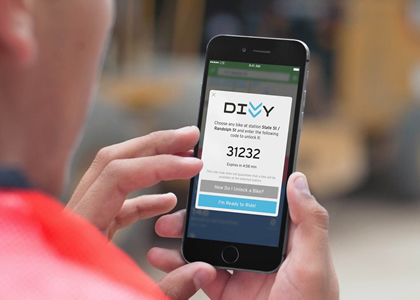 Chicago's Divvy bike share system announced today that it has partnered with Transit App to make it easier and faster to access Divvy bikes. Transit App will allow riders to purchase 24-hour Divvy passes directly from their iPhone or Android-based device. This option will allow customers seamless access to Divvy's fleet of 4,760 bikes, bypassing lines at busy stations, such as those on the lakefront and at festivals or concerts. The partnership with Transit App will also allow Divvy members to access a bike even if they forget their Divvy key.
Divvy, which is operated by the Chicago Department of Transportation (CDOT) in conjunction with the bike share company Motivate International, Inc., is the first major bike share system in the US to allow riders to purchase bike share passes through an app.
"We're excited to be offering new technology options that make it possible to access our blue bikes from the palm of your hand," said Divvy General Manager Elliot Greenberger. "We chose Transit App because they have tens of thousands of Chicago commuters who use their service to find the nearest and fastest way to get from Point A to Point B. This is a great match for Divvy."
Accessing Divvy through Transit App takes four simple steps:
1. Download and open Transit App.
2. Tap the nearest Divvy station on the map or in the nearby cell and select "Purchase Access Pass."
3. Create an account and enter your payment information.
4. Receive an unlock code and walk up to an available bike to release it and ride.
If an individual chooses to create a Transit App account, future Divvy rides will be even easier. Just tap on the nearest station and follow the prompts on the screen.
Transit App will also improve access to Divvy bikes for annual members. Existing Divvy members who lose or forget their member key can log in to their Divvy account through Transit App and request a ride code. New Divvy members who sign up on Divvy's website will also be able to request ride codes through the app and begin riding right away even before they get their member keys in the mail.
"Every month, millions of commuters trust Transit App to navigate their cities," said Jake Sion, Director of Business Development at Transit App. "We show them all their options in one place: they can watch their next bus approaching in real-time, find nearby bike share and car share stations, or check the ETA for the closest Uber. Now, by adding payment functionality, we're enabling people to easily use innovative services like Divvy, and ultimately save them time and money in their daily commute."
Transit App's integration with bike share was beta-tested in Chattanooga, Columbus, and Aspen to ensure that Divvy customers have a flawless experience. Transit App was also one of the first apps that integrated Divvy station locations and bike availability into its platform in 2014, that also includes CTA trains and buses, Metra and Pace in Chicago.
Blue Cross and Blue Shield of Illinois (BCBSIL) signed on in 2014 as the System Sponsor for Divvy. Each Divvy bike sports their logo and tagline "Enjoy Your Ride." BCBSIL's community investment not only supports the Divvy system, but also supports bike lanes and bike facilities.
For more information and for visual step-by-step instructions on how to use Transit App to access a Divvy bike, visit www.Divvybikes.com/app
* * *
About Divvy
Divvy is Chicago's bike share system with 4,760 bikes and 475 stations across the city—from Touhy Ave on the north to 76th Street on the south, and as far west as Pulaski. Divvy is now the largest bike share system in North America based on geographic service area. Annual members receive an electronic key of can use Transit App to undock a bike from any station, allowing unlimited trips up to 30 minutes without incurring any additional costs. For occasional riders, 24-hour passes that provide unlimited 30-minute trips are available for purchase at any Divvy station or through Transit App. Bikes can be taken from one station and returned to any other station.
Since launching in June 2013, Divvy riders have taken more than 7 million trips and travelled more than 14 million miles. Visit www.DivvyBikes.com for more information, station locations, or to purchase an annual membership.
About Transit App
Transit App solves the daily commute in 125 cities around the globe. Right on launch, it displays all nearby transport options and departure times in big text and bright colors. Users can plan trips, set reminders, and get notifications about disruptions. In addition to public transit, the app integrates other sustainable transport modes, including bike sharing, car sharing and Uber, helping users figure out the best way to get from a-to-b. Counting millions of active users in the US and Canada, Transit App has emerged as a leading urban transport app in North America. The company is based in Montreal, QC. You can learn more by visiting www.transitapp.com