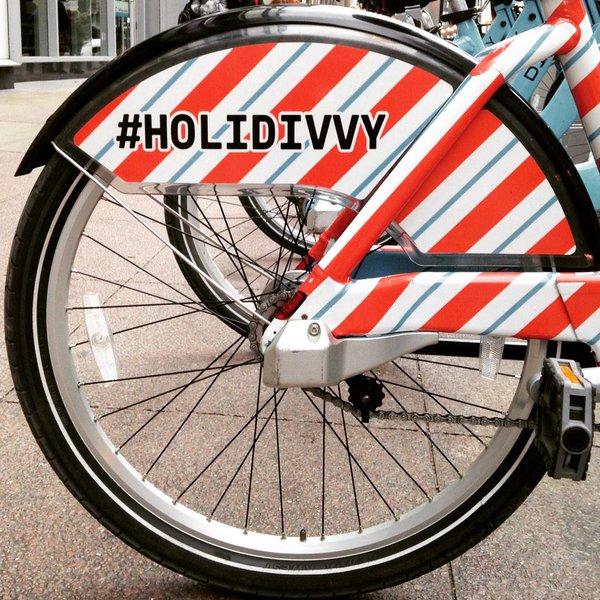 Chicagoland's popular bike share system Divvy is kicking off the holiday season today with the release of a singular #HOLIDIVVY bike, wrapped in a candy cane design that is fully reflective at night. Divvy is offering annual memberships worth $99 as part of a social media photo contest.
Anyone who spots the candy cane-themed bike and posts a photo of it on Instagram or Twitter with the hashtag #HOLIDIVVY will be eligible to win an annual membership. Divvy will award at least five annual memberships for the most festive #HOLIDIVVY photos that get posted. The memberships can be used by the photo poster or given as a gift.
The bike-spotting contest will start at 1 p.m. today when a blue Divvy van is scheduled to drop the celebratory bike off at the Daley Center Plaza bike share station. The #HOLIDIVVY bike will be in circulation until January 1, 2017.

Divvy Cyber Monday Deals

Divvy, the geographically largest bike share system in North America with more than 580 bike stations, is also encouraging bike share enthusiasts to give Divvy gifts for the holidays.
The bike share system is offering gift certificates for 24-hour passes and annual memberships available at a discount on its new website at https://store.divvybikes.com/. Today through Friday, December 2, 24-hour passes will be available for just $8 (regularly $9.95), making them a perfect stocking stuffer for the Chicagoan in your life who enjoys riding and exploring the city. Annual memberships will be available for just $85 (regularly $99).
Divvy has also partnered with Chicago Architecture Foundation to offer Divvy-branded items such as hooded sweatshirts, t-shirts, water bottles, keychains and even holiday ornaments. These are available at the Chicago Architecture Foundation Store at 224 South Michigan Avenue.

Cool Weather Riding Tips
Divvy continues to operate 24/7 through Chicago winter. Following are some riding tips as the weather begins to cool:
Keep your hands & feet warm with a good pair of gloves and a thick pair of socks
Wear a thin knit hat or a helmet liner to keep your head warm
Wear layers to keep warm – but don't overdress, since you'll heat up once you start riding
Only ride in conditions that you're comfortable in
Have a back-up plan in case the weather changes and isn't good for biking
Make sure you're visible in snowy weather by wearing brightly colors
Be alert at all times for patches of ice
So far in 2016, more than 3.5 million trips have been taken by Chicagoland residents and visitors.
* * *

About Divvy
Divvy is Chicagoland's bike share system, giving Chicago, Evanston, and Oak Park residents and visitors access to thousands of bikes at hundreds of stations across the region. Intended to provide an additional transportation option for getting around, Divvy is convenient, fast, fun and affordable. Divvy is North America's largest bike share system based on service area, thanks in part to the support and sponsorship of Blue Cross Blue Shield of Illinois. For more information and a map of station locations, visit www.DivvyBikes.com.