Chicago's Fourth Annual "Divvy Week" to Kick Off on Earth Day
April 21, 2017
Whether you're a Seasoned Bike Share Pro or Trying Divvy for the First Time, Take a Ride April 22-30 and Help Make Chicago a Greener, Healthier City
Mike Claffey 312.744.0707 | Michael.claffey@cityofchicago.org
Susan Hofer 312.742.2006 | Susan.Hofer@cityofchicago.org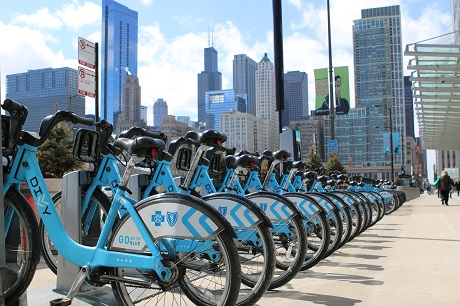 Divvy, Chicago's popular bike share system, is kicking off its fourth annual "Divvy Week" on Earth Day, Saturday April 22.
Celebrating Divvy's robust three-and-a-half years of operation in which Chicagoans and visitors have already taken more than ten million rides, the system will offer special promotions for both current members and those who want to give the system a spin for the first time during Divvy Week. The special offers include discounted 24-hour passes.
"On Earth Day, and all year long, Divvy takes pride in its role of providing a sustainable transportation option for Chicagoans," Divvy General Manager Elliot Greenberger said. "As we celebrate Planet Earth and the arrival of warmer riding weather, we encourage everyone to do so by jumping on a Divvy bike and exploring Chicago in a way that's healthy for riders and the City's environment."
According to Divvy's estimates, the system's 10 million-plus rides have helped make Chicago a greener City, reducing carbon output from motor vehicles by more than 14 million pounds and saving an estimated 853,536 gallons of gasoline since launching in June 2013.
"Divvy Week," which started in 2013 and takes place at the end of April each year, celebrates the success of the country's second-largest bike share system and the riders that make each year better than the last.
Since Earth Day 2016, the system has expanded into Evanston and Oak Park, adding another 1,000 bikes to the growing system and bringing the city bike network to nearly 6,000 bikes across 580 stations.

This year, there are special "Divvy Week" offers for everyone:
For new riders: Between Monday, April 24 and Friday, April 28, anyone can get a $5 24-hour pass (regularly $9.95) by retrieving a discount code at DivvyBikes.com/save5. Simply entering your email address and you'll receive a discount code to get a $5 24-hour pass at any station location or by downloading Transit App. Usage fees will apply for trips over 30 minutes.
For new members: If you sign up for an annual membership at DivvyBikes.com between April 22-30, Divvy will send you a Buy-One-Get-One Free card for Chipotle with your Divvy membership packet. Memberships are $99 for unlimited trips under 30 minutes for the year. Monthly payment options are also available.
For existing members:
On Tuesday, April 25, any current Divvy member can flash their Divvy key fob at any Chicagoland Chipotle for a Buy-One-Get-One Free deal.
On Wednesday, April 26, any current Divvy member can flash their Divvy key fob at any Chicagoland Garret Popcorn Shop for a Buy-One-Get-One Free bag deal.
Divvy will also be serving free Dark Matter coffee for morning riders at select stations Monday, April 24 through Wednesday, April 26.
Divvy is owned by the Chicago Department of Transportation (CDOT) and operated by the bike share company Motivate International. The bike share program's exclusive system sponsor is Blue Cross Blue Shield of Illinois.
Full details can be found at DivvyWeek.com.
About Divvy
Divvy is Chicagoland's bike share system, giving Chicago, Evanston, and Oak Park residents and visitors access to nearly 6,000 bikes at 580 stations across the region. Divvy is North America's largest bike share system based on service area, thanks in part to the support and sponsorship of Blue Cross Blue Shield of Illinois. Divvy riders recently surpassed more than 10 million trips taken since the system's launch in 2013. For more information and a map of station locations, visit DivvyBikes.com.