As the Chicago Blackhawks head back to their ninth consecutive appearance in the Stanley Cup Playoffs this week, ten Blackhawks'-themed Divvy bikes will be returning to the City's streets as of today.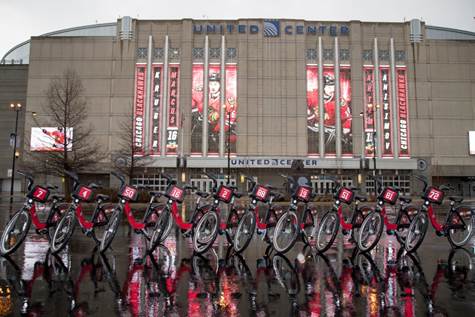 Ten Blackhawks' themed Divvy Bikes awaiting release on Tuesday, April 11
Divvy, Chicago's popular bike share program, and the hockey team have partnered to transform ten normally "Chicago blue" bicycles into red and black, specially-designed Blackhawks bikes. Each bike fender features an image of the Blackhawks players, including Jonathan Toews, Patrick Kane, and Duncan Keith. Chicagoans and visitors are encouraged to find their favorite players among the system's nearly 6,000 bikes, and see how many team members they can spot.
"Divvy is a great option for getting to the United Center to catch a game, but also for commuting to work, running errands, or meeting friends," said Hannah Helbert, Divvy Marketing Manager. "We're excited to once again help riders show their pride in our hometown hockey team during their daily rides."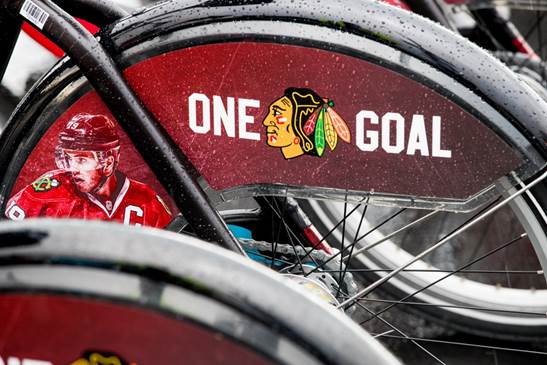 Each of the specially designed fenders feature the image of a Blackhawks player
Fans who spot the bikes out and about and who snap a photo and share it to Twitter, Instagram or Facebook with the hashtag #BLACKHAWKSBIKE have a chance to win big.
Blackhawk bike photos posted to social media will be in the running for prizes drawn at the end of each week throughout the Blackhawks Stanley Cup Playoffs run. Prizes include signed Blackhawks memorabilia, Blackhawks Store gift cards, fan experiences, game tickets, convention passes, Divvy prize packs and more.
Those wanting to catch the entire team of bikes at once can view the bikes as they are released from the Blackhawks store at 333 N Michigan Ave at 12 noon TODAY, April 11, just ahead of the first week of playoff games.
Divvy - which is operated by the Chicago Department of Transportation (CDOT) in conjunction with the bike share company Motivate International, Inc. – and the Blackhawks have partnered each year since 2013 to give Chicagoans a fun ride during the NHL season.
For more information on the #BLACKHAWKSBIKE contest, and for full contest rules, please visit www.DivvyBikes.com/blackhawks.
###
About Divvy
Divvy is Chicagoland's bike share system, giving Chicago, Evanston, and Oak Park residents and visitors access to nearly 6,000 bikes at 580 stations across the region. Divvy is North America's largest bike share system based on service area, thanks in part to the support and sponsorship of Blue Cross Blue Shield of Illinois. Divvy riders recently surpassed more than 10 million trips taken since the system's launch in 2013. For more information and a map of station locations, visit DivvyBikes.com.