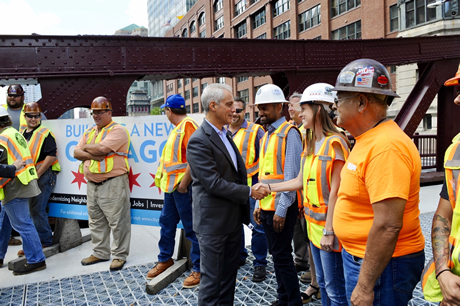 Mayor Rahm Emanuel today commended crews from the Chicago Department of Transportation (CDOT) for completing work on the Clark Street Bridge over the Chicago River 10 days ahead of schedule.
"I want to thank all of the commuters who were patient during the reconstruction of the Clark Street Bridge," Mayor Emanuel said. "City crews worked tirelessly to finish the project 10 days ahead of schedule. And their hard work will help alleviate congestion and deliver on our promise to provide 21st century infrastructure for the resident of Chicago."
The bridge, which has been under construction since February, will officially reopen two lanes of traffic and both sidewalks to vehicle and pedestrian traffic today. The project included repairs to the road decks and sidewalks across the bridge span and was expected to be complete by Labor Day.
The Clark Street Bridge is one of Chicago's iconic bascule bridges that raises and lowers to allow for boat traffic on the river. CDOT has rebuilt or substantially repaired most of the other bascule bridges over the past ten years. This work restored the bridge and extended its usable life.


You can follow CDOT on digital media:
Twitter: @ChicagoDOT
Facebook: www.facebook.com/CDOTNews
The web: chicagodot.org