Divvy Celebrates Fourth Birthday On Wednesday
June 26, 2017
Divvy Rings In Four-Year Anniversary With $15 Off Membership and Chicago Food Themed Bikes as Program Continues to Transform How Chicagoans Navigate City
Mike Claffey 312.744.0707 \ Michael.Claffey@cityofchicago.org
Susan Hofer 312.742.2006 \ Susan.Hofer@cityofchicago.org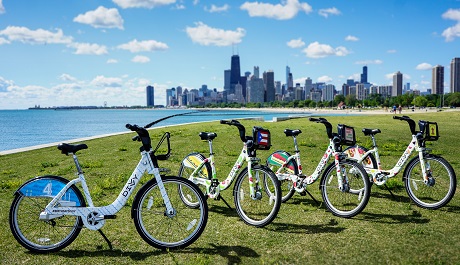 Celebrate Divvy's Fourth Birthday by spotting the Chicago Food-themed bikes around Chicago
Chicago's popular Divvy bike share program will celebrate its fourth birthday this Wednesday, June 28, by offering a $15 discount on annual memberships and the unveiling of four limited edition bikes that celebrate famous Chicago foods: Chicago hot dogs, deep dish pizza and Jibarito sandwiches, with a birthday cake themed bike thrown in for good measure.
Divvy, launched on June 28, 2013, has seen its popularity continue to grow in 2017, surpassing 11 million total rides and more than 22 million total miles logged. The company is owned by the Chicago Department of Transportation (CDOT) and operated by the bike share company Motivate International, Inc. Divvy has more than 5,800 bikes deployed in the signature blue of its exclusive system sponsor Blue Cross and Blue Shield of Illinois (BCBSIL). It continues to serve more Chicago residents and visitors each year.
"Divvy is a great example of how the administration of Mayor Emanuel is committed to giving Chicagoans more and better options for getting around the City every day," CDOT Commissioner Rebekah Scheinfeld said. "We're proud that Divvy has logged more than 11 million rides in just four years. We hope that Chicagoans who haven't tried Divvy yet will give it a go and discover how easy and fun it is to get around town on a Divvy bike."
"As we celebrate Divvy's fourth birthday, we are excited to see how much the program has grown with hundreds of new stations and expansion into new cities and more areas of Chicago," Divvy General Manager Elliot Greenberger said. "Divvy is thrilled to offer Chicagoans a special $15 discount on memberships to try out bike share. And we want everyone to be on the lookout for the four limited edition Chicago Food Bikes traveling the city until the end of July."
Between Monday, June 26 and Friday, July 7, Chicago residents can get $15 off an annual membership by applying the code "BIRTHDAY" at DivvyBikes.com/signup.
"We're so happy to help bring this healthy transportation option to our members and all of Chicago," said Jill Wolowitz, VP of Government Relations and Community Investments at Blue Cross and Blue Shield of Illinois. "In four short years, Divvy has become an iconic image around the city, an accessible, environmentally-friendly option for commuters, tourists and anyone wanting to explore the city on two-wheels. Every year, we offer our members a $10 off Divvy discount to encourage them to keep Divvying."
Blue Cross and Blue Shield of Illinois members can get their discount by searching "DIVVY" on Blue365Deals.com through August 15.
Divvy is also partnering with Justin Siddons, a local designer, to create a series of Chicago Food Bikes, which will be dispersed throughout the City starting today through July 31. The special bikes will be released today at noon at the Divvy station next to Daley Plaza at Randolph and Dearborn.
Like many other Divvy members, Justin uses Divvy to get around the City for work and fun. The four bikes Justin designed will each be adorned with Chicago-themed food staples to commemorate the special occasion: the classic Hot Dog (#HotDogDivvy); Deep Dish Pizza (#DeepDishDivvy); Chicago's own Puerto Rican-influenced plantain sandwich known as a Jibarito (#JibaritoDivvy); and a celebratory Birthday Cake (#BirthdayDivvy). Riders who spot the bikes and post photos on social media with the corresponding hashtags will be in the running for special prizes.
This past year, Divvy and biking generally became even more popular with Chicago residents. Chicago was named the No. 1 Best Bike City in America by Bicycling Magazine in part on the strength of the Divvy program. Divvy also expanded beyond Chicago's borders into Evanston and Oak Park and the program added over 100 new stations and now covers more than 100 square miles.
The Divvy for Everyone program continued to make bike share accessible to Chicagoans of all income levels with over 1,075 riders currently taking advantage of the discounted membership initiative.
On July 16, 2016, Divvy set a new record for ridership in a single day, with 24,803 trips taken. In total, Divvy riders took over 3,500,000 trips in the past year. Divvy also spearheaded promotions and partnerships including posting pictures with #DivvyRed bikes to win prizes and rolled out Chicago Blackhawks themed bikes for the Stanley Cup Playoffs. A recap of these milestones can be found at DivvyBikes.com/HBDivvy
###
About Divvy
Divvy is Chicagoland's bike share system, giving Chicago, Evanston, and Oak Park residents and visitors access to thousands of bikes at hundreds of stations across the region. Intended to provide an additional transportation option for getting around, Divvy is a convenient, fast, fun and affordable. Divvy is North America's largest bike share system based on service area, thanks in part to the support and sponsorship of Blue Cross Blue Shield of Illinois. For more information and a map of station locations, visit DivvyBikes.com.