Jesse White, CDOT and Chicago Police to Encourage Bicycle Safety
June 26, 2018
The event marks Chicago Bike Week and highlights new legislation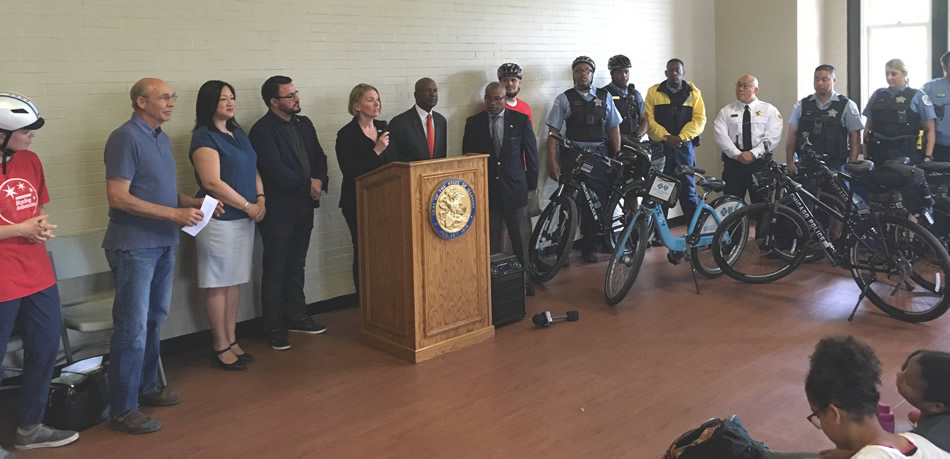 Illinois Secretary of State Jesse White joined officials from the City of Chicago and other organizations at Eckhart Park to encourage bicyclists to practice safe riding during Chicago Bike Week, June 21 through June 29.
White said the Dutch Reach, a technique drivers are encouraged to use in order to avoid hitting bicyclists with their car doors, is included in the 2018 Rules of the Road. With the Dutch Reach, drivers are to use their right hand to open the car door forcing their upper body to turn and look for oncoming cyclists. Once the bill is signed, test questions on the Dutch Reach and other bike safety measures will be included on the Secretary of State's driver's exam.
"This legislation will help improve safety between drivers and bicyclists who share the roads," said White. "By adding questions to our written exam about bike safety, drivers will be more aware of the deadly consequences that can occur if you do not follow the Rules of the Road."
HB 5143 and HB 5632 when signed into law will go into effect Jan. 1, 2019. Sponsors of HB 5143 were Rep. Theresa Mah (D-Chicago) and Sen. Omar Aquino (D-Chicago) and sponsors of HB 5632 were Rep. Christian Mitchell(D-Chicago) and Sen. Martin Sandoval (D-Chicago).
"Summer is a wonderful time to spend outdoors biking, so I encourage drivers and cyclists to be mindful of one another so everyone is safe," said Ald. Walter Burnett (27th). "Our city's bike routes serve as a great resource for young and old to enjoy this fun activity, and get around the city safely."
"CDOT is excited to be celebrating Chicago Bike Week with the many cycling enthusiasts who have helped make Chicago a great bike city," CDOT Commissioner Rebekah Scheinfeld said. "We applaud the General Assembly and Secretary of State Jesse White for working to enhance bike safety education for motor vehicle drivers. These efforts complement Chicago's Vision Zero plan to eliminate all traffic fatalities and serious injuries by 2026."
"For bicyclists and motorists to safely share the road, both must responsibly obey all traffic laws," said 12th District Commander Stephen Chung.
Representatives from the Illinois Department of Transportation, the City of Chicago Bicycle Ambassadors, Divvy, Ride Illinois and Active Transportation Alliance also participated in the event.
Key tips regarding bike safety:
A properly fitted helmet can reduce the risk of head injuries by at least 45 percent, yet less than half of children age 14 and under usually wear a helmet, according to Safe Kids Worldwide.
In 2017, six cyclists were killed in Chicago, according to the Chicago Police Department. During that same year across the state, 26 cyclists were killed. So far in Chicago this year, one cyclist has been killed. In the state of Illinois, five cyclists were killed.
In 2016, of the 840 cyclists killed nationwide, children under 15 years old accounted for 7 percent of bicyclist fatalities, according to the National Highway Traffic Safety Administration.
Never park in a bike lane. Parking in a bike lane forces cyclists to merge with faster moving traffic, endangering them and other motorists. Driving, parking, standing or stopping in a bike lane is illegal and can result in towing and fines.
Pass cyclists at a safe distance by leaving at least three feet of space. Passing cyclists too closely is dangerous and illegal. Remember that cyclists are allowed to take the lane and are not required to ride in a bike lane, even if one is present.
The City of Chicago's City Wide Speed Limit is 30 mph (unless otherwise posted). Please slow down as higher speeds lead to more serious injuries for people walking, biking and driving. If a crash occurs, the survival rate drops precipitously, the higher the speed of the vehicle.
White reminds Illinoisans that the office issues the Bicycle Rules of the Road to ensure safe bike travel. To obtain a free copy of the Bicycle Rules of the Road, visit www.cyberdriveillinois.com or any Secretary of State's Driver Services Facility.