CDOT And LYFT Join Alderman Howard B. Brookins Jr. And Advocates To Announce DIVVY Expansion Into Far South Side
July 16, 2020
66 new stations, 3,500 additional bikes are the latest City effort to expand reliable, affordable transportation in communities recovering from the health and economic impacts of Covid-19
Mike Claffey 312.744.0707 Michael.Claffey@cityofchicago.org
Susan Hofer 312.742-2006 Susan.Hofer@cityofchicago.org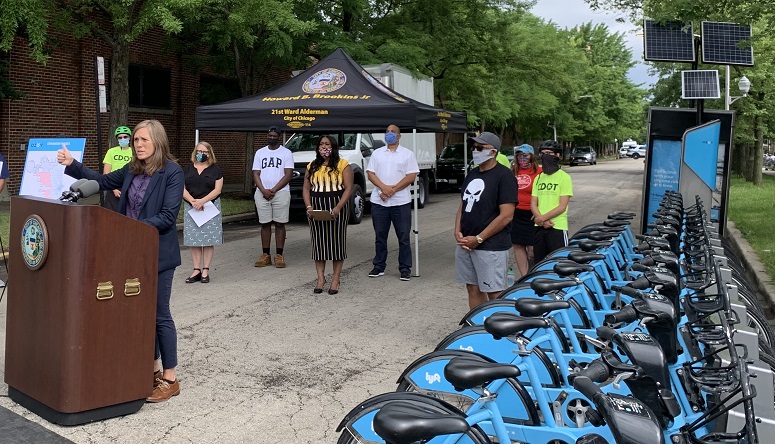 Chicago Department of Transportation (CDOT) Commissioner Gia Biagi, Chairman of the City Council Transportation Committee Alderman Howard B. Brookins Jr. and Lyft today announced the launch of a major expansion of Divvy, the city's bike popular share system. The installation of the first of 66 new Divvy stations and the addition of thousands of ebikes later this summer will expand the network by almost 60 square miles through Chicago's Far South Side.
The extension into neighborhoods with fewer transportation options will help reconnect communities during the pandemic response and recovery by providing an affordable, reliable and socially distanced transportation option. The highly anticipated expansion is launching in tandem with a comprehensive transportation response to the pandemic, including creation of almost ten miles, or 122 blocks, of Shared Streets and ten Make Way for Dining corridors.
"COVID-19 has presented a multitude of challenges to our city's workforce and requires us to step up with initiatives to make it easier for residents to reach their jobs and access new opportunities safely and easily as we cautiously reopen," said Mayor Lightfoot. "This exciting, inclusive expansion of our city's most iconic bike share system will connect the rest of Chicago more closely with communities from the city's far South Side and answer to their growing needs for more and better transportation during the pandemic and the health and economic recovery ahead of us."
"Bringing bike share to the Far South Side brings more of the city's jobs, shopping and services within reach of its communities," said Commissioner Biagi. "Safe, affordable and accessible transportation is one of the most important ways to support residents who are struggling right now, and to ensure that their opportunities aren't limited by their transportation choices."
City officials were joined by community stakeholders and transportation advocates today for the installation of the first new station at 83rd Street and S. Stewart Avenue in the 21st Ward. The new station locations are the product of extensive community consultation with local Aldermen and advocates. The engagement process included a Divvy Community Tour, which brought a summer-long series of events to the far South Side in 2019. More than 15,000 residents were engaged in person at 75+ events throughout the Far South Side and more than 150 citywide, providing input regarding community needs, the best bike sharing destinations, and routes for new bikeways. Lyft, the system sponsor and operator of Divvy, also awarded 15 grants totaling $100,000 to community groups to increase bike share use in low-to-moderate income communities. Divvy in 2019 also launched a Bike Mechanic Bootcamp to train Chicago youth in bike repair and apply for positions with Divvy.
"We are very pleased that CDOT is launching Divvy's far South Side expansion here in the 21st Ward," Alderman Brookins said. "This expansion gives our residents an affordable transportation option that will help them get around the neighborhood for shopping and recreation and also provides an easy connection to the City's transit system and jobs and educational opportunities."
The expansion is the just the first phase of a program that will bring Divvy to every Chicago neighborhood by 2021, and will include the addition of 10,500 new ebikes, which makes cycling easier with pedal-assist technology and have been extremely popular in other cities' bike share systems. Ebikes can be parked at Divvy stations and at public bike racks using a built-in cable lock. The expansion area is bounded on the north at 74th Street in West Englewood, running south along Ashland and then spanning east, west and south to the city limits. The southernmost Divvy station will be located at the Brainerd Metra Stop in the Hegewisch community.
In coordination with the Divvy station expansion, CDOT is adding 16.5 miles of new bike lanes on the Far South Side, funded partly by sponsorship revenue from Lyft. This will add to the City's already robust network of 280 miles of on-street bikeways.
According to the traffic monitoring service Inrix, 51% of all trips in Chicago in 2019 were less than three miles, a distance that can be comfortably cycled by many Chicagoans. Divvy currently has 6,000 bikes, and its 600 docking stations are accessible by about two-thirds of the city's population, and contained within about half of the city's geography.
The stations in the original system and in the expansion are targeted around transit stops and stations to increase neighborhood connectivity and increasing the reach of public transportation. Far South Side community feedback showed great interest in Divvy as a health and recreation resource, influencing planners to focus on parks and trails as well.
An annual membership costs $99 and allows an unlimited number of rides of 45 minutes or less. The Divvy for Everyone program provides heavily discounted, $5 annual memberships for qualifying Chicagoans, including those without a credit or debit cards.
"Paired with reduced pricing, this is an exciting step towards making Divvy a transportation option for all Chicagoans," said Amy Rynell, executive director of the Active Transportation Alliance. "For too long, Far South Side residents have been cut off from the rest of the city with limited transit and bike access. We applaud local activists and city leaders for making this expansion possible."
Under the expansion plan, Lyft is making a $50 million investment in new bikes, stations and hardware and is also providing the city with an additional $77 million in direct revenue for transportation improvements over a nine-year period.
"Lyft is thrilled to partner with City Hall and CDOT to expand the Divvy bikeshare system citywide," said Caroline Samponaro, Head of Micromobility & Transit at Lyft. "We're proud to provide a reliable, affordable mode of transportation, soon available to all Chicagoans and look forward to our continued partnership with CDOT to make bikeshare an increasingly important of Chicago's transportation system for years to come."
When Divvy completes its full expansion, it will include 16,500 bikes and 800 stations. The growth of the system is estimated to create over 200 additional jobs at Divvy in Chicago. Since launching in 2013, Divvy has undergone two major expansions to cover a service area of more than 100 square miles, the largest bike share system by area in North America. The City Council in 2019 approved plans to expand the sponsorship agreement with Lyft in 2019.
Divvy and Bikeways 2020 Expansion