CDOT, Alderman La Spata Announce New Protected Bike Lanes and Pedestrian Safety Improvements are Coming to Milwaukee Ave. in Logan Square
September 14, 2020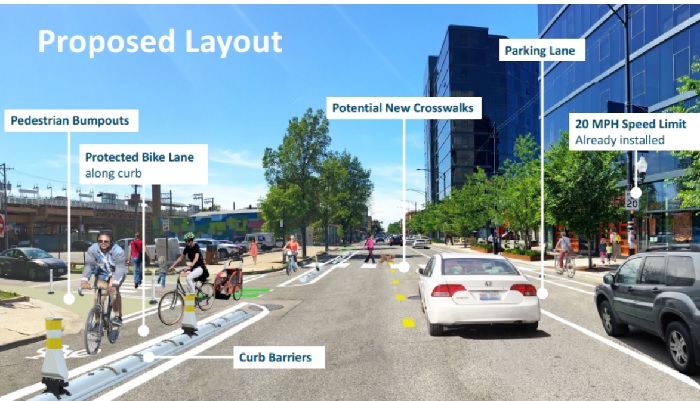 CHICAGO –The Chicago Department of Transportation (CDOT) and Alderman Daniel La Spata (1st Ward) announced that new protected bike lanes will be installed starting today on Milwaukee Avenue from Western to California avenues. The project is part of CDOT's Vision Zero traffic safety program and will include pedestrian safety infrastructure, access to transit improvements, and protected bike lanes along the corridor, one of the City's most heavily travelled bike routes. The improvements were designed in coordination with residents, businesses and the Logan Square Chamber of Commerce.
"CDOT is very pleased to be starting this work that will create safer conditions for all users on this corridor, in particular people walking and biking," CDOT Commissioner Gia Biagi said. "This a great example of what we can achieve when we listen to voices in the community and work in partnership to re-imagine how we use our public way to make it work for everyone."
The changes will be phased in and will begin with the relocation of some paid parking spaces and installation of bike lanes starting today and over the next several weeks. The work will continue later this fall with the installation of two new crosswalks. In 2021, a new bus boarding island will be constructed at Milwaukee and Maplewood.
"I'm very grateful not only for the opportunity to make Milwaukee Avenue safer for all of our residents, but for the public process that preceded it. The design we see today reflects the thoughtful input of hundreds of stakeholders."
The City of Chicago's Vision Zero Action Plan identified Milwaukee Avenue as a High Crash Corridor. Traffic safety data shows that two-thirds of all injury crashes over a five-year period on Milwaukee Avenue involved people walking and biking.
Through discussions with transportation activists, community members, local businesses and the 1st Ward, CDOT established a redesign that would better reflect the needs and use of the corridor. These improvements include northbound and southbound protected bike lanes to separate people biking from automobile traffic, as well as bump outs and crosswalks that will improve the visibility of pedestrians. These infrastructure improvements are designed to make the corridor safer for all users and improve neighborhood access to local businesses.
Over 35 new bike racks are also being installed between California and Western to ensure ample bike and scooter parking. Some on-street paid parking spaces on Milwaukee Avenue will be relocated to nearby streets. Residential permit parking will not be impacted.
Construction of the protected bike lanes and pedestrian bump outs will begin today (September 14) and will take approximately two weeks, weather permitting. During the first few days of construction, parking will be restricted on Milwaukee Avenue and visitors will be encouraged to park on side streets near their destination. Milwaukee Avenue will remain open to traffic throughout construction.
To view the construction plans and learn more about the CDOT and the 1st Ward's community engagement process for this project, please visit https://www.the1stward.com/pb1.
For more information about the City's Vision Zero Traffic Safety Action Plan, go to: https://www.chicago.gov/city/en/depts/cdot/supp_info/vision-zero-chicago.html


You can follow CDOT on digital media:
Twitter:@ChicagoDOT/
Facebook: www.facebook.com/CDOTNews
The web: www.chicagodot.org