CDOT, Alderman La Spata Cut Ribbon on Augusta Boulevard Complete Streets Improvements
August 9, 2023
Project Includes New Protected Bike Lanes, Providing Key Low-Stress Connection to Milwaukee Avenue
Chicago Department of Transportation (CDOT) Commissioner Gia Biagi and 1st Ward Alderman Daniel La Spata, Chair of the Committee on Pedestrian and Traffic Safety, today announced the completion of a traffic safety improvement project on Augusta Boulevard in the Ukrainian Village and West Town neighborhoods that will help reduce crashes and increase safety for people walking, biking, and driving. The Complete Streets project, which spans from Western Avenue to Milwaukee Avenue, includes new protected bike lanes, better designed intersections that increase visibility for people walking and biking, shortened pedestrian crossing distances, and a lowered speed limit to 20 miles per hour.

The project is already resulting in safety benefits for everyone using the street. Initial data collection by CDOT indicates a 35 percent decrease in people driving more than 30 mph, while the number of people driving below 20 mph has increased by 29 percent. Driver speed is one of the leading factors influencing the likelihood and severity of crashes, with studies showing that a person hit by a car traveling at 35 miles per hour is five times more likely to die than a person hit by a car traveling at 20 mph.

"Investing in pedestrian and bicycle infrastructure not only increases safety, but also improves quality of life by connecting neighborhoods and promoting healthy living," said Mayor Brandon Johnson. "I'm grateful for the partnership with CDOT to implement improvements along this key corridor, and I look forward to continuing to expand safe mobility options in every Chicago community."

"The new protected bike lanes and pedestrian improvements along Augusta will help curb speeding, reduce crashes, and provide a key low-stress bikeway connection," said CDOT Commissioner Gia Biagi. "CDOT is committed to designing streets where people can move around safely and comfortably, regardless of their age, ability, or mode of transportation. This project is one of many we are installing throughout Chicago this year that will improve safety and better connect Chicagoans to the meaningful destinations in their lives."

The new protected bike lanes provide a low-stress connection to several schools along the corridor, including William H. Wells Community Academy, Christopher Columbus School, and Rowe Middle School, while also providing a critical link to Milwaukee Avenue, one of Chicago's most popular bike routes. The improvements on Augusta are informed by CDOT's Chicago Cycling Strategy, released earlier this year, which focuses on providing low-stress options and filling gaps in the citywide bike network to make Chicago a better place for cycling and help create a more connected, healthy, and sustainable city.

"I fully support the Augusta Avenue improvements," said Alderman Daniel La Spata. "Improving infrastructure is the only way to ensure that we can eliminate traffic deaths and reduce crashes, and installing complete street improvements along Augusta provides a much needed connection for bicyclists across the 1st Ward and adjacent neighborhoods."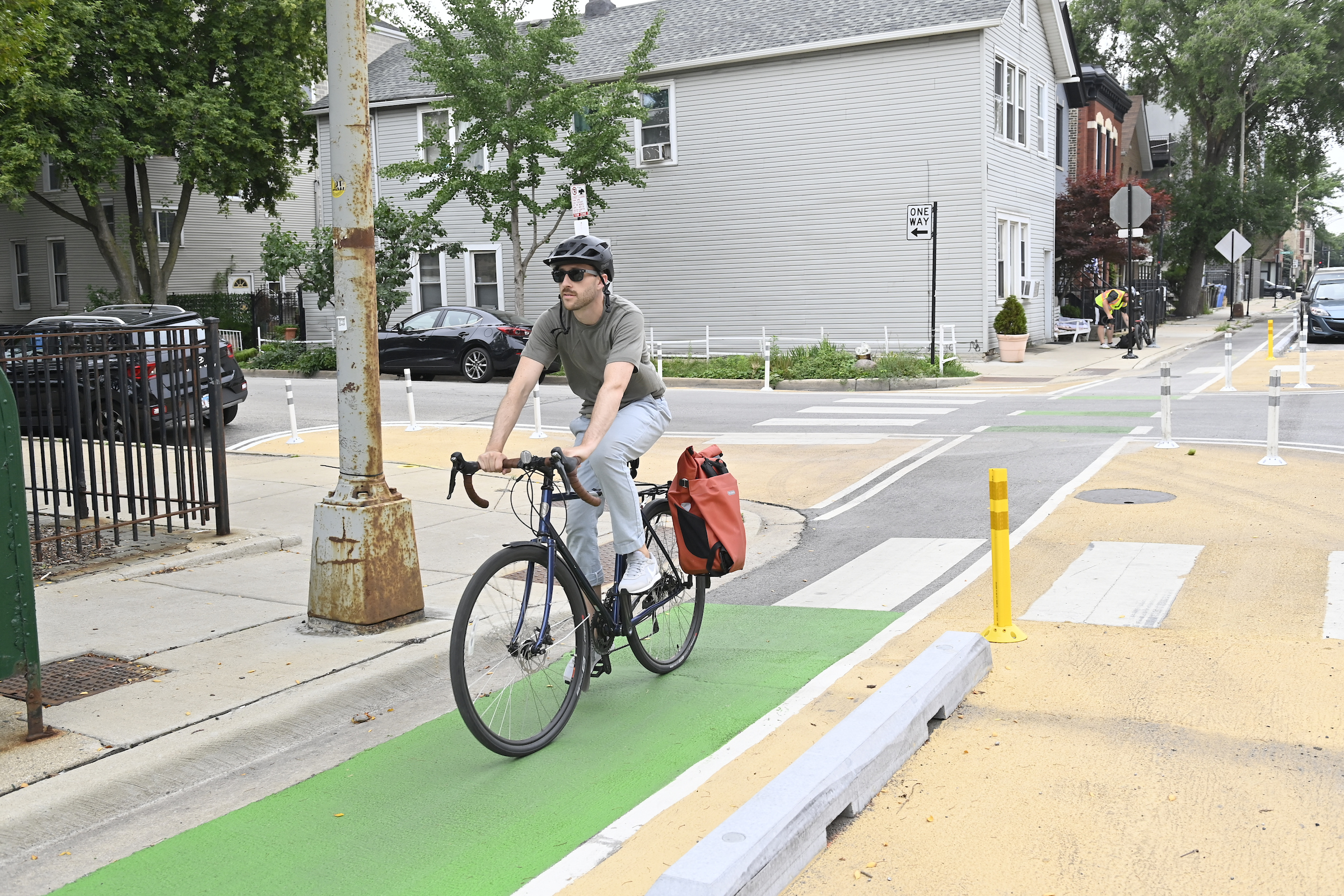 In addition to the newly completed work on Augusta, CDOT is implementing several other projects this summer and fall to expand Chicago's bike network and improve safety for all road users, including:

Milwaukee Avenue from North to Campbell
As part of a street resurfacing project later this year, CDOT will implement several improvements on Milwaukee Avenue between North Avenue and Campbell Avenue to make the street safer and more inviting. This includes concrete protected bike lanes, improved CTA bus stops, reduced crossing distances and increased visibility for people crossing Milwaukee, and improved connections to the Bloomingdale Trail for people walking and biking.

Belmont Avenue from Kimball to Western/Clybourn
Construction is currently underway on CDOT's project to install protected bike lanes and a variety of pedestrian and transit improvements on Belmont Avenue from Kimball Avenue to Western Avenue/Clybourn Avenue. The project includes concrete curb extensions, pedestrian refuge islands, new crosswalks, floating bus boarding islands with in-lane stops, and bus priority zones approaching major intersections. The new protected bike lanes will fill a significant gap in the bikeway network, providing a low-stress east/west connection over the Chicago River and intersect with the protected bike lanes on Kedzie, the North Shore Channel Trail, and protected bike lanes on Campbell.

Central Park from Madison to Franklin
CDOT is currently installing protected bike lanes on Central Park Avenue between Madison Street and Franklin Boulevard in the Garfield Park neighborhood. Increased pedestrian refuge space will be installed at the main entrance to the Garfield Park Conservatory. The new protected bike lanes will connect to existing protected bike lanes on Franklin Blvd and Lake St, providing a comfortable route for biking to the Garfield Park Conservatory, Fieldhouse, and park space.

Neighborhood Bike Networks
CDOT is building a Neighborhood Bike Network in South Lawndale, including the Little Village and Marshall Square neighborhoods. In collaboration with community stakeholders, CDOT is building a well-connected network of bike infrastructure allowing residents to more easily and safely access important local destinations like schools, parks, and shopping. This summer, CDOT completed a nearly five mile system of neighborhood greenways Keeler, Hamlin, 28th, and 30th Streets in Little Village.

CDOT is also working with Brighton Park, Gage Park, and McKinley Park residents to develop a plan for upcoming Neighborhood Bike Network routes be constructed beginning in 2024.

You can learn more about Chicago's bikeway network, the Chicago Cycling Strategy, and active projects at Chicago.gov/Bikes.