CDOT and Aldermen Thompson and Sigcho-Lopez Celebrate Reconstruction of Loomis Street Movable Bridge Across the South Branch
October 22, 2020
Mike Claffey 312.744.0707 Michael.Claffey@cityofchicago.org
Susan Hofer 312.742-2006 Susan.Hofer@cityofchicago.org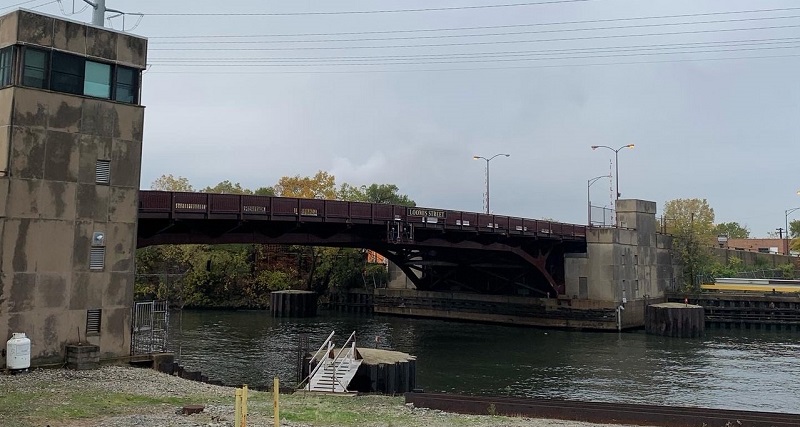 CHICAGO - Chicago Department of Transportation (CDOT) Commissioner Gia Biagi today joined Alderman Patrick Thompson and local stakeholders to cut the ribbon on the newly rehabilitated Loomis Street Bridge. The movable bascule bridge over the South Branch of the Chicago River underwent a full rehabilitation by CDOT's In House bridge maintenance forces.
"The rehabilitation of the Loomis Street Bridge by CDOT's highly skilled workers is a great example of the tremendous skill and dedication that our employees rely on to keep our movable bridges operating in good condition," Commissioner Biagi said. "Each of these bridges is a finely calibrated machine and it took contributions from more than dozen of our specialized trades workers to successfully complete this project."
"I would like to thank all of the workers who made this project such a success. We continue to reinvest in our communities. This bridge compliments the Eleanor Boat House down the street as well as the recently renovated play lot at Jacolik Park," said Alderman Thompson. "This is a bridge with deep history and is a heavily used corridor that connects the 11th and the 25th Ward. The improvements have made this bridge safer for vehicular, pedestrian and bike traffic."
The $6 million project included the full replacement of roadway and sidewalks, concrete repairs and asphalt resurfacing for the approaches to the bridge, installation of new fiberglass panels on the sidewalks and a concrete-filled lane for a smoother and safer ride for biker riders in both directions.
"My thanks to everyone who made this project possible. This bridge improvement project will help connect local communities in a safer and more efficient manner and demonstrates our local commitment to critical infrastructure upgrades that will benefit future generations of residents," said Commissioner John P. Daley.
Construction trades that played a role in the completion of the Loomis reconstruction include structural and architectural iron workers, operating engineers, carpenters, construction laborers, electricians, cement finishers, motor truck drivers, sheet metal workers, painters, machinists, asphalt laborers and bridge operators.
"While the industrial bridges of the 1920s might be one of the things we're known for, our city has come a long way. Now, bridges connect pedestrians to communities across Chicago. Here in the Lower West side it connects two of the most historic communities, Pilsen and Bridgeport," said Alderman Sigcho-Lopez .
The north-south Loomis Street Bridge is one of 37 movable bridges maintained by CDOT and connects Bridgeport to Pilsen. It is the third bridge in Chicago history at this site. The current structure was built in 1977 and won an award for "Most Beautiful Bridge – Movable Span" from the American Institute of Steel Construction in 1978.
At the time it was constructed the Loomis Bridge was the first vehicular movable bridge in Chicago to feature box girders that extended above the bridge deck to railing height. It thus served as a proto-type for the movable bridges subsequently constructed at Columbus Drive and Randolph Street.
###
You can follow CDOT on digital media:
Twitter:@ChicagoDOT/
Facebook: www.facebook.com/CDOTNews
The web: www.chicagodot.org