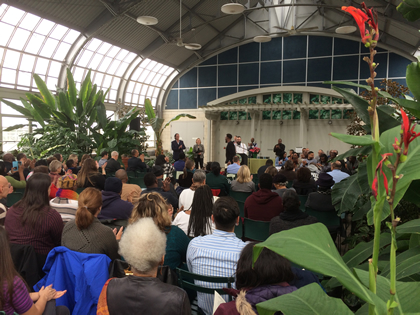 Deputy Mayor Andrea Zopp and CDOT Commissioner Rebekah Scheinfeld presided today over a graduation ceremony at the Garfield Park Conservatory for 23 Chicagoans who successfully completed Greencorps Chicago, the City's green industry job training program for individuals with barriers to employment. Participants in the nine-month program gained extensive training and practical experience in the classroom and in the field in areas such as ecological restoration, landscaping, tree care, and carpentry.
"Greencorps Chicago is a critically important training program that demonstrates Mayor Emanuel's commitment to knocking down barriers to employment for ex-offenders who want to support themselves and their families while making a positive contribution to our City," Deputy Mayor Zopp said. "Greencorps helps individuals who would ordinarily have trouble finding employment get training and jobs, while making Chicago a greener, more sustainable City."
"Many formerly incarcerated individuals return to Chicago and have difficulty finding steady employment," CDOT Commissioner Scheinfeld said. "Through the Greencorps program, CDOT provides classroom training and opportunities for practical experience in the field that puts these men and women on the road to productive, new lives while making a positive impact in neighborhoods across Chicago."
At this year's ceremony the City also recognized a recent Greencorps graduate, Henri Jordan, who is now a mentor in the program and was awarded an Illinois Job Honor Award by the Illinois Chamber of Commerce and Illinois State Council for the Society for Human Resource Management.
Since completing Greencorps, Jordan is now employed with Forest Preserves of Cook County, where he helps care for public land as a resource technician. He also volunteers as a mentor with Greencorps and has recruited 15 people to join the program.
In addition to teaching job skills, the program has had a positive impact on the City's landscape. In 2016, green infrastructure training was added as new curriculum. It provides an understanding of how green infrastructure design and management practices can mitigate urban flooding.
During the nine-month program, Greencorps Chicago trainees receive practical experience, academic enhancement, professional development and training in a variety of environmentally-related jobs with skills that are easily transferable to other industries.
The 2016 Greencorps class restored or improved habitat for more than 1,000 acres, removed over 200 acres of invasive species and planted over 200 trees and shrubs.
Greencorps, which marks 22 years in operation this year, works with over 30 partners to recruit participants, support job readiness and provide professional certifications, often leading to permanent jobs once training is completed. Industry partners host internships for the trainees, helping them acquire experience that can lead to permanent jobs.
Outplacement specialists work to identify positive placement matches and continue with post placement follow-up. This process provides more continuous employment and multiple placement opportunities. The program is a Service and Conservation Corps program and member of The Corps Network, a national alliance of Conservation Corps.
You can follow CDOT on digital media:

Twitter: @ChicagoDOT
Facebook: www.facebook.com/CDOTNews
The web: chicagodot.org