CDOT Celebrates Graduation of Greencorps Chicago Job Training Program that is Slated to Double in Size in 2019
November 30, 2018
Ceremony in Garfield Park Conservatory for Graduates of City's Green Jobs Training Program for Adults with Barriers to Employment
Mike Claffey 312.744.0707 | Michael.Claffey@cityofchicago.org
Susan Hofer 312.742.2006 | Susan.Hofer@cityofchicago.org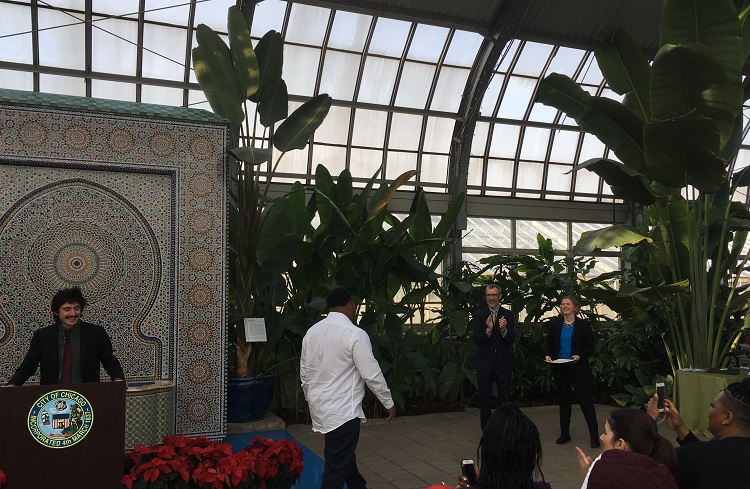 The Chicago Department of Transportation (CDOT) and City representatives today celebrated the graduation of a new group of trainees from Greencorps Chicago, the City's green industry job training program for individuals with barriers to employment. Participants in the nine-month program gained extensive training and practical experience in the classroom and in the field in ecological restoration, landscaping, tree care, carpentry, green infrastructure and environmental health and safety.
The ceremony at the Garfield Park Conservatory came weeks after the passage of Mayor Rahm Emanuel's 2019 Budget by the City Council that boosted funding for the program by $700,000. The additional funding will enable Greencorps Chicago to double in size and accept approximately 40 new trainees in the next class.
"I congratulate all of today's graduates of Greencorps Chicago and I am proud that we will be able to expand the program to serve more Chicagoans in 2019," Mayor Emanuel said. "Greencorps helps knock down barriers to employment and provides an opportunity for returning citizens to get the training and experience the need to become productive employees who make Chicago a greener, more sustainable and resilient City."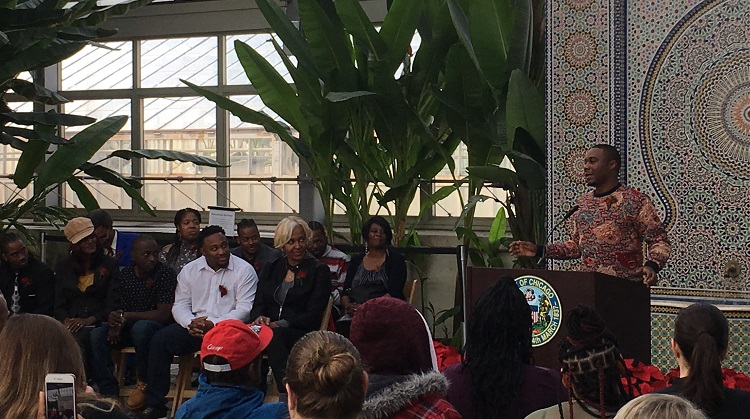 "CDOT is extremely proud of this graduating class of Greencorps Chicago trainees," CDOT Commissioner Rebekah Scheinfeld said. "Through Greencorps, CDOT and our partners provide classroom training and opportunities for practical experience in the field that puts these men and women on the road to productive, new lives while making a positive impact in neighborhoods across Chicago."
The keynote speaker at the ceremony was Esther Franco-Payne, the Executive Director of Cabrini Green Legal Aid (CGLA). Members of Greencorps received a variety of essential legal assistance including sealing and expungement services through a partnership with CGLA.
Under Mayor Emanuel's leadership, Chicago has enacted strong environmental protections and taken significant steps towards tackling climate change that demonstrate sustainability and economic growth go hand in hand. Mayor Emanuel has continued to drive reduce carbon emission through a number of new initiatives or expansion of existing programs since 2015, ranging from increasing the number of highly energy-efficient buildings, to updating Chicago's streetlights to energy-efficient LED fixtures through the Chicago Smart Lighting Program. Through these and other efforts, the City as well as its residents and businesses save money, conserve resources, and reduce harmful pollution while also creating clean 21st-century, local jobs.
This year the City recognized partner organizations that provide valuable support to the training program. An Employer Partner Certificate of Recognition was presented to Cardno. A Certificate of Recognition was presented to Cabrini Green Legal Aid for their partnership with Greencorps.
Greencorps, which marks 24 years in operation this year, works with over 30 partners to recruit participants, support job readiness, and provide professional certifications. These efforts often lead to permanent jobs once training is completed. Industry partners also host internships for the trainees, helping them acquire experience that can lead to permanent jobs.
A job placement coordinator works to identify positive placement matches and continue with post placement follow-up. This process provides more continuous employment and multiple placement opportunities. Greencorps Chicago is a 21st Century Conservation Service Corps program and member of The Corps Network, a national network of conservation and service corps.
You can follow CDOT on digital media:
Twitter: @ChicagoDOT
Facebook: www.facebook.com/CDOTNews
The web: chicagodot.org and greencorpschicago.org