Mayor Emanuel Breaks Ground On Damen, Elston, Fullerton Reconstruction Project
May 29, 2015
Will Relieve Congestion and Improve Safety at One of City's Most Crash-prone Intersections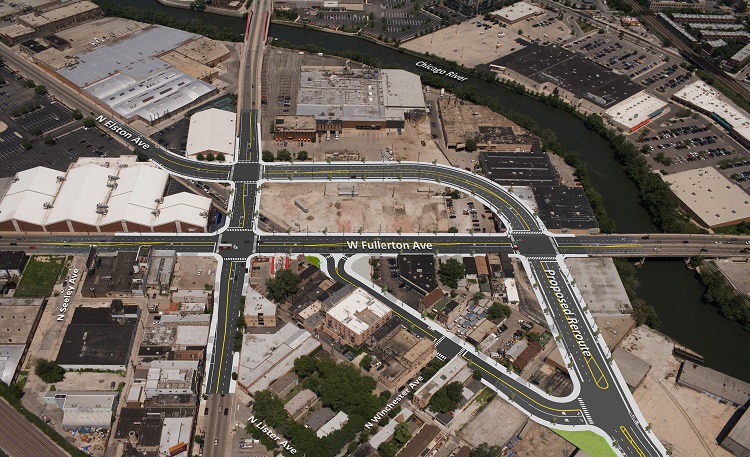 Mike Claffey 312.744.0707
Michael.claffey@cityofchicago.org
Mayor Rahm Emanuel today broke ground on a major project to reconstruct and realign the intersections of Damen, Elston and Fullerton Avenues – relieving congestion and improving safety at one of the city's most crash-prone intersections. The project, managed by the Chicago Department of Transportation (CDOT), will address a major traffic bottleneck by re-routing Elston Ave. and the intersection.
"Damen, Elston, and Fullerton is one of Chicago's most dangerous and most congested intersections," Mayor Emanuel said. "As anyone knows who waits and waits to drive through this very badly-configured 6-way, it can be a real nightmare. After more than a decade of planning, we are getting to work on a project that will save both time and headaches for everyone who travels in the area."
Work officially began overnight, as Damen and Elston were reduced to one lane in each direction north of Fullerton to allow for demolition work. Damen and Elston will remain reduced to one lane through this construction season. Once Fullerton is reduced to one lane in each direction in June, it will remain in that configuration until Labor Day.
In spring 2016, the realigned section of Elston will be opened to traffic and will carry two lanes in each direction. Lane reductions will be required on Damen and Fullerton and existing Elston south of Fullerton in 2016 to complete utility work and paving. The entire project is scheduled for completion at the end of 2016.
The project will realign and reconstruct Elston Ave. and its intersections with Damen and Fullerton Avenues to improve safety and reduce congestion in the area. The project will also widen Damen to provide improved bike accommodations, widen the north sidewalk along Fullerton, and include the resurfacing of all streets within the project limits. The existing section of Elston Ave. south of Fullerton will be renamed N. Elston Court and will be reconstructed with a right-in/ right-out at Fullerton.
"More than 70,000 vehicles pass through this intersection each day, and at peak travel times it causes major inconvenience for motorists as well as pedestrians and bicyclists," CDOT Commissioner Rebekah Scheinfeld said. "We've come up with a creative solution that will reroute Elston and synchronize traffic signals to relieve congestion, improving safety for everyone who travels through the area."
While the project is underway, CDOT recommends motorists take alternate routes to avoid delays. Recommended east-west alternates include Diversey, Webster and North Avenues; Ashland and Clybourn are recommended as north-south alternates.
For people riding bikes, "Shared Lane Yield to Bikes" signs will be posted on Damen and Elston throughout construction. As an alternate north-south bike route, CDOT recommends using Cortland Street, Clybourn, and Diversey for people riding through the project area.
CDOT also announced today it will be starting a project next week, weather permitting on June 1, to make structural repairs to the Cortland Street Bascule Bridge over the North Branch of the Chicago River. The bridge will be closed to vehicular traffic although at least one sidewalk will remain open to pedestrian traffic during the work, scheduled to last until November. The bridge will be open to bicycles, however bicyclists will be directed to walk their bikes on the sidewalk.
Cars will be detoured via Webster Ave. and truck traffic will be detoured via North Ave.
You can follow CDOT on digital media:
Twitter: @ChicagoDOT
Facebook: www.facebook.com/CDOTNews
The web: chicagodot.org