Chicago's Smart Lighting Project – Neighborhood Demonstration
December 12, 2016
Mayor Emanuel has announced that the City is conducting a public demonstration of next-generation streetlights in seven neighborhoods as part of the Chicago Smart Lighting Project, which will upgrade streetlights across the city. Residents are being asked to provide feedback on the new lighting, which represents the latest advances in lighting technology, through the end of the year.
The Chicago Smart Lighting Project is designed to enhance public safety and quality of life for all Chicagoans by providing better, more reliable outdoor lighting along with speeding up responsiveness to streetlight service requests.
The Smart Lighting Project is being led by the Chicago Infrastructure Trust (CIT) in close coordination with the Chicago Department of Transportation (CDOT). When completed it will be one of the largest LED conversion projects in the country and will create the nation's largest lighting control network.
This ambitious city-wide lighting modernization initiative will take advantage of advances in lighting technologies to deliver higher quality, more reliable, outdoor lighting by:
• Replacing approximately 270,000 outdated high pressure sodium (HPS) lamps with modern, energy- efficient LED lights.
• Installing a wireless lighting management system that provides real time outage updates, greatly reducing outage response times.
• Making targeted repairs to existing poles and wires, with the goal of extending useful life and reducing failure rates.

Request For Feedback
During December, 2016, before the Chicago Smart Lighting procurement is finalized, the City is conducting demonstrations of the proposed new LED lighting to solicit resident input.
New LED light fixtures have been installed in seven Chicago neighborhoods; on one arterial street, one residential block, and one alley in each area.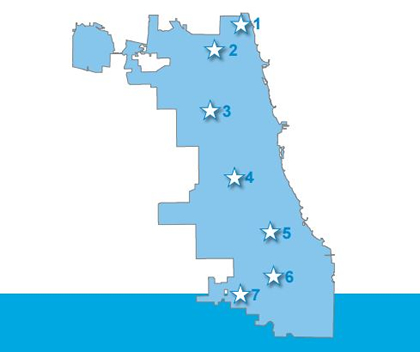 For a larger and more detailed version of map


1. Touhy Ave.: Paulina St. to Ashland Ave.
Paulina St.: Touhy Ave. to Chase Ave.
Alley from Ashland Ave. to Paulina St. between Touhy Ave. and Chase Ave.
2. N. Jersey Ave.: Bryn Mawr Ave. to Hollywood Ave.
Hollywood Ave.: N. Jersey Ave. to Spaulding Ave.
Alley from Bryn Mawr Ave. to Hollywood Ave. between N. Jersey Ave. and Spaulding Ave.
3. Hamlin Ave.: Augusta Blvd. to Iowa St.
Augusta Blvd.: Hamlin Ave. to Lawndale Ave.
Alley from August Blvd. to Iowa St. between Hamlin Ave. and Ridgeway Ave.
4. Wood St.: 46th St. to 47th St. 46th St.: Wood St. to Wolcott Ave. Alley running South from 46th St. between Wood St. and Honore St.
5. 73rd St.: Bennett Ave. to Euclid Ave.
Bennett Ave.: 73rd St. to 74th St.
Alley from 73rd St. to 74th St. between Bennett Ave. and Euclid Ave.
6. State St.: 107thSt. to 108th St.
107thSt.: State St. to Michigan Ave.
Alley from 107th St. to 108th St. between State St. and Lafayette Ave.
7. Longwood Dr.: 115th St. to 116th St.
115th St.: Longwood Dr. to railroad tracks
Alley from 115th St. to 116th St. between Longwood Dr. and Hale Ave.
The City is asking residents to provide general feedback about light quality, lighting levels and visibility.
Smart LED Lighting Project Survey


Comments can be submitted:
online via the CDOT website at www.chicagodot.org
or
the CIT website at www.chicagoinfrastructure.org
or by mail to:
CDOT Streetlight Demo
30 N. LaSalle St., Suite 1100
Chicago, IL 60602.
Chicago Smart Lighting Facts
LED stands for light emitting diodes.
LED lights use less than half the energy of HPS lights.
LED fixtures last up to three times longer than HPS lights.
The light from LED fixtures is a whiter light different than the orange-hued HPS lights that have been in use since the 1970's.
LED lights provide clear, crisp light that improves nighttime visibility.
The LED fixtures, along with lighting management network, will allow the City to adjust light levels to meet specific lighting needs.
Chicago's new Smart Lighting is designed to direct light downward where it is needed, towards streets and sidewalks, while minimizing the light that shines into resident windows.
For more information about the Chicago Smart Lighting Project, go to http://chicagoinfrastructure.org/initiatives/smartlighting/
Want to view the Smart LED Lighting Project Flyer? Download