Mayor Emanuel, Sen. Durbin, Congressmen Davis And Rush And Ald. King Open Pedestrian Bridge To Improve Bronzeville Lakefront Access
November 10, 2016
City's Longest Pedestrian Bridge is the First of Five New Bridges Over South Lake Shore Drive; Creates Lakefront Connection to New Arts and Recreation Center at Ellis Park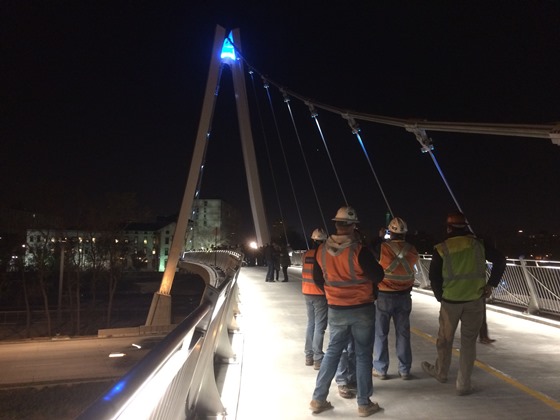 Mayor Rahm Emanuel was joined today by U.S. Senator Dick Durbin, Congressman Danny Davis, Congressman Bobby Rush and 4th Ward Alderman Sophia King to cut the ribbon – and turn on the lights – on the new pedestrian bridge connecting Bronzeville to the lakefront at 35th Street. Spanning more than 600 feet over Lake Shore Drive and six railroad tracks, the new bridge constructed by the Chicago Department of Transportation (CDOT) is the longest pedestrian bridge in Chicago and the first of five projects to improve access from Bronzeville to the lakefront.
"Chicago is only as strong as its neighborhoods, and the investment we've made in this beautiful new bridge strengthens Bronzeville and makes it easier for residents to enjoy our unparalleled lakefront," Mayor Emanuel said. "This project will improve the health of the community and its residents. It also brightens the future of Bronzeville and builds on the great momentum we're seeing throughout the community."
Designed by Teng and Associates, the new fully-accessible bike and pedestrian bridge replaces a deteriorated, non-ADA accessible pedestrian bridge built in 1933 with a modern S-shaped suspension bridge. It features a 20-foot wide deck and is 620 feet long from abutment to abutment. The center support pylon reaches approximately 120 feet into the sky. The $26 million project was funded through a combination of federal and state funding.
"Without a safe and reliable way to cross Lake Shore Drive and the railroad tracks, the Bronzeville neighborhood was cut off from our magnificent lake for too long. Today, the new 35th street pedestrian bridge will open up the lakefront in a safe and convenient way for pedestrians, cyclists and people living with disabilities," Sen. Durbin said. "I was proud to help secure nearly $21 million in federal funding for this project, and will continue to work with Mayor Emanuel to ensure that federal transportation dollars are being invested in Chicago on projects like this one that benefit the everyday lives of people."
"Chicago's Lakefront is one of America's natural gems and a point of special pride for our city," Cong. Davis said. "Parts of the City have been separated from the Lakefront by Lakeshore Drive and, in the case of Bronzeville, by some six rail lines. This beautiful new bridge is a much needed and eagerly anticipated replacement for the 80+ year old non ADA accessible 35th Street pedestrian overpass linking Bronzeville to the lake. This joint effort by the City and the federal government is an exciting new addition to Bronzeville and a tantalizing taste of what is to come with four more joint projects in the works."
"We have seen Mayor Emanuel's commitment to consistent investment on the South Side of Chicago," Cong. Rush said. "The new 35th street pedestrian bridge is one more example of the many community transforming quality of life improvements that we have seen. There are many positive changes taking place in Bronzeville and I am proud to represent my constituents by bringing home real results."
The new bridge also creates a vital connection to the new arts and recreation center at Ellis Park and underscores Mayor Emanuel's commitment to his Building on Burnham plan, which is designed to improve access to recreational opportunities for residents throughout Chicago.
The Ellis Park project was developed in coordination with the Chicago Park District and engagement from local community stakeholders. It includes a full-size gymnasium with two basketball courts, an indoor pool, art and education club rooms, a fitness center and studio, meeting hall, and music and theater performance spaces. The center also offers space for arts and cultural programs that can support after school programs for local elementary and high school students.
"The 4th Ward is immensely honored to house the only single cable suspension bridge in the city of Chicago, which will serve as a passage way to one of our community's most prized assets – the lakefront," Ald. King said. "Moreover, the bridge is anchored only steps away from the Stephen Douglas Tomb and Memorial, which further underscores the depth of distinction and historical significance."
"CDOT is excited to celebrate the completion of this project that delivers on Mayor Emanuel's commitment to improving recreational opportunities and quality of life for residents of the Greater Bronzeville community and all of Chicago's neighborhoods," CDOT Commissioner Rebekah Scheinfeld said. "This attractive new bridge at 35th Street combines the classic principles of a long-span suspension bridge with modern bridge engineering to create another iconic piece of Chicago architecture that highlights the City's commitment to the renewal of Bronzeville."
Last month Mayor Emanuel cut the ribbon on the new Mariano's grocery store in Bronzeville. The new store adds fresh, healthy food options and creates 400 jobs, including approximately 100 jobs that are held by Chicago Housing Authority residents. Located at 3859 South Dr. Martin Luther King Drive, the new store covers more than 74,000 square feet and brings renewed life to a key intersection that has been vacant for several years. It also features products from approximately 50 local suppliers.
The Chicago Department of Transportation (CDOT) has four other South Lake Shore Drive bridge projects on the way, including a new pedestrian bridge at 41st Street expected to start construction next spring. A third pedestrian bridge will replace the existing non-ADA compliant pedestrian bridge at 43rd Street. The Department is also finalizing designs for the replacement of two vehicular bridges over the railroad tracks at 31st Street and 39th Street.