Mayor Emanuel Joins Community Leaders to Break Ground on the Next Phase of the Grand Ave. Reconstruction Project
February 15, 2017
The Project Kicks off the 2017 Road Construction Season in Chicago
Mayor's Press Office 312.744.3334
press@cityofchicago.org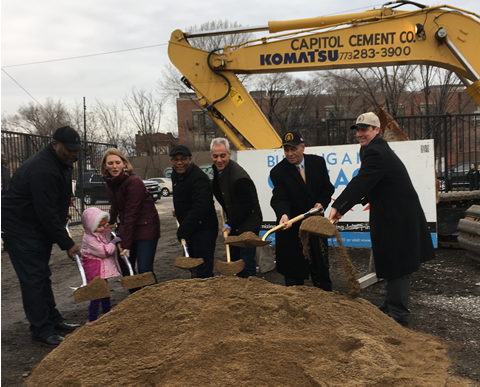 Mayor Rahm Emanuel today joined 26th Ward Alderman Roberto Maldonado and 27th Ward Alderman Walter Burnett to break ground on the next phase of the Grand Avenue reconstruction project—a project that will reconstruct the roadway and sidewalks, as well as install new lighting on Grand Avenue from Des Plaines Street to Fullerton Avenue.
"Today the City continues its work to improve roads conditions along Grand Avenue in Humboldt Park," said Mayor Emanuel. "The reconstruction, repaving and rehabbing of roads is important to our communities because it improves mobility, makes our streets safer and helps revitalize neighborhoods."
The ground breaking today represented the fifth of eight overall improvement projects taking place along Grand Avenue between Fullerton and Des Plaines. The project also officially kicks off the City's 2017 road construction season.
"This project represents a badly needed investment in our Ward," said Alderman Maldonado. "It sets the stage for businesses to grow and create jobs and will make it easier and safer for everyone who uses this corridor whether they are in vehicles or on foot."
The most current phase of the project will reconstruct a 1.5 mile stretch of Grand Avenue from Chicago Avenue to Pulaski Street. The work will include widening the roadway to help improve safety and ease the movement of vehicular and bicycle traffic, as well as constructing new sidewalks and ADA ramps. The project will also include modernizing eight traffic signals within Division, Monticello and Grand Avenue.
"Grand Avenue is a major artery that carries thousands of cars and trucks through our community each day," said Alderman Burnett. "This project gives us the opportunity to reinvigorate the neighborhood and improve the climate for businesses and also enhance quality of life for residents."
The project also includes green elements, such as the planting of 149 trees, new energy-efficient LED street lighting and installation of permeable sidewalks to reduce run-off along 20 percent of the project area.
"CDOT is excited to break ground today on this important project that will improve both mobility and safety for everyone who lives and works along this stretch of Grand Avenue," Chicago Department of Transportation (CDOT) Commissioner Rebekah Scheinfeld said. "The project will not only enhance quality of life for the neighborhood's residents, but also make it easier to move goods and improve the climate for job creation."
During the project, traffic will be reduced to one lane in each direction within the work zone. It will also require the full closure of a railroad viaduct at Grand Avenue and Homan Street in summer 2017, requiring a detour via Division Street and Kedzie Avenue.
Construction on this phase of the Grand Avenue project is scheduled for completion in late 2017. The final three phases of the Grand Avenue project will follow and include: Chicago Avenue to Damen Avenue; Damen Avenue to Racine Avenue; and, Racine Avenue to Des Plaines Street.
The $13.6 million project is being paid through Federal road funding, as well as through TIF funds.
Over the last five years, under Mayor Emanuel's Building a New Chicago program, CDOT, the Department of Water Management and private utilities have repaved more than 1600 miles of city streets and alleyways. At the current pace, over the next two years, more than 2,000 miles of City streets will have been repaved under Mayor Emanuel – almost half the City's Streets. Of the total, more than 400 miles of arterial routes have been repaved or reconstructed.