CDOT Launches Final Phases of Devon Avenue Streetscape Project
March 30, 2017
$15 Million TIF-funded Infrastructure Project to Improve West Ridge Business District Between Kedzie and Sacramento and Western and Leavitt
Mike Claffey 312.744.0707 | Michael.Claffey@cityofchicago.org
Susan Hofer 312.742.2006 | Susan.Hofer@cityofchicago.org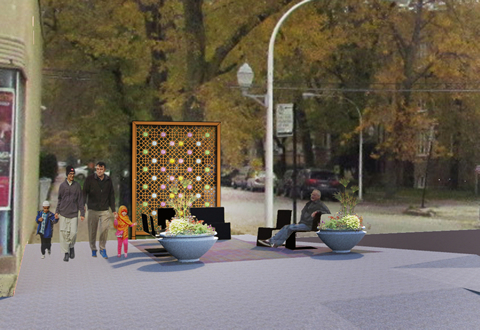 The Chicago Department of Transportation (CDOT) and Alderman Debra Silverstein (50
th
Ward) announced the start this week of the two final phases of the Devon Avenue streetscape project, a $15 million project that is modernizing and beautifying a 20-block stretch in the West Ridge Business District which is known for ethnically diverse mixture of shops and restaurants. The two phases cover the blocks from Kedzie Avenue to Sacramento Avenue and from Western Avenue to Leavitt Street.
"This new phase of the Devon Avenue Streetscape Project will build on earlier work that we have completed, enhancing the quality of life for West Ridge neighbors and encouraging business and economic development along this corridor," Mayor Rahm Emanuel said. "With new lighting, landscaping widened sidewalks and clearly marked intersections, we are making the neighborhood safer and more inviting for everyone who lives and shops along this Devon Avenue."
CDOT is now completing streetscape work on Devon California Avenue to Rockwell Street and previously completed improvements as part of this project Devon between Sacramento Avenue and California Avenue and Rockwell Street and Western Avenue. The final two phases are scheduled for completion in late spring of 2018.
The entire $15 million streetscape project was planned and designed by CDOT and community representatives, and funded mostly through Tax Increment Financing (TIF). It is one of the many neighborhood streetscape projects of
Building a New Chicago
, Mayor Emanuel's comprehensive infrastructure renewal program.
"This streetscape project was developed in coordination with the community to improve the unique experience of Devon Avenue, the main thoroughfare of the West Ridge neighborhood," Ald. Silverstein said. "Through Tax Increment Financing, we have put our own tax dollars to work in our neighborhood."
"The Devon Avenue Streetscape Project demonstrates CDOT's commitment to working with community stakeholders and delivering investments that make it safer and easier for people to live and do business in neighborhoods all across Chicago," CDOT Commissioner Rebekah Scheinfeld said.
The project's infrastructure and aesthetic elements include wider sidewalks, new street and pedestrian lighting, crosswalks, street bump outs, and community identifiers highlighting the Devon Avenue corridor.
The project highlights include:
New wider sidewalks with ADA ramps

New curbs and gutters

New street and pedestrian lighting

Paver parkways

Benches, bike racks and waste containers

Seating areas on side streets

New trees with tree grates

Landscaped in-ground and above-ground planters

Light pole, intersection, and gateway community identifiers

New crosswalks at each intersection
The Devon Streetscape is part of CDOT's commitment to a "Complete Streets" policy that ensures Chicago's roadways and streetscapes are designed and built in a balanced way to improve safety for Chicagoans of all ages and abilities, lower transportation costs and build stronger communities.
Traffic impacts
Throughout construction, Devon Avenue will remain open to motorists and pedestrians and access to businesses and residences will be maintained. In order to keep the street open to traffic, parking will not be allowed in the area of active construction. In addition, there will be periodic parking restrictions on some side streets.