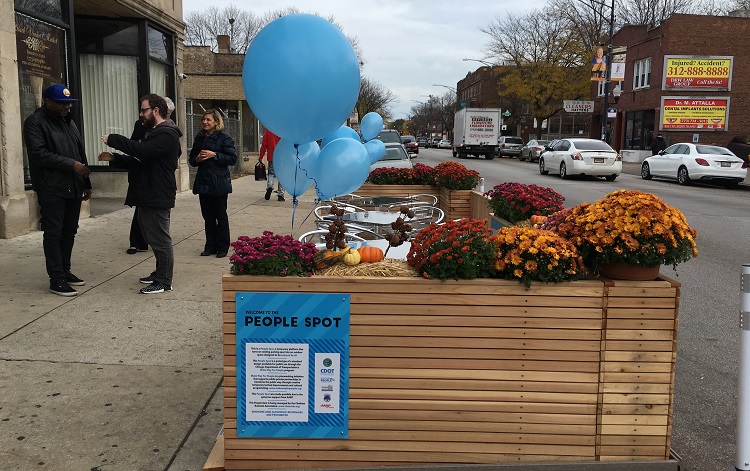 As part of the City of Chicago's continuing efforts to make neighborhoods more inviting and nurture economic development, the Chicago Department of Transportation (CDOT) and Department of Planning and Development (DPD) joined Alderman Roderick Sawyer (6th Ward) for the unveiling a new prototype People Spot in Chatham on 75th Street that was made possible by the AARP Community Challenge grant program. The project is also coordinated with Mayor Rahm Emanuel's Retail Thrive Zones program which is focused on boosting neighborhood economic vitality.
People Spots, sometimes called "parklets," are temporary platforms that turn a parking spot into an outdoor space for public enjoyment. They improve the walkability and vibrancy of neighborhoods by extending the sidewalk and creating additional pedestrian space.
The $30,000 competitive AARP grant was awarded through a national contest designed to help make communities more livable for residents of all ages through "quick action" projects that support long term neighborhood development. The grant made it possible for CDOT to create a design for an off-the shelf People Spot that can be utilized by neighborhood groups across the City to build their own People Spots. This will save local groups the cost of paying for custom-design of a People Spot, which could be a substantial expense for a neighborhood group.
The grant also paid for the construction of the prototype People Spot installed on 75th Street.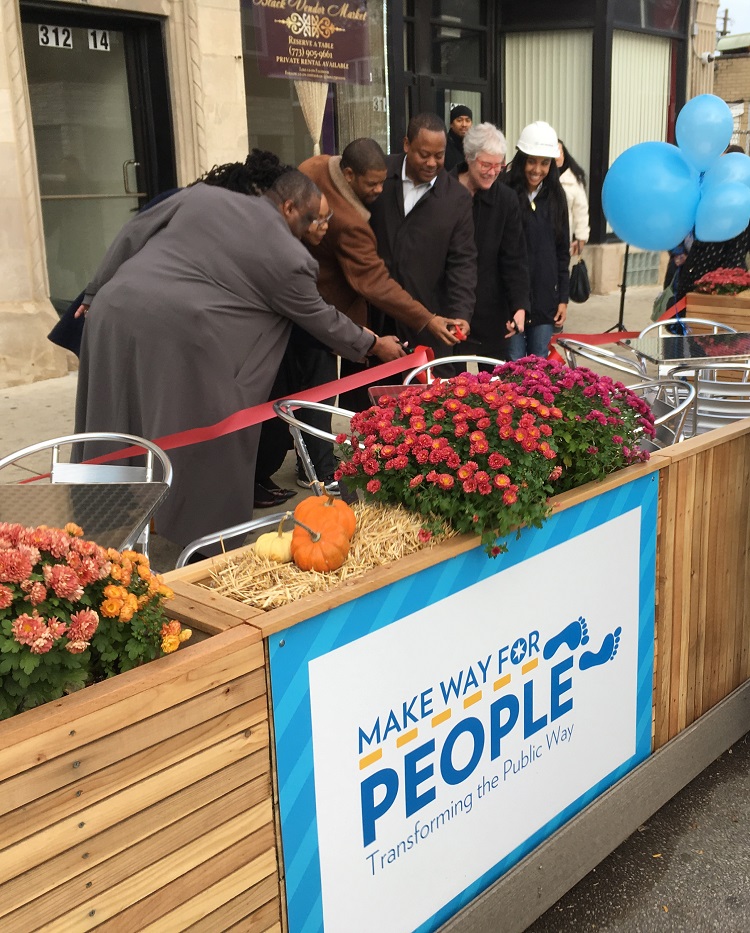 "We are very pleased that the 6th Ward was selected as the first location for the installation of the People Spot funded by the AARP Community Challenge Grant," Alderman Sawyer said. "The People Spot will further promote community efforts to activate the street and increase economic development along the 75th Street commercial corridor."
"It takes innovative thinking and quick implementation to bring about the kind of change needed to make our communities safe and more livable," said Bob Gallo, AARP Illinois State Director. "AARP is thrilled to encourage opportunities for these innovations and looks forward to seeing the Chatham People Spot enhance its neighborhood."
"We are very grateful to AARP for providing Chicago with this Livable Communities grant that has allowed us to create this new temporary People Spot in Chatham. This is a great example of the type of small projects that can boost neighborhood livability and development through a modest investment," said CDOT Commissioner Rebekah Scheinfeld. "These types of people-centered spaces provide opportunities for neighbors to interact and create more lively, hospitable public spaces."
The prototype in Chatham's 75th Street Retail Thrive Zone corridor will be maintained by the Chatham Business Association in partnership with the City of Chicago. The prototype, which takes up about two parking spaces, will be dismantled during the winter and installed at another location on 75th Street next spring. It will be used on a rolling basis in areas of high economic hardship or designated as Retail Thrive Zones in the City's south, southwest and west sides.
"Thanks to the efforts of Alderman Sawyer and the Administration of Mayor Emanuel, we have the opportunity to bring a People Spot to 75th Street's Restaurant Row located in Chatham," said Melinda Kelly, Chair of the Chatham Business Association. "We hope to attract visitors to 75th Street to sample the culinary delights from Five Loaves, Brown Sugar, Lem's Bar-B-Q, Flammin, Soul Veg , in addition to Mabe's Deli, just to name a few. We are glad to be one of the first to host a People Spot in Chatham."
The effort is part of CDOT's Make Way for People Program which employs the urban planning strategy of placemaking to support innovative uses of public spaces along the public way to create hubs for community activity and revitalization.
The goal is to improve street safety, promote walking and support the quality of life and economic vitality of all of the city's neighborhoods.
For more information about CDOT's Make Way for People Program, go to: www.makewayforpeople.org