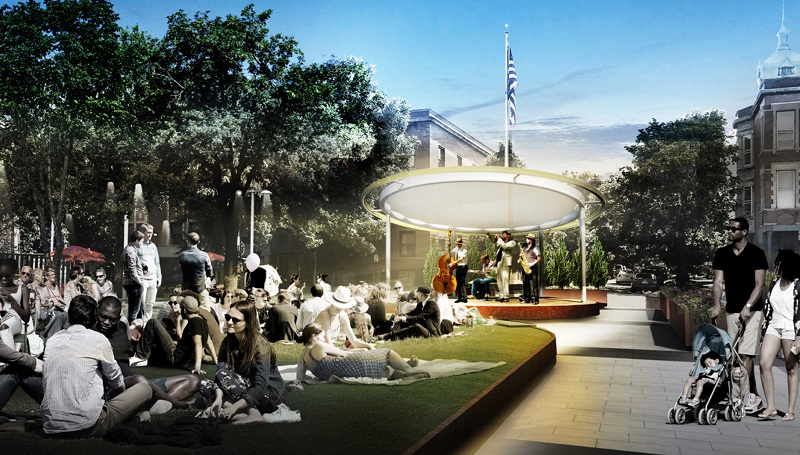 The Chicago Department of Transportation (CDOT), 47th Ward Alderman Matt Martin and the Northcenter Chamber of Commerce today broke ground on a streetscape project to construct a new town square at West Belle Plaine Avenue between North Lincoln Avenue and North Damen Avenue.
The $2.05 million Northcenter Town Square Streetscape Project will deliver numerous improvements, including the closure of West Belle Plaine Avenue between Lincoln Avenue and Damen Avenue to facilitate a larger pedestrian plaza with pavers, lighting upgrades, street furniture, landscaping, a play mound and a turf area. The focal point of the plaza will be a raised performance space with an overhead canopy. The Northcenter Special Service Area will be responsible for maintaining the upgrades.
"The new Town Square Streetscape Project will build on earlier work in the community, enhancing the quality of life for North Center neighbors and businesses and encourage additional economic development in this neighborhood," said Kevin O'Malley, CDOT Managing Deputy Commissioner.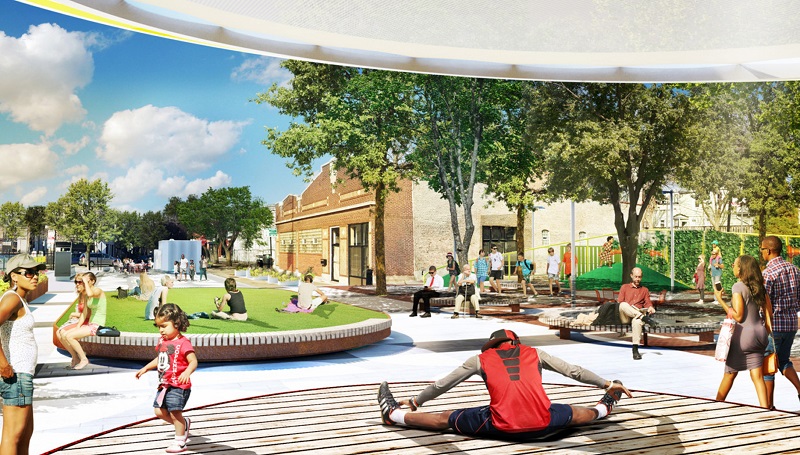 "I am thrilled to see this project come to be after years of community consultation led by the previous alderman's office. The Town Square will bring a much-needed pedestrian space to North Center for the community to come together to enjoy cultural events and relax," said Alderman Martin. "I am working to continue Alderman Pawar's work of highlighting the unique identity of each neighborhood in our ward and improving public spaces to make our communities more walkable and welcoming to residents, visitors and businesses alike."
"As longtime stewards of Northcenter Town Square, we are excited to see the future of our beloved neighborhood space," said Lindsay Eanet, Executive Director of the Northcenter Chamber. "This is the result of years of the Chamber, residents, business owners and local government collaborating and pushing forward on a shared vision for a vibrant and accessible year-round public space that welcomes everyone to our amazing neighborhood."
Project highlights
• Expanded community plaza space with pavers;
• Performance area with stage, canopy and with a turf sitting area;
• New lighting;
• Pedestrian safety improvements including crosswalks and bump-outs;
• Trees and landscaping; and
• Site furnishings;
Traffic impacts
Throughout construction, North Lincoln Avenue and North Damen Avenue will remain open to motorists and pedestrians, and access to businesses will be maintained. To keep the street open to traffic, parking will not be allowed in the area of active construction. In addition, there will be periodic parking restrictions on some side streets.
CTA bus routes will not be affected. For more information, please call the CTA information hotline at: 312-836-7000.
The project is being constructed by Sumit Construction Company, Inc. and is scheduled for substantial completion in Fall 2019.