CDOT and Alderman David Moore Cut Ribbon on Reconstructed Section of 73rd Street in 17th Ward
November 4, 2020
Project replaced deteriorated street segment with all new curb, gutter and pavement as well as new streetlights and tree plantings
Mike Claffey 312.744.0707 | Michael.Claffey@cityofchicago.org
Susan Hofer 312.742.2006 | Susan.Hofer@cityofchicago.org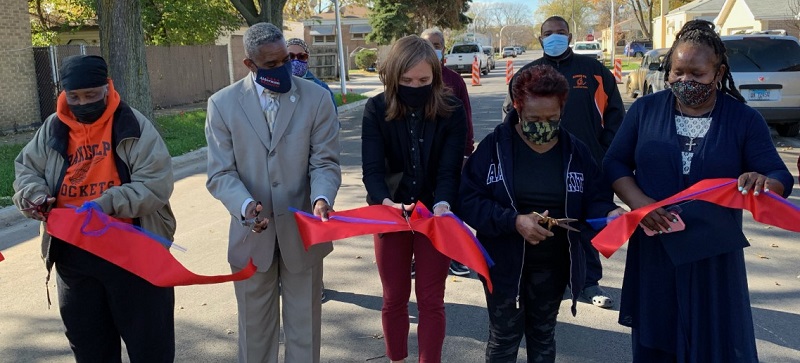 CHICAGO – Chicago Department of Transportation (CDOT) Commissioner Gia Biagi joined 17th Ward Alderman David Moore and community residents today to cut the ribbon on a fully reconstructed section of 73rd Street from Damen Avenue to Hoyne Avenue. The project involved the full reconstruction of a segment of 73rd Street, including new roadway and curbs and gutters and drainage, and new streetlights and tree plantings. The project replaced a badly deteriorated stretch that had poor drainage and no curbs.
"CDOT is proud to have worked with Alderman Moore to prioritize upgrading this section of 73rd Street to deliver residents the modern infrastructure they deserve," Commissioner Biagi said. "Making these type of neighborhood improvements is a major priority for the administration of Mayor Lightfoot, especially here on the South Side in areas that are part of the Mayor's Invest South/West investment initiative."
"This is a great day for the 17th Ward and we thank CDOT for working with us to identify the funding needed to complete this project that makes a real positive difference in the quality if life for residents of the neighborhood," Alderman Moore said.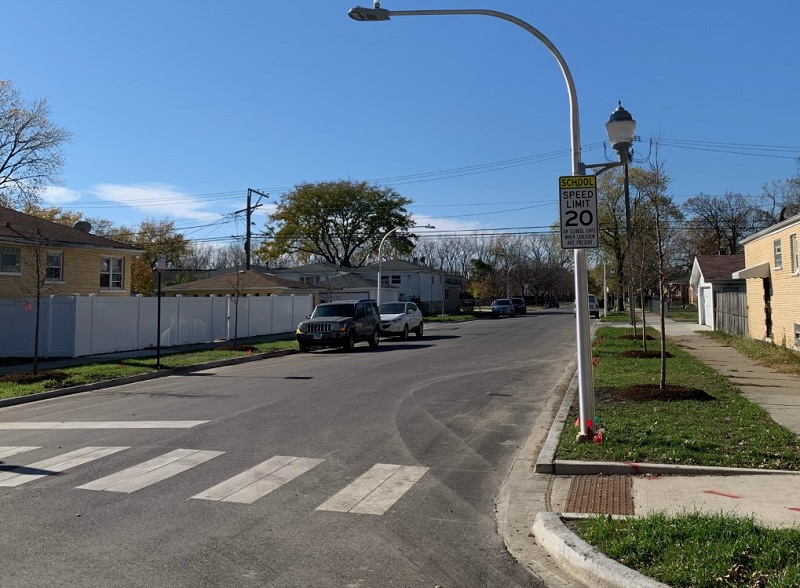 The section of 73rd between Damen and Hoyne was originally built in the 1930's under the Works Progress Administration, and did not include curbs and gutters and drainage structures. As a result, the two-block stretch suffered from standing water.
The $800,000 project funded through the City's bond program was strongly pushed for by Alderman Moore. The work project included new curb and ADA accessible cross walks and a new roadway along with new LED streetlights. It also installed six new catch basins to address the drainage problems and upgraded the alley aprons within the project limits. The construction work was completed this summer and the landscaping and tree planting was completed in October.
The project also involved coordination with the Department of Water Management to relocate an existing water main within the project limits.