City of Chicago and AARP Illinois to Mark World Day of Remembrance for Road Traffic Victims with a Virtual Observance
November 13, 2020
Mike Claffey 312.744.0707 Michael.Claffey@cityofchicago.org
Susan Hofer 312.742-2006 Susan.Hofer@cityofchicago.org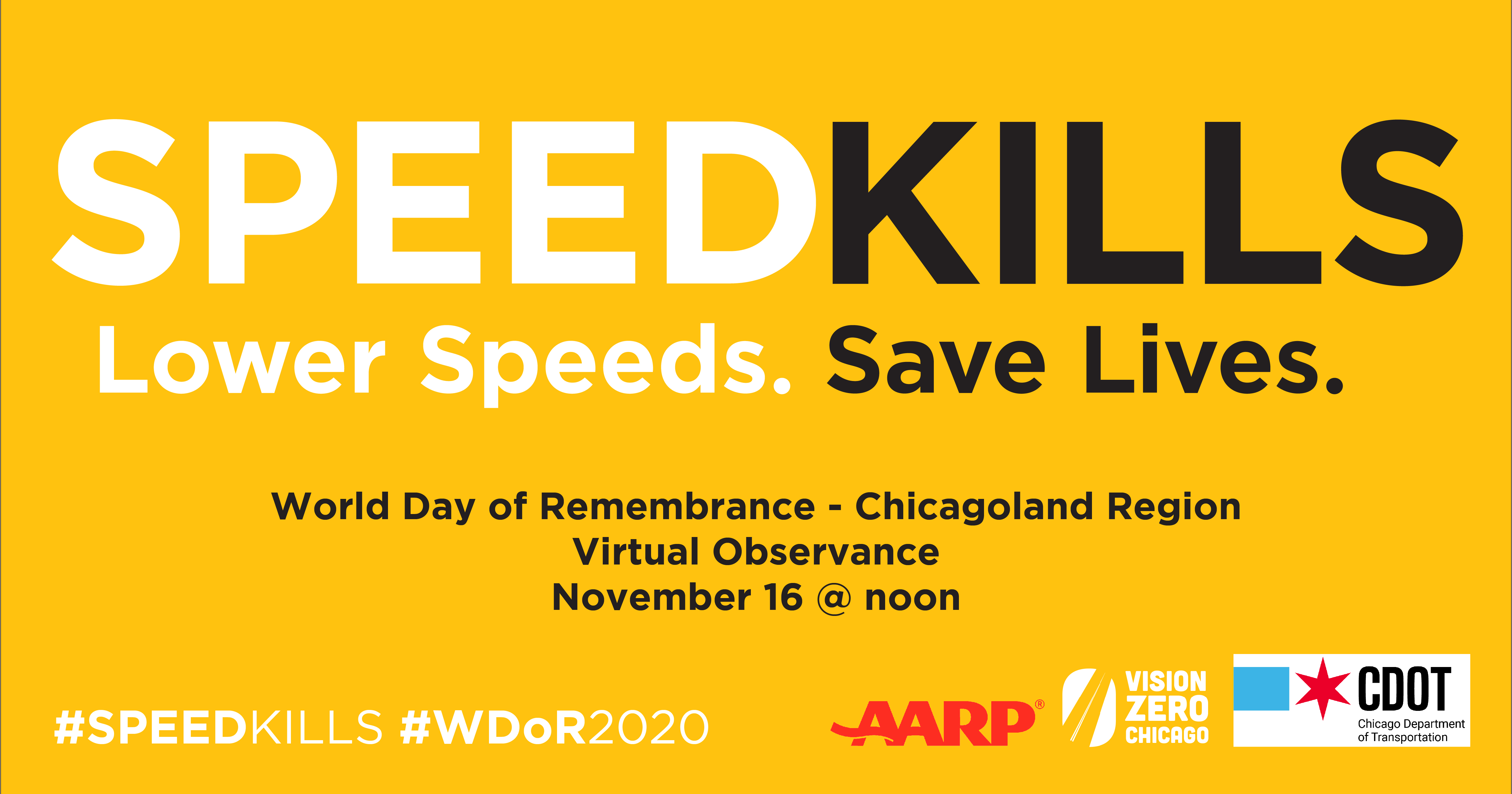 CHICAGO – The City of Chicago and regional partners will mark World Day of Remembrance for Road Traffic Victims, an annual, global memorial event, by streaming a virtual observance and vigil on Monday, November 16. The virtual event is organized by the Chicago Department of Transportation (CDOT) and AARP, two of the key partners in Vision Zero Chicago, a coordinated effort involving multiple City departments and local organizations with the goal of eliminating deaths and serious injuries from traffic crashes by 2026.
"In Chicago, every day, five people are seriously injured in traffic crashes and every three days, someone dies in a traffic crash," CDOT Commissioner Gia Biagi said. "On this World Day of Remembrance for Road Traffic Victims, we remember, support and act. We remember the families, friends, Chicagoans and others who were killed in crashes. We support those whose lives were forever changed, whether they suffered a life-altering injury, or are the friends, families and loved ones remembering someone today. And we must act to push for changes on our streets, so that no further lives will have to be remembered this way."
The World Day of Remembrance occurs every November and is dedicated to the memory of the millions killed and injured on the world's roads every year. More than 2,000 people are killed or seriously injured in traffic crashes in Chicago each year. In 2020, despite a sharp decrease in traffic volume, Chicago has seen an alarming increase in vehicle speeding and a corresponding spike in traffic fatalities. Through the end of October, Chicago had experienced an almost 50 percent increase in traffic fatalities with 116 deaths in the year to date, compared with 78 in 2019.
"AARP has been deeply involved in the Vision Zero initiative because older pedestrians have been particularly vulnerable. In Chicago from January 1 – September 30, even during a pandemic when there were fewer people commuting, over 300 pedestrians age 50 and over were severely injured in crashes caused by motor vehicles," said Rosanna Marquez Volunteer State President for AARP Illinois. "AARP looks forward to working with Vision Zero, the Chicago Department of Transportation, City Council and community partners to bring together the policies, partnerships, and technologies that prevent death and serious injury from traffic crashes."
Chicago is using all the tools in its traffic safety toolbox to combat the alarming trend of speeding and fatalities through the Vision Zero traffic safety program. This includes lowering speed limits where possible; investing in rapid delivery infrastructure projects to make streets safer for everyone, with some 250 safety projects this year; and by using automated speed enforcement to deter speeding.
The Chicago World Day of Remembrance event is intended to demonstrate the devastating toll that traffic deaths take in Chicago. Organizers invited families and friends of crash victims and street safety advocates to stream the virtual observance on the AARP Illinois Facebook page, and on other Vision Zero Chicago partners' social media pages.
The Vision Zero Chicago Action Plan is based on the principles of the international Vision Zero movement. It incorporates traffic crash data, identifies the greatest opportunities for change, and establishes the City's priorities and resources for addressing this public health challenge.
Using crash data, the plan identified 43 High Crash Corridors and eight High Crash Areas in Chicago. Of the High Crash Areas, seven of the eight are on the West and South Sides of the City and one is downtown, where the higher crash rate is correlated with higher density and higher volumes of vehicles and pedestrians.
In accordance with the commemorative event, CDOT Commissioner Gia Biagi will announce the release of the upcoming Vision Zero Downtown Plan, which calls for policy and infrastructure changes for roads in the City's Central Business District. These new improvements seek to instill a culture of safety for people walking, biking and driving.
To view the Vision Zero Chicago Action plan, go to http://visionzerochicago.org/
WHAT: World Day of Remembrance for Road Traffic Victims
WHEN: Monday, November 16 at noon
WHERE: Chicago, IL; virtual observance and vigil
WHO: Vision Zero Chicago, CDOT, AARP, CDOT Commissioner Gia Biagi
MORE INFO: Facebook event