CDOT and Alderman Gardiner Cut Ribbon for New Green Alley at Six Corners in 45th Ward, a Sustainable Infrastructure Project that Connects Cicero and Milwaukee Avenues
April 8, 2021
Mike Claffey 312.744.0707 Michael.Claffey@cityofchicago.org
Susan Hofer 312.742-2006 Susan.Hofer@cityofchicago.org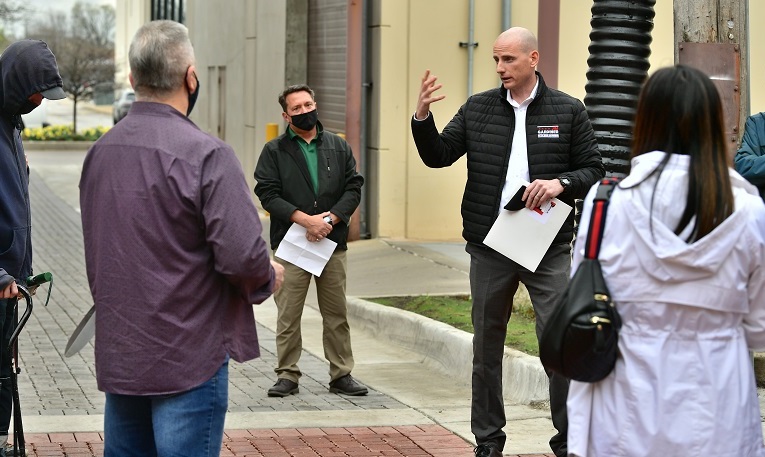 CHICAGO – The Chicago Department of Transportation (CDOT) and 45th Ward Alderman James Gardiner cut the ribbon today on a new "Green Alley" near the Six Corners intersection in the Portage Park neighborhood that provides an attractive new pedestrian connection between Milwaukee Avenue and Cicero Avenue. CDOT's Green Alley Program is a sustainable infrastructure initiative that is designed to reduce stormwater runoff and standing water, as well as the urban heat island effect. The initiative also promotes use of recycled materials in construction.
The new Green Alley in the 45th Ward includes decorative lighting. The north side of the alley spur that extends to the east ending at North Cicero Avenue includes decorative LED equipped bollards that enhance the space and improve nighttime safety. The bollards are programmable and can display seasonal colors or feature a shifting display that rotates throughout the day.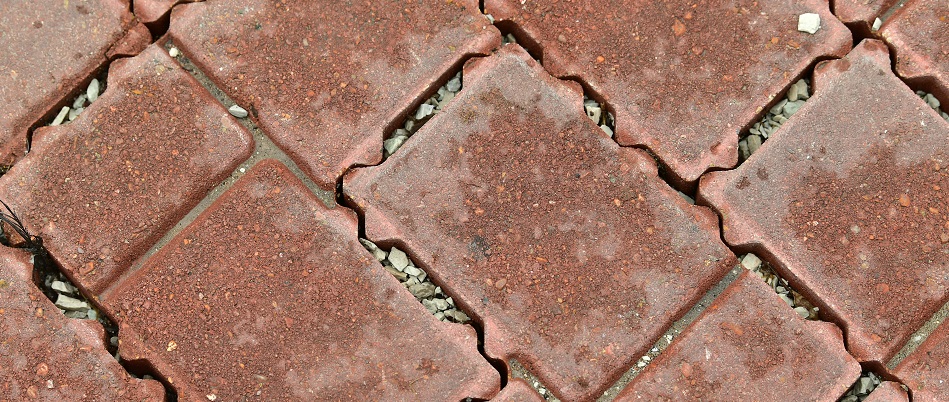 "Creating sustainable infrastructure has never been a more important part of our mission, and under Mayor Lightfoot's Five-Year Capital Plan, CDOT has been allocated new funding that will allow us to ramp up Green Alley construction throughout Chicago," said CDOT Commissioner Gia Biagi. "We are very pleased to have worked with Alderman Gardiner to create this new Green Alley in the 45th Ward that creates safe and inviting space for pedestrians and showcases some of the latest green technology we have at our disposal."
"The 45th Ward shall continue to be a leader in supporting green initiatives that will have a lasting impact on our community and our city," Alderman Gardiner said. "By partnering with CDOT, our community is now able to take advantage of a pedestrian alley that is attractive and eco-friendly. Welcome to the new 6 Corners!"
The $400,000 45th Ward project was funded through the Irving-Cicero TIF that expired in December 2020. Alderman Gardiner was able to plan a neighborhood investment using these funds prior to the expiration of the TIF in December 2020.
The goal of the project was to create a more inviting area for economic development and to address poor drainage. It involved reconstruction of three existing alleys in the area bounded by Cicero Avenue, Milwaukee Avenue and W. Belle Plaine Avenue using greener, environmentally sustainable materials. The project used heat-reflecting, high albedo concrete and interlocking pavers that created 5,500 square feet of permeable surface. This allows stormwater to infiltrate to a 10,000 cubic foot detention trench, instead of draining into the existing storm sewers. The technology reduces the strain on the existing stormwater system, helps recharge ground water, and filters out silt and other pollutants.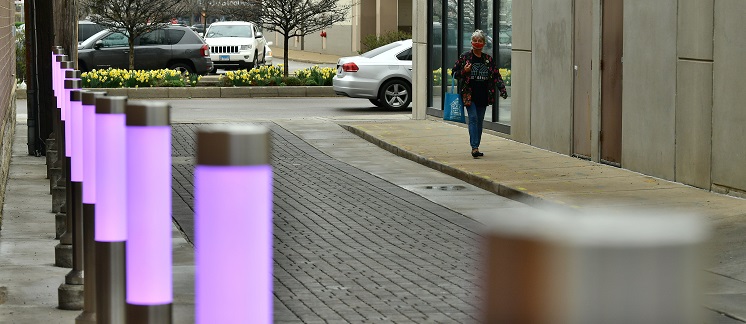 ###
You can follow CDOT on digital media:

Twitter: @ChicagoDOT
Facebook: www.facebook.com/CDOTNews
The web: www.chicagodot.org