CDOT Announces the Return of Shared Streets for Summer 2021 with Opening on Leland Avenue
May 27, 2021
The City's popular program is back and CDOT is urging the residents to tell them where more Shared Streets are needed
Mike Claffey 312.744.0707 | Michael.Claffey@cityofchicago.org
Susan Hofer 312.742.2006 | Susan.Hofer@cityofchicago.org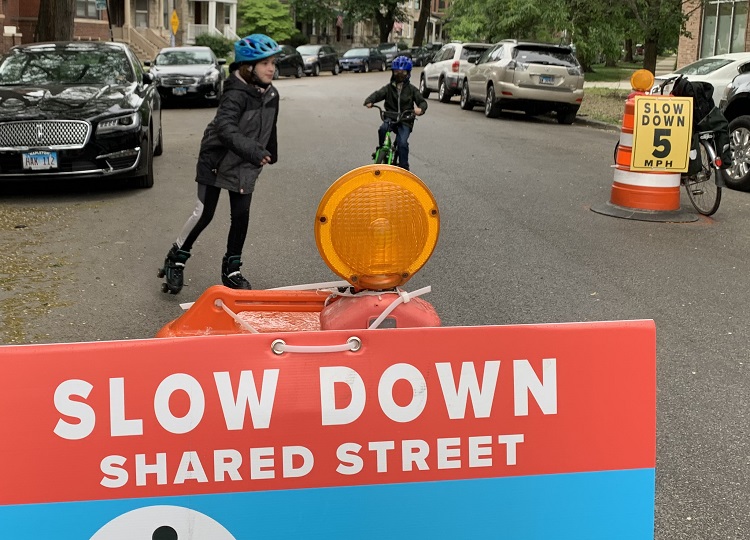 CHICAGO – The Chicago Department of Transportation (CDOT) today joined 46th Ward Alderman James Cappleman and 47th Ward Alderman Matt Martin to launch the City of Chicago's 2021 Shared Streets program. The opening for the first such street of the year took place on Leland Avenue between Lincoln Avenue and Sheridan Road. As part of this initiative, CDOT announced the creation of a web-based survey at [Chicago.gov/openstreets]Chicago.gov/openstreets for the public to provide feedback on where they want to see additional Shared Streets this year.
Two more Shared Streets will be installed on the South Side on Friday in the 5th Ward on South Shore Drive between 53rd and 56th Streets, and on Dante and 77th Street from S. Chicago Avenue to Blackstone Avenue.
Last year, CDOT created more than 13 miles of Shared Streets throughout Chicago, using temporary traffic control tools like barrels and signs to create a more comfortable and spacious atmosphere for people to walk, bike, and roll safely through their neighborhoods. The program was a critical part of the City's response to the COVID-19 pandemic, helping to alleviate overcrowded sidewalks and allow space for socially distanced outdoor activities.
"Shared Streets proved extremely popular during the summer of 2020, and we are excited to bring them back this year," said CDOT Commissioner Gia Biagi. "But we want to provide them where they are wanted. We are asking folks who want a Shared Street in their neighborhood to take a brief survey and let us know where it makes sense to create new Shared Streets for this year."
Shared Streets maintain local access and parking for cars and trucks while at the same time help to calm the speed of these vehicles to improve safety.
"Last year's Uptown Leland Shared Street Program was a great way for the community to enjoy our Leland Greenway," said Alderman Cappleman. "In response to the positive feedback from neighbors, we are excited to continue a program that encourages those living in and visiting our community to safely enjoy access to our vibrant businesses and lakefront. We look forward to even more neighbors out and about enjoying walking, biking, running, and dog-walking along Leland this year."
"I am proud that the 47th Ward will be welcoming back the Leland Avenue Shared Street, the first of its kind to be introduced in Chicago last year," said Alderman Martin. "For months, hundreds of constituents have been contacting my office asking for its return. While Shared Streets were introduced as a response to social distancing requirements related to COVID-19, the popularity of Leland shows that they touched on something deeper: a need for more space for our communities – cyclists and pedestrians, families and children – to come together safely and comfortably. I am proud to help our community reimagine how we interact with the public realm."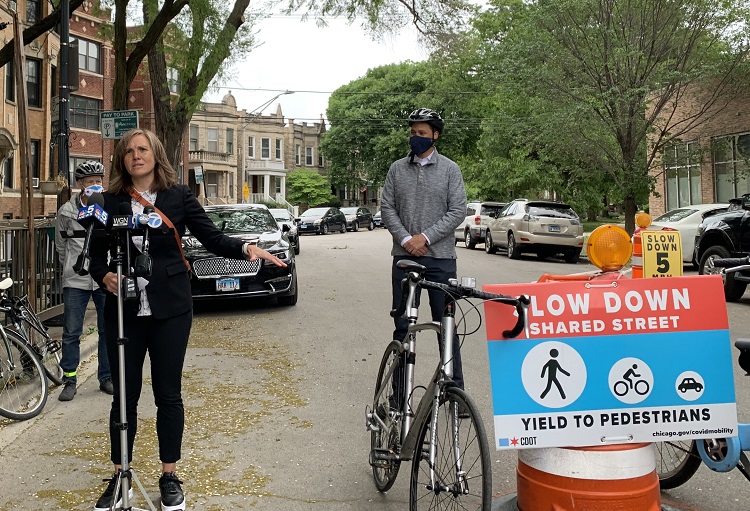 More information about the 2021 Shared Streets program, including how to recommend locations, and the list of participating streets that will be updated throughout the summer, can be found on our Open Streets.
###
You can follow CDOT on digital media:
Twitter:
@ChicagoDOT/
Facebook:
www.facebook.com/CDOTNews
The web:
www.chicagodot.org