CDOT, Aldermen Hopkins and Waguespack Cut Ribbon on Reopened and Rehabilitated Webster Avenue Bridge
December 21, 2022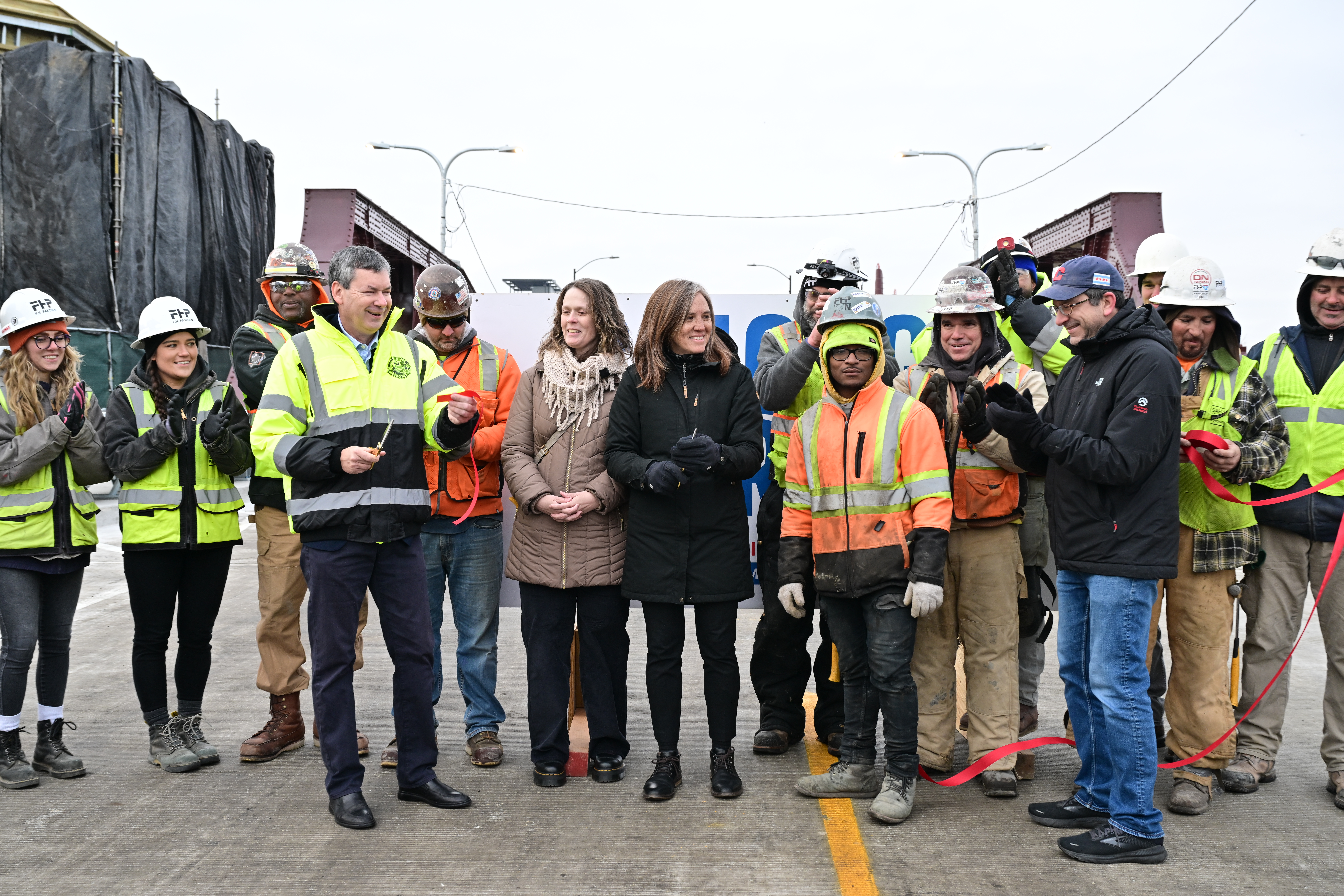 CHICAGO – The Chicago Department of Transportation (CDOT) Commissioner Gia Biagi today joined 2nd Ward Alderman Brian Hopkins and 32nd Ward Alderman Scott Waguespack to cut the ribbon on the newly repaired and reopened Webster Avenue Bridge over the North Branch of the Chicago River. Funded by Mayor Lori E. Lightfoot's Chicago Works infrastructure and jobs plan, the $28 million project fully rehabilitated the 106-year-old bridge and its surrounding infrastructure to improve safety for all road users, ensure the bridge remains functional and operational, and preserve its historic character.
"The Webster Avenue Bridge Rehabilitation Project is a great example of how we are investing in our bridge network and modernizing it for the long term," said CDOT Commissioner Gia Biagi. "Fully rehabilitating this century-old bridge was not an easy feat and would not have been possible without Mayor Lightfoot's Chicago Works program, which funded this project. I thank Chicagoans for their patience during the construction of this project and congratulate the construction crews for a job well done on this achievement of engineering."
Opened in 1916, the Webster Avenue Bridge is a classic example of Chicago-style double-leaf trunnion bridges with pony trusses that were built by the City in the first two decades of the 20th Century. Although it was operated as a movable bridge for decades, it has not been opened for the passage of vessels since the 1960s.
The rehabilitation project completed today includes the following:
Replacement of various structural beams, trusses, and bracings.
Replacement of the bridge deck, which involved partially filling in the metal grates with concrete, creating an improved riding surface for people on bikes
Signal timing improvements at Ashland Avenue.
Lighting improvements throughout the project limits.
Rehabilitation of historical elements, including the bridge house structures.
Improvements to crosswalks, curb ramps, and sidewalks for ADA compliance.
Improved pavement markings for shared traffic and bike lane.
"While the additional time needed for this project was a significant challenge for our community, I am pleased that the bascule bridge over the river at Webster Avenue has been fully reconstructed while maintaining its important historical character," said 2nd Ward Alderman Brian Hopkins. "The Chicago Department of Transportation and its engineer consultants were forced to deal with challenges beyond the initial scope of work, and supply chain issues further extended the timeline. The bridge will now be safer for motorists, cyclists, and pedestrians, and it is ready to serve future generations for another one hundred years."
"The importance of this investment to our aging infrastructure cannot be underestimated, so this rehabilitation of the Webster Bridge is a welcome one," said 32nd Ward Alderman Scott Waguespack. "This is a vital link between Bucktown and Lincoln Park for pedestrians, cyclists, and vehicles that will last for decades to come."