CDOT and Lyft: New Divvy E-Scooters Rolling Out in Chicago with Features to Improve Safety and Reliability
June 14, 2023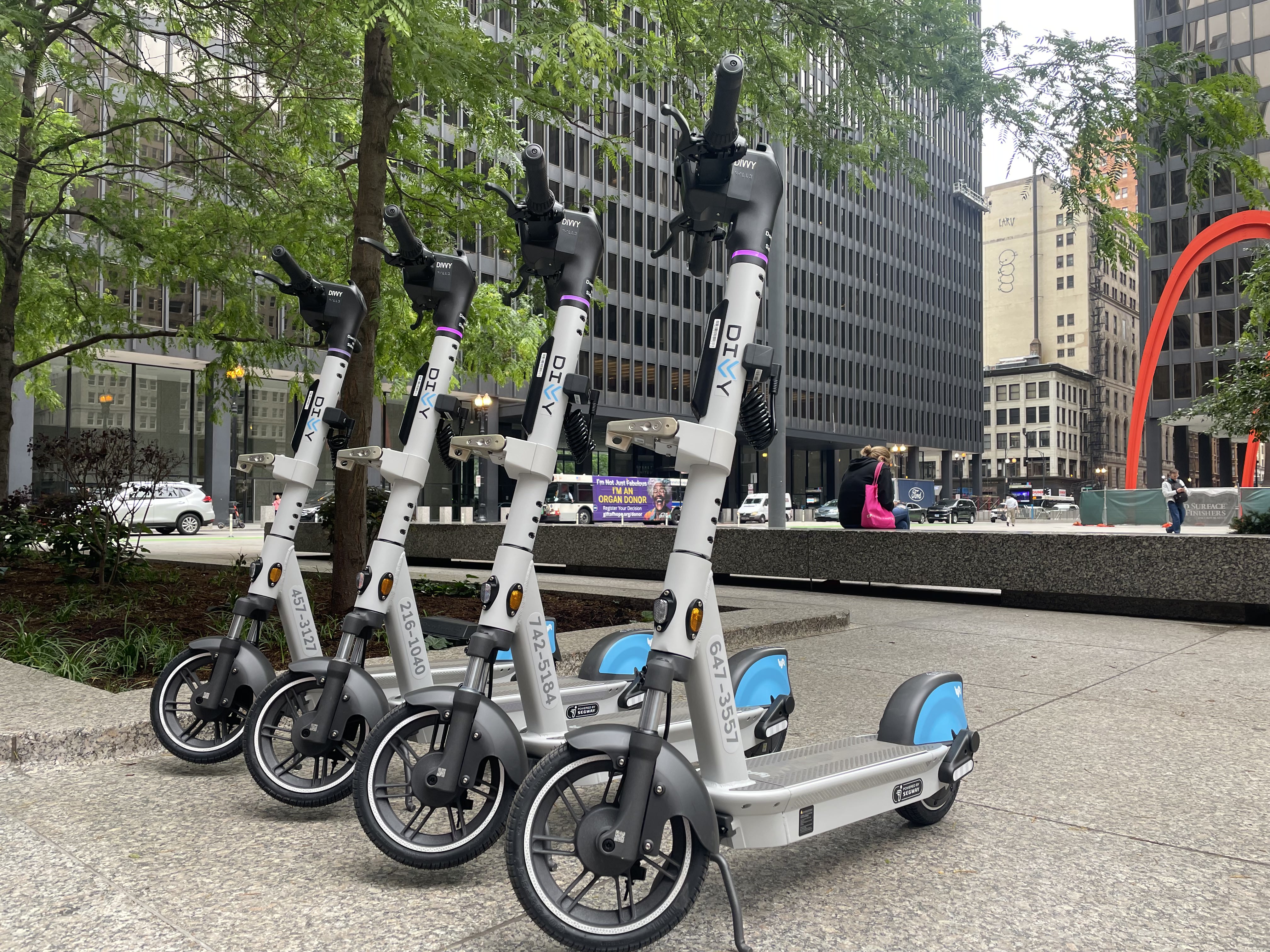 One year after Divvy became the first bikeshare system in the country to incorporate docked e-scooters, the Chicago Department of Transportation (CDOT) and Lyft, the operator of Divvy, unveiled the next generation model of scooter, offering improved safety features and a more comfortable riding experience. Divvy will be adding 500 of the new scooters to the fleet by the end of June bringing the total number of docked scooters to 1,500, giving residents and visitors more car-free options to get around Chicago.

Divvy's docked scooter program is the first of its kind, and this upgrade comes as Divvy celebrates its 10th anniversary in Chicago this summer.

"Micromobility has become a critical part of Chicago's transportation landscape, with more Chicagoans than ever using Divvy bikes and shared e-scooters to get to the places they need and want to go," said CDOT Commissioner Gia Biagi. "Today's announcement underscores Divvy's commitment to not only expanding service, but improving safety and convenience."

"Over the past year, Divvy stations have proven they are uniquely capable of meeting residents' preference for scooters while eliminating sidewalk clutter downtown," said Caroline Samponaro, VP of Transit, Bike and Scooter Policy at Lyft. "Our new scooter is purpose-built for cities like Chicago, incorporating learnings from the previous model to make it more reliable and theft resistant, while keeping safety and the rider experience top of mind."

"As the center of Chicago, filled with vital throughfares and modes of transportation, the Loop always aims to offer the forefront of new technology, and we continue to lead through the implementation of innovative multimodal opportunities," said Michael Edwards, President and CEO of Chicago Loop Alliance. "We appreciate Divvy's commitment to new strategies that assist in safer transportation experiences throughout Chicago, and Chicago Loop Alliance proudly partners with them to enhance the future of micromobility."

The new scooters have several features that improve safety and convenience:
Docking: These scooters are custom-built to dock within the existing Divvy station network. Docked scooters at Divvy stations offer a convenient, predictable experience for riders, and a clutter-free sidewalk for pedestrians. Nearly 75 percent of Divvy scooter riders start or end their trip in a station, ensuring orderly parking.


Safer riding: New dual handbrakes offer riders more control, while turn signals allow riders to easily signal their next move to others without taking their hands off the handlebars.


Improved sidewalk riding detection: The new scooter includes a vision processing system that unlocks a new standard for accuracy in sidewalk detection to promote safe scooter use. Additional tech improvements include parking detection and the ability to proactively identify no-ride and slow zones to help avoid cluttering sidewalks and streets.


Navigation: The addition of a phone holder allows riders to navigate more safely and identify routes with low-stress bike routes, while wireless charging means your phone will not run out of battery during rides.


Reliability and sustainability: A larger battery provides an increased range and reduces the number of miles traveled by Divvy technicians to swap batteries by 53 percent. Using sustainable materials and hardware innovations, the new scooter's carbon footprint is 34 percent lower than the previous generation. The new scooters are also capable of charging in stations, similar to Lyft's newest ebike model.


The new scooters are being rolled out as shared micromobility usage in Chicago continues to boom in popularity.
Divvy scooters recorded 875,000 trips in their first 12 months since launch and are on pace to break 1 million total trips by the end of June.
Along with Lime, Spin, and Superpedestrian which hold scooter sharing business licenses, Chicago has seen more than 2.1 million shared scooter trips since last May.
In 2022, Divvy hit a record high of more than 6.3 million bike and scooter trips, over 60 percent higher than 2019.
Through May of this year, total shared micromobility trips in Chicago are up more than 11 percent compared to the first five months of 2022.
Last month, Divvy expanded its services to all 50 wards in Chicago – making it the largest bikeshare system by area in North America.
Divvy is continuing to strengthen its network by adding up to 250 new stations throughout 2023 and 2024 and the addition of nearly 3,000 new classic bikes to the fleet.
Since 2020, the number of Divvy for Everyone (D4E) members has quadrupled to 8,000. D4E offers heavily reduced-cost memberships and rides for income-qualified Chicagoans. Discounts on scooter rides are also part of the regular Divvy membership.