CDOT Installs "Stop For Pedestrians" Signs at Crosswalks
July 3, 2012
Signs to Remind Drivers of State Law that Requires Them to Stop if Pedestrians are Present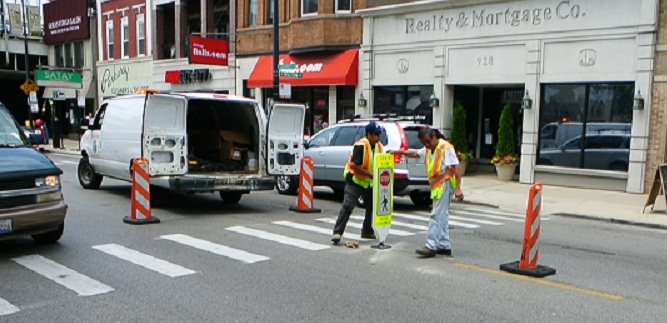 As part of an ongoing effort to increase pedestrian safety and reduce the number of crashes, the Chicago Department of Transportation (CDOT) has begun installing signs at crosswalks that remind drivers of the state law that requires them to stop if pedestrians are in the crosswalk.
Chicago experiences roughly 3,000 crashes annually between motor vehicles and pedestrians, resulting in an average of 50 deaths each year.
"Even one life lost is too many, and we must take action to promote pedestrian safety in multiple ways. These warning signs help in that effort," said CDOT Commissioner Gabe Klein. "Education and enforcement are critical components to ensure that motorists understand their role and responsibility in public safety."
The 2010 state law, which was codified in Chicago's municipal code last year under Mayor Rahm Emanuel's administration, requires motorists to stop – not just yield – to pedestrians at a crosswalk. The highly visible four-foot high signs use words and graphics to say "State Law: Stop for Pedestrians Within Crosswalk."
CDOT is currently installing the first 50 of these signs in neighborhoods across the city in places where pedestrians and vehicles can come into conflict, especially near schools, parks, hospitals and public transit. The locations were suggested by aldermen who are utilizing a portion of their 2012 infrastructure menu funds to cover the installation expenses.
The new signs are part of a toolbox of traffic-calming devices the City uses to increase safety and reduce the number of accidents between pedestrians and vehicles. The signs are on flexible posts and will be often installed in the roadway median at uncontrolled crosswalks in order to increase their visibility.
# # #
News Release Facts
Department:
Additional Information