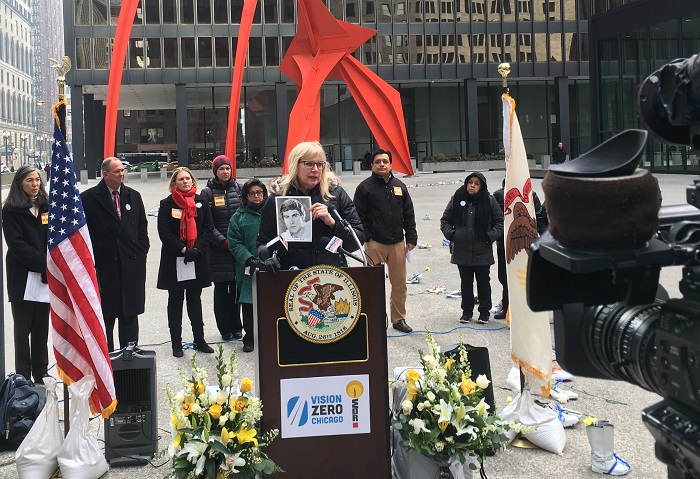 Janna Henning holds a head shot of her late partner, Patrick Stack, who was killed when he was struck by a delivery truck while riding his bike in 1989.
The City of Chicago and State of Illinois today marked World Day of Remembrance for Road Traffic Victims, an annual, global memorial event, by displaying 132 pairs of shoes to represent the death toll from traffic crashes in Chicago in the last year. The event at Federal Plaza was led by the Chicago Department of Transportation (CDOT) and the Chicago Department of Public Health (CDPH), two of the key partners in Vision Zero Chicago. Vision Zero Chicago is a coordinated effort involving a dozen City departments launched by Mayor Rahm Emanuel in 2017 with the goal of eliminating deaths and serious injuries from traffic crashes by 2026. The event was also attended by the Illinois Department of Transportation (IDOT), CDOT's traffic safety partner, as well as AARP and the Active Transportation Alliance.
The World Day of Remembrance, which officially occurs each November 18, is an annual United Nations-sponsored, global event in memory of the many millions killed and injured on the world's roads. Chicago marked the event on both November 18 and 19. More than 2,000 people are killed or seriously injured in traffic crashes in Chicago each year, with an average of five people seriously injured each day and one person killed every three days.
"On this international day of remembrance, it's fitting that we focus on the individual lives that were lost and the pain that their loved ones will carry with them for the rest of their lives," said CDOT Commissioner Rebekah Scheinfeld. "At the same time, this global problem requires local action: we must recommit ourselves to the mission of Vision Zero and re-double our efforts aimed at eliminating these preventable tragedies."
"The deaths on our roads do not just represent statistics, but people with names and faces, friends and family," said Illinois Transportation Secretary Randy Blankenhorn. "The decisions that are made on a regular basis in our everyday travels carry life or death consequences. Today serves as a simple, solemn reminder that we all play a role in driving zero fatalities to a reality."
The Chicago World Day of Remembrance event is intended to demonstrate the devastating toll of traffic deaths in Chicago on a human scale. Organizers invited families and friends of all crash victims to visit the memorial at Federal Plaza on either of the two days to commemorate their loved ones by offering flowers or other mementos for the display.
Among those attending was Janna Henning, who lost her partner Patrick Stack in 1989 in a crash where he was riding his bicycle and was struck by a delivery truck near Orleans and Huron in River North.
"When people are killed or seriously injured in traffic crashes, their loved ones are profoundly and permanently impacted by the loss. In addition, there is a loss to society of the victims' skills, talents, energies and many other potential contributions that can never be replaced," Henning said. "Patrick, the person I loved can never be brought back. But I can add my voice to those of other bereaved survivors to call attention to the devastating impact of traffic-related injuries and deaths and the need for increased attention to crash prevention and road safety. I'm attending and speaking at the World Day of Remembrance to remember the victims, and speak for those who can't speak for themselves."
"This global commemoration honors the lives lost in traffic crashes and reminds us that these tragic events are not only a transportation concern, but a major public health challenge," CDPH Commissioner Julie Morita, M.D. said. "This event underscores the importance of fulfilling our Vision Zero Chicago Action Plan. CDPH is committed to working with our community partners to ensure that our transportation systems guarantee the safety of motorists and pedestrians, ultimately saving lives and preventing the types of life-altering injuries that we see all too frequently."
"Of the 37 pedestrians killed in Chicago crashes through October of this year, most of those hit were over the age of 50," said Bob Gallo, AARP Illinois State Director. "We are deeply troubled by these numbers and motivated to bring about awareness and solutions that will keep residents safe as they walk through their communities."
"Too often we ignore or accept traffic crashes, even though the number of victims is staggering with more than 100 people killed each day in the U.S.," said Ron Burke, executive director of the Active Transportation Alliance. "Chicago's Vision Zero plan is an important first step, and achieving the Vision Zero goal will require redesigning streets to be safer, slowing down cars, and reducing car traffic by prioritizing alternatives to driving alone."
Vision Zero work in Chicago will continue until traffic fatalities and serious injuries are eliminated. But on this World Remembrance Day, Vision Zero recognizes the individuals for whom life was cut short, mostly by dangerous driving behaviors. Drivers can take the Vision Zero pledge online and commit to driving slower, not drinking and driving, wearing seatbelts, and not doing ing other unsafe driving behaviors. Drivers are also encouraged to take fewer trips by car and utilize public transportation.
The Vision Zero Chicago Action Plan is based on the principles of the international Vision Zero movement. It incorporates traffic crash data, identifies the greatest opportunities for change, and establishes the City's priorities and resources for addressing this public health challenge.
Using crash data, the plan identified 43 High Crash Corridors and eight High Crash Areas in Chicago. Of the High Crash Areas, seven of the eight are on the West and South Side of the City and one is downtown, where the higher crash rate is correlated with higher density and higher volumes of vehicles and pedestrians. The data shows that people who live in areas of high economic hardship are three times as likely to die as a result of a traffic crash.
In the first year, Vision Zero Chicago launched a focused outreach effort in the West side High Crash Areas, funded through a grant from the National Safety Council. Additional funding has been obtained for an outreach effort planned for the South Side in 2019. To view the Vision Zero Chicago Action plan and learn about progress made to date, go to http://visionzerochicago.org/ .