Mayor Emanuel Takes First Step on New Street Repaving Standard
January 26, 2015
CDOT Identifies 61 Miles of Arterial Streets to be Repaved in 2015; Part of Mayor's Commitment to Repave 300 Miles Annually; More than 1,000 Miles Repaved During Mayor Emanuel's First Term in Office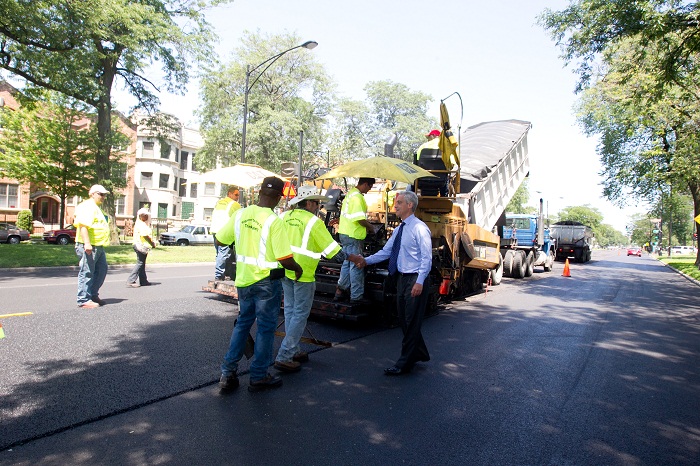 Mayor Rahm Emanuel announced the Chicago Department of Transportation (CDOT) has already identified 61 miles of main roadways to be repaved in 2015, the first step in the City's new annual standard of repaving at least 300 miles of roads.
The Mayor established the new standard in his 2015 budget, a significant increase from previous years.
The first 61 miles of major roadways to be resurfaced include long stretches such as:
• 115th Street, from Vincennes Avenue to State Street (2.3 miles)
• Dr. Martin Luther King Drive, from Cermak Road to 37th Street (2 miles)
• Wentworth Avenue, from Pershing Road to the Stevenson Expressway (1.6 miles)
• Cicero Avenue, from Division Street to the Eisenhower Expressway (2.1 miles)
• Irving Park Road, from Cumberland Avenue to Forest Preserve Avenue (1.3 miles)
• Douglas Boulevard, from Independence Boulevard to Sacramento Drive (1 mile)
• Lake Shore Drive, from North to Grand Avenues (1.5 miles)
"Whether it's plowing our roads in the winter or repaving them in the spring and summer, we're making sure Chicago residents can keep moving in all seasons," said Mayor Emanuel. "We are repaving more roads throughout Chicago than ever before, investing in every neighborhood block by block, street by street, and community by community."
At Mayor Emanuel's direction city departments and private utilities have greatly increased paving efforts and since 2011 more than 1,000 miles of streets have been repaved – nearly a quarter of Chicago's streets.
In 2014, CDOT, the Department of Water Management (DWM), private contractors and utilities combined to repave a record 343 miles of roadway. For the first time, CDOT resurfaced more than 1,000 blocks of residential streets alone.
To ensure the City is not only increasing repaving, but increasing the effectiveness of that work, the City has improved coordination on infrastructure projects.
Mayor Emanuel is demanding better coordination between City agencies and private utilities to ensure newly paved streets aren't being torn up for other work. To the end, CDOT's Project Coordination Office, City infrastructure departments and utilities have worked together to reduce the amount of project conflicts that would open up a street more than once. This led to a savings of approximately $23.2 million for Chicago taxpayers in 2014.
###