CDOT Announes City Crews Getting A Head Start On Filling Potholes Across Chicago
February 3, 2017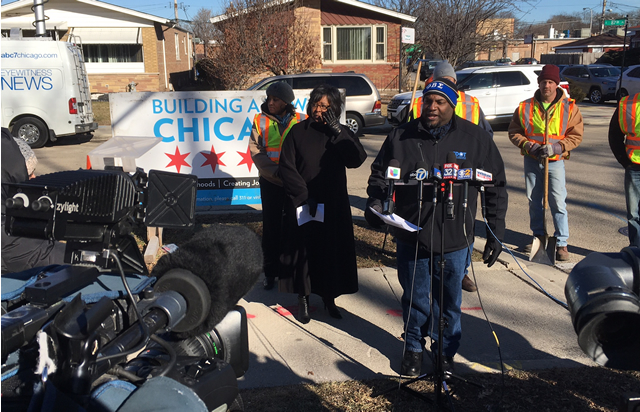 After a relatively mild and snow free January, the Chicago Department of Transportation (CDOT) announced that City crews are out in force filling potholes across the City. With 15 or 16 pothole crews out each day, CDOT is getting a head start on pothole season, which usually comes in late winter and early spring. In January 2017, CDOT has repaired more than 56,000 potholes, compared to just over 40,000 in 2016.
"Over the past five years, Mayor Emanuel has made an unprecedented investment in improving our infrastructure and providing CDOT the resources to quickly respond to pothole complaints," CDOT Commissioner Rebekah Scheinfeld said. "We know we still have a lot of work to do, but we can see that the investments of the last few years are paying off."
The total number of pothole complaints for the City was down 18 percent from 2015 to 2016, from 38,664 complaints in 2015 compared to 31,736 complaints in 2016. Complaints were down 37 percent last year when compared with two years ago, the winter of the Polar vortex, when there were 50,000 pothole complaints.
CDOT said that the overall condition of City streets has improved signficantly under Mayor Emanuel's watch. Under the Mayor's leadership, CDOT, the Department of Water Management and private utilities have repaved more than 1,600 miles of streets and alleyways since 2011, more than one third of the City's streets.
Chicagoans can track the fight against potholes and see a week's worth of CDOT's work on the City's Pothole Tracker application (www.cityofchicago.org/potholetracker), which shows not only the calls for service but the number of potholes filled during each site visit.
CDOT encourages Chicagoans to report potholes through one of the following three methods:
* Call 311
* Use the City's website at www.cityofchicago.org/311.
* Using ChiText by texting "Chicago" to 311311 to start the reporting process
You can follow CDOT on digital media:
Twitter: @ChicagoDOT
Facebook: www.facebook.com/CDOTNews
The web: chicagodot.org