Chicago Department of Transportation Announces 100 Miles of Repaved Streets in 2021 Construction Season
September 15, 2021
CDOT Commissioner Joins 3rd Ward Alderman Dowell to Highlight Paving Progress Made Possible by Mayor Lightfoot's Chicago Works Infrastructure Investment and Jobs Plan
Mike Claffey 312.744.0707 | Michael.Claffey@cityofchicago.org
Susan Hofer 312.742.2006 | Susan.Hofer@cityofchicago.org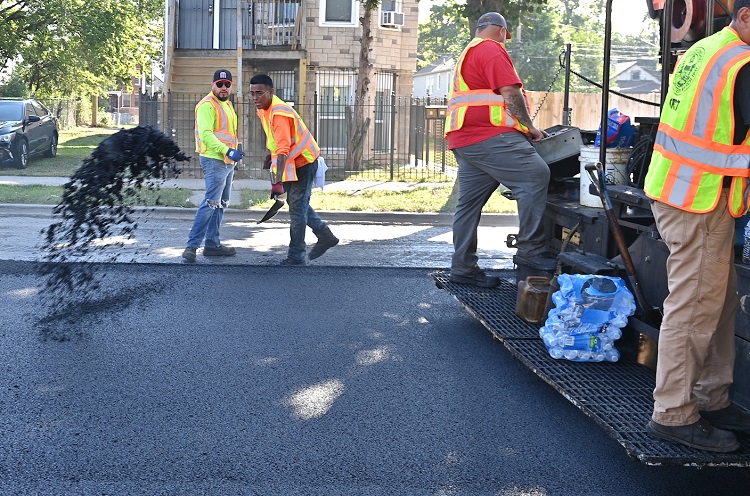 CHICAGO – Chicago Department of Transportation (CDOT) Commissioner Gia Biagi announced today the Department reached the milestone of more than 100 miles of arterial and residential streets resurfaced in Chicago during the 2021 construction season. The CDOT Commissioner made the announcement at the site of a residential street resurfacing operation on the South Side alongside 3rd Ward Alderman Pat Dowell, who is Chair of the City Council Committee on Budget and Government Operations. CDOT Crews are making steady progress with paving operations across the City with funding provided through Mayor Lori E. Lightfoot's Chicago Works Capital Plan.
"By upgrading infrastructure across our neighborhoods, our Chicago Works capital investment and jobs plan will make a truly positive difference in our residents' quality of life—making it easier for them to get around their communities and our city," Mayor Lightfoot said. "Importantly, this plan puts an emphasis on equity and allows us to unlock the full potential of our neighborhoods, create a safer transportation system and provide opportunities for all of our residents to succeed. I want to praise CDOT on the incredible progress it has made through Chicago Works and look forward to our continued partnership."
Through the Mayor's Chicago Works capital plan, CDOT is devoting additional resources to residential street and alley paving operations. This year CDOT is on track to also resurface a total of 60 miles of arterial streets.
"We are making great progress this year on our capital improvement projects in every Chicago neighborhood having reached the milestone of 100 miles of streets resurfaced," Commissioner Biagi said. "CDOT is working across the City with partners like Alderman Dowell to plan infrastructure improvements that emphasize equity, safety and mobility and lower the economic and environmental burden of transportation for all of our residents."
"We are very pleased to be working closely with CDOT to prioritize neighborhood improvement projects in the 3rd Ward," said Alderman Dowell. "Thanks to the additional resources provided by the Mayor's Chicago Works plan, every Ward in the City is able to stretch their Menu dollars further and deliver better service for their residents."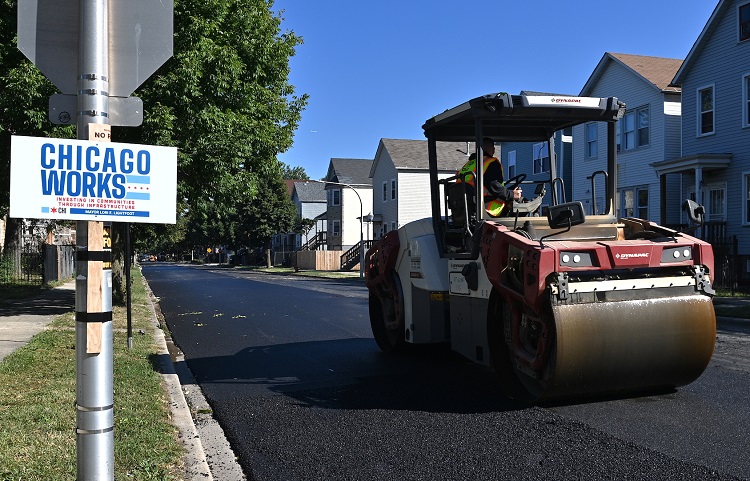 To ensure the City is making the most efficient use of resources possible, it has improved coordination on infrastructure projects with other City departments and utilities. Through CDOT's Project Coordination Office, City infrastructure departments and utilities have worked together to reduce the amount of project conflicts that would require opening up a street more than once. These coordination efforts have led to a savings of more than $215 million since 2012.
The Mayor's five-year Chicago Works Capital Plan was approved by the City Council last November and will provide an additional $3.7 billion to improve quality of life for all Chicago residents by investing in sustainable transportation infrastructure and City facilities in all 77 communities. The plan relies on data and an equity lens to guide investments that are expected to put thousands of Chicagoans back to work helping the City recover from the Covid-19 Pandemic and addressing a decades-long backlog of infrastructure needs.