Loading Zones And Standing Zones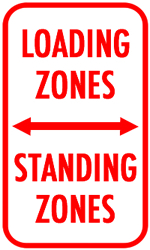 The Chicago Department of Transportation installs and maintains standing zone and loading zone signage. This program provides business and residents with access to portions of the street for loading of goods and for passenger pick-up and drop-off. New standing zones and new loading zones require aldermanic input and further review by the Department of Transportation. Initial installation fees and annual maintenance fees are based on the distance of the zone.
PLEASE NOTE:


In October 2020, CDOT migrated sign permits from a legacy database to the web-based system in which other CDOT permits are maintained. The new system allows permittees to manage and pay annual permit fees electronically. It also allows permittees to "claim" valid sign permits managed in the previous database. With the migration, CDOT will no longer issue permitters hardcopy invoices; all sign permit fees must be paid online. By applying for a permit, permittees acknowledge and accept all applicable regulations and fees. Additional laws, rules, and regulations may apply.
The Department of Business Affairs and Consumer Protection (BACP) may require entities to have a business license prior to approving and issuing a sign permit.
Periodic permit holders will receive an electronic notification directing them to transmit annual permit fees electronically. Failure to pay permit fees or outstanding debt in a timely manner may result in penalties, including a hold on the permittee's business license and removal of signs.
Accounts in the Non-compliant status will receive a 72-hour notice that will be place on the metal signs informing the permittee to contact Division of Sign Management (DSM) via email or by phone regarding their delinquent account. If DSM is not contacted after 72 hours signs will be removed.
The links below will provide you with information on this process.