Loading Zones And Standing Zones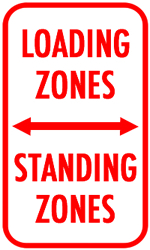 The Chicago Department of Transportation installs and maintains standing zone and loading zone signage. This program provides business and residents with access to portions of the street for loading of goods and for passenger pick-up and drop-off. New standing zones and new loading zones require aldermanic input and further review by the Department of Transportation. Initial installation fees and annual maintenance fees are based on the distance of the zone.
PLEASE NOTE:
In October 2020, CDOT migrated loading and standing zone permits to the IPS-11 permitting system. This migration allows loading zone permittees a more efficient way to apply for, manage, and pay for their private benefit sign permits. Permittees will have to create a new account or log in to their existing account in the permit portal. This will allow them to easily pay their fees and update their account information. Loading zone permittees must use this permit portal to pay their initial fees and their renewal fees. The links shown below will provide you with information on this process.