Western Belmont Clybourn Project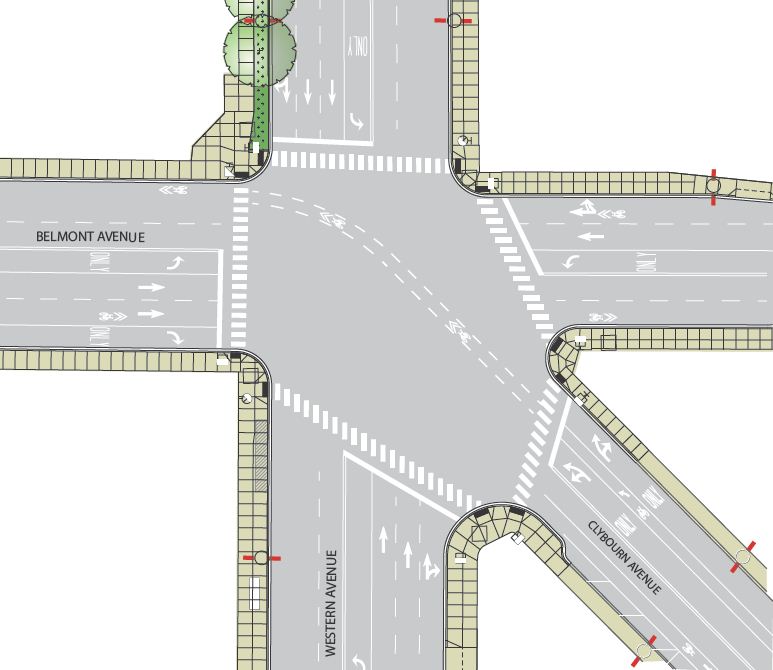 • The Chicago Department of Transportation (CDOT) will remove the severely deteriorated and outdated viaduct over Belmont and replace it with a new five-leg at-grade intersection at Western, Belmont and Clybourn.
• The project will restore the fabric of the neighborhoods of Lakeview and Roscoe Village and create new opportunities for economic development and job creation. The project will improve safety and quality of life for the community.
• On completion, Western Avenue will have three lanes of traffic in each direction during rush hours, with curbside parking in some areas of the corridor during non-rush hours.
• Pedestrian safety improvements include refuge islands, bump-outs, high-visibility crosswalks, wider sidewalks, and the addition of pedestrian countdown signals at all signalized intersections. ADA ramps are also being installed at all the corners along the project corridor.
• The project was designed by CDOT and included an extensive community engagement process with input from Aldermen and constituents in the 32nd, 33rd and 47th Wards.
Schedule and Traffic Impacts
• Construction to start March 2016
• Substantial completion anticipated Summer 2017 • Construction stages with approximate durations:


Demolition of Western Avenue Viaduct (Download more information)
Starting at 8pm on Friday, March 5
Western Avenue will be completely closed to traffic from Nelson to Roscoe, as will the intersection at Belmont and Clybourn. Northbound Western, Belmont and Clybourn reopen at 5am Monday, March 7; Southbound Western reopens at 5am on Tuesday, March 8.
Because these will be full closures, all traffic will be detoured from Western, Belmont and Clybourn:
Western Avenue detour – Diversey to Ashland to Irving Park - these are all major arterials and can handle the higher traffic volume more easily than residential streets that might seem to offer a shorter detour.
Belmont detour –Elston to Diversey to Ashland
Clybourn detour –Damen to Roscoe to Campbell
Stage 1 – approximately five months
• Western Ave. reduced to one lane in each direction from George Street to Cornelia Avenue for viaduct demolition and removal, installation of temporary pavement and river bridge repairs. Access will be maintained to all businesses in the construction zone.
• Accelerated demolition of the viaduct decking requires a full lane closure of Western and Belmont on the weekend of March 4-7, 2016.
• During the first phase of construction, no left turns will be allowed from Western to cross streets between George and Roscoe Streets.


Stages 2-3 – approximately eight months
• Two lanes of traffic in each direction on Western.
• Belmont reduced to one lane in each direction.
• Roadway installation and rehab.
• Sidewalk and curb work.

Stages 4-5 – approximately four months
• Two lanes of traffic in each direction on Western and Belmont.
• Median work.
• Repaving.


CDOT advises motorists to avoid delays through the project area by taking alternate routes, particularly during the first six months. Ashland is recommended as an alternate north-south route. Diversey or Addison are recommended east-west alternates.
CTA routes will not be affected, except during the brief full closure. For more information, please call the CTA information hotline at: (all Chicagoland area codes) 836-7000 or visit www.transitchicago.com
Download Traffic Detour Information

Traffic Alerts
Traffic Patterns will Change as Western/Belmont/Clybourn Project Progresses

Press Release