Damen-Elston-Fullerton intersection improvement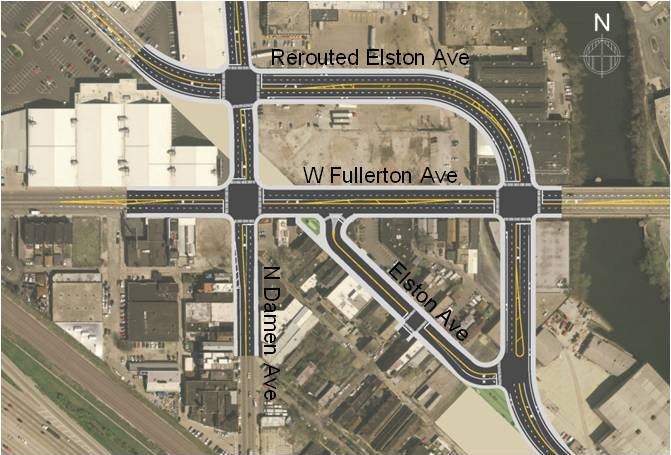 Mayor Rahm Emanuel broke ground on May 29, 2015, on a major project to reconstruct and realign the intersections of Damen, Elston and Fullerton Avenues. The project managed by CDOT will relieve congestion and improve safety at one of the city's most crash-prone intersections.
Click here for a detailed presentation of the Damen-Elston-Fullerton project.
The project will also widen Damen to provide improved bike accommodations, widen the north sidewalk along Fullerton, and include the resurfacing of all streets within the project limits. The existing section of Elston Ave. south of Fullerton will be renamed N. Elston Court and will be reconstructed with a right-in/ right-out at Fullerton.
In spring 2016, the realigned section of Elston will be opened to traffic and will carry two lanes in each direction. Lane reductions will be required on Damen and Fullerton and existing Elston south of Fullerton in 2016 to complete utility work and paving. The entire project is scheduled for completion at the end of 2016.
While the project is underway, CDOT recommends motorists take alternate routes to avoid delays. Recommended east-west alternates include Diversey, Webster and North Avenues; Ashland and Clybourn are recommended as north-south alternates.
Project News:
Mayor Emanuel Breaks Ground On Damen, Elston, Fullerton Reconstruction Project
CDOT Announces Major Milestone To Be Reached Tuesday 8/16 On Damen/Elston/Fullerton Reconstruction Project