Streetscapes and Sustainable Design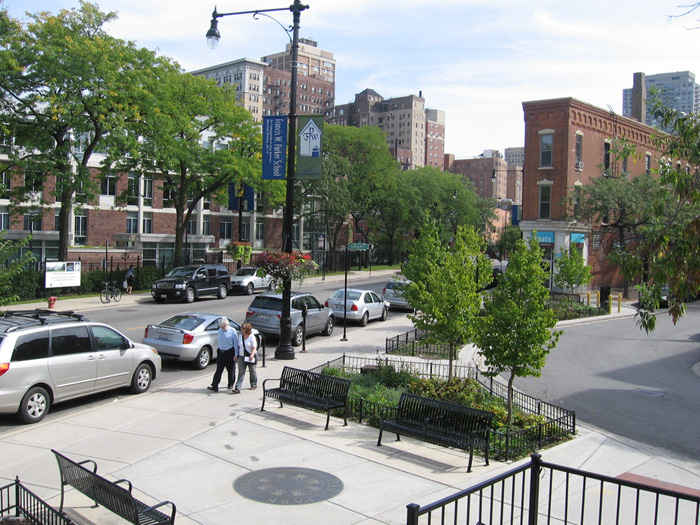 The Department of Transportation's Streetscape and Sustainable Design Program is an innovative program which strives to rehabilitate Chicago's neighborhood commercial areas, riverwalks and bicycle facilities into active, attractive places for Chicagoans to live, work and play. A large range of techniques are applied, including everything from road diets and stormwater best management practices to unique community identifiers and educational seminars. Projects include green alleys, sustainable streets, rails to trails, riverwalks, bicycle stations, highway beautification programs, master plans and public plazas.
The objective of each project completed by the Streetscape and Sustainable Design Program is to create flourishing public places while improving the functionality of infrastructure to support dense urban living. Constituting 23 percent of the total acreage in the City of Chicago, the public right of way also has potential to improve carbon emissions, reduce the urban heat island effect, implement stormwater management best practices, reduce waste, improve human health and wildlife habitat and other numerous environmental benefits.
Through the award-winning Green Alley Program and Sustainable Streets initiative, the Streetscape and Sustainable Design Program has piloted, monitored and implemented numerous sustainable infrastructure design techniques. These ensure that the multifunctional goals of any project address environmental concerns in addition to equity and economy.
Community involvement is vital to implementing successful streetscapes. The community is engaged early on in the design process whenever possible and is fundamentally involved in the decision-making process. This partnership results in unique community branding, through elements such as community-specific identifiers, landscaped planters, and historical kiosks that accentuate a sense of place. The personal involvement also leads to improved community consensus and satisfaction, and reduces incidences of vandalism or neglect.
The Streetscape and Sustainable Design Program has constructed over 125 projects throughout Chicago.