Leadership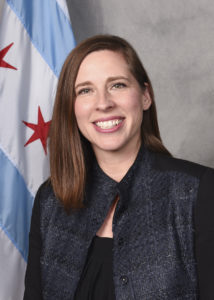 Andrea Kersten, Interim Chief Administrator
Andrea Kersten currently leads the Civilian Office of Police Accountability as the Interim Chief Administrator. Kersten has been an integral part of COPA's leadership team and a leading voice on the issue of civilian oversight in Chicago for the last five years. Kersten began her work at COPA in the legal department serving as the Chief Investigative Law Officer. From there Kersten assumed the role of Deputy Chief Administrator assigned to Investigations and ultimately went on to lead the entire investigative unit as the Chief of Investigative Operations. Kersten has been instrumental in the formation of COPA's Special Victims Unit, a group of specialized investigators dedicated to victims of sexual assault, sexual abuse, or domestic violence. In response to widespread protests in 2020, Kersten was tapped to form COPA's Protest/Civil Unrest Unit, a specialized squad uniquely organized to receive, review and triage mass protest-related complaints.
Kersten brings a career of public service experience to the agency, having previously served as a domestic violence advocate, an Assistant State's Attorney in Cook County, and an Administrative Law Judge for the Illinois Department of Healthcare and Family Services. Kersten also serves on the board of The Tripp Healy Foundation which supports student athletes in the greater Chicagoland area. Kersten received her J.D. from the John Marshall Law School and her B.A. in Sociology from North Park University.
---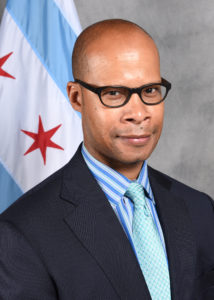 Karlo Flowers, First Deputy
Karlo Flowers, COPA's First Deputy Chief Administrator, is a Chicago native and lifetime resident with over 30 years of business experience. Karlo joined COPA in January of 2017 as Director of Administrative Services, was later promoted to the position of Chief of Staff and in April 2020 appointed by Chief Administrator Sydney Roberts to serve as First Deputy Chief Administrator-Chief of Agency Operations and Strategy. Karlo brings to COPA prior experience in operational strategy, logistics, risk assessment and professional relationship building in the areas of telecommunications, non-profit educational publishing, entrepreneurial ventures and currently, municipal government.
Specializing in strategic planning, human capital management, business operations management, financial operations management, facilities management and labor relations, Karlo is equipped to successfully oversee COPA's total agency operations and strategy. As First Deputy, Karlo will serve as second in command to Chief Administrator Roberts, and will directly oversee COPA's financial operations, human capital operations, strategic planning, information systems, professional development, facilities operations, safety systems, mediation program development and equity program development while also providing support and guidance to COPA's investigative operations.
---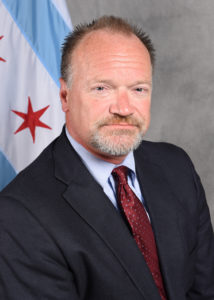 Kevin Connor, General Counsel
Kevin brings more than 30 years of broad public and private sector legal and operations experience to COPA. Starting in private practice representing financial institutions in consumer and commercial finance matters, he later joined the FDIC/RTC serving in both Chicago and Washington, DC. Following his federal service, Kevin spent over 10 years with a major commercial insurance and financial organization, rising to lead an area in its corporate legal department. In 2005, he joined the Illinois Governor's Office as General Counsel of the Office of Management and Budget, managing the Executive's revenue, spending and regulatory policy implementation. Over the next 8 years, Kevin held prominent positions in state government, including serving for more than 4 years as the General Counsel and Director of Business Regulation at the Department of Financial and Professional Regulation and as General Counsel of the Department of Central Management Services. Kevin received his undergraduate degree from the University of Illinois at Urbana and his law degree from IIT Chicago-Kent College of Law. He also attended DePaul University's Graduate School of Business, completing a substantial amount of coursework toward an MBA.
---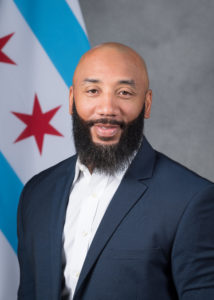 Ephraim Eaddy, Public Information Officer
Ephraim Eaddy was born and raised in the city of Chicago and is a graduate of Northern Illinois University with a B.A. degree in Journalism where he also played Division 1 basketball (Team Captain).
After completing his college experience, Ephraim returned to Chicago and began his grassroots efforts as Director of Community Programs for the People's Community Development Association of Chicago (PCDAC) developing job training programs, case management strategies and employment opportunities for hard to employ residents of the city of Chicago.
In 2004 he began working with the Safer Foundation, one of the largest non-profit organizations in the country exclusively serving people with criminal records, as Manager of Faith & Community Programs. While at Safer Foundation he provided oversight of the Ready4Work Prisoner Re-entry Initiative, a national model funded by the United States Department of Labor's Employment and Training Administration.
Ephraim began working for Chicago Public Schools in 2011, the third largest school district in the country, where he provided direction to over 150 faith and community-based organizations impacting thousands of children and families around the city on behalf of the district.
Currently Ephraim Eaddy serves as the Public Information Officer and Chief Spokesperson for the Civilian Office of Police Accountability (COPA) with direct oversight over public and news affairs as well as community engagement, and is committed to building trust in civilian police oversight.
---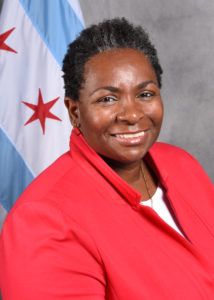 Angela Hearts-Glass, Chief Investigator
Angela Hearts-Glass has 23 years of law enforcement experience in police practices, senior law enforcement experience overseeing patrol, major criminal investigations, and internal affairs. Hearts-Glass retired from City of Evanston Police Department at the rank of Commander she spent the majority her career in the Investigations Division as a Detective of Juvenile and Criminal Investigations. Hearts-Glass is a graduate of Northwestern's School of Police Staff and Command (class 266) at Northwestern University Center for Public Safety. Upon retirement Hearts-Glass became Director of Safety and Security for Malcolm X College, managing the operations of two campuses. Hearts-Glass is knowledgeable in policy development, training, community development and mediation. Hearts-Glass joined COPA initially as the Director of Quality Management. Hearts-Glass has received special training in Cold Case Analysis, Taser Use of Force, Child Abuse & Sex Abuse and a host of other investigative matters. Hearts-Glass holds a Bachelor's of Psychology and Master's of Public Administration from Roosevelt University.
---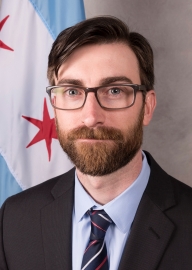 Jay Westensee, Deputy Chief Administrator
Jay Westensee is an attorney with extensive investigative experience focused on advancing accountability, efficiency, and integrity within local government. Prior to joining COPA's predecessor agency in early 2016, Westensee served as a Chief Investigator with the City of Chicago Office of Inspector General. From 2005 to 2015, Westensee investigated administrative and criminal allegations of misconduct, waste and inefficiency by City of Chicago employees, contractors, and subcontractors, as well as supervised and collaborated with staff to develop investigative strategy and ensure timely completion of investigative matters. Westensee served as a member of the leadership team responsible for planning and launching COPA in 2017. Westensee has been instrumental in efforts to enhance COPA's complaint registration systems and intake operations, as well as development and management of key processes related to COPA's public release of video and other records capturing the City's most critical incidents involving police officers. Presently, Westensee leads the Policy, Research and Analysis Division, which makes recommendations to the Chicago Police Department to highlight deficiencies or risk, address patterns or practices of misconduct, and advance the culture of policing; and serves as a valuable internal feedback apparatus for policy development to strengthen COPA's investigative operations and inform training.
Westensee holds a B.S. in Justice Systems from Truman State University, an M.A. in Law Enforcement and Justice Administration from Western Illinois University, and a J.D. from The John Marshall Law School.