7519-33 N. Ashland Ave. Request For Proposals (RFP)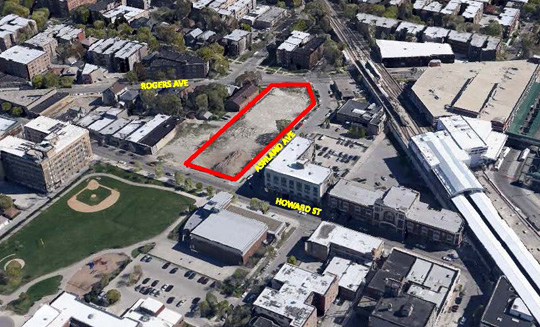 The Chicago Department of Planning and Development (DPD) requests the submission of proposals for the purchase and development of City-owned land at 7519-33 N. Ashland Ave. The property is located on the southeast corner of Howard Street and Ashland Avenue, one block east of the Howard Street CTA station and three blocks west of Howard Beach.

The property provides a unique opportunity for a mixed-use redevelopment project that supports the surrounding commercial and residential area.

Street Address: 7519-33 N. Ashland Ave., Chicago, IL 60626

Location: East side of Ashland Avenue between Howard Street to the north and Rogers Avenue to the south.
Zoning: B3-5 (5.0 FAR)

Ward: 49th (Ald.Joe Moore)

Development Goals and Objectives:

DPD is seeking creative proposals for a mixed-use development that would provide:


An active street presence with engaging ground-level retail that enlivens pedestrian experience in proximity to the site
A use or mix of uses that enhance neighborhood diversity and activity along Howard Street
One or more uses that takes advantage of the proximity to the Howard Street rapid transit station
An appropriately designed parking component to serve on-site uses
An innovative and environmentally-sustainable design that meets the City's Sustainable Development Policy requirements.
Site Description:

Size: 45,862 square feet (1.05 acres)
Shape: Pentagonal
Frontage: Approximately 120 feet along Howard Street and 340 feet along Ashland Avenue
Condition: Vacant
Zoning: B3-5 (Community Shopping District)

Target Price: $1.4 million

The target price is not a minimum bid, however, applicants are advised that purchase price is an important consideration in DPD's evaluation of responses to the RFP.

Good Faith Deposit:
10% of purchase price, of which 5% will be credited to the purchase at closing and 5% will be held as a performance deposit to be refunded upon issuance of a Certificate of Completion. The good faith deposit must be provided in the form of a cashier's or certified check. Please refer to the Offer to Purchase form provided in the addenda of the RFP.

Evaluation and Selection:
DPD will review proposals based on the evaluation criteria and submission requirements outlined in the RFP. Among the criteria to be considered will be: the completeness of the submission; purchase price, quality of the development and responsiveness to goals of the RFP; appropriateness of the proposed use relative to the surrounding community; proposed design; and the experience and financial capacity of the development team.

Key Dates:

Release of RFP: May 27, 2014
Pre-Submission Conference: 2 p.m. June 24, 2014 at City Hall, 121 N. LaSalle St. 1003A, Chicago
Response Due Date: 5 p.m. Aug. 29, 2014
COMPLETE COPIES OF THE RFP ARE AVAILABLE AT:
City Hall
Department of Planning and Development
121 N. LaSalle St. #1000
Chicago, IL 60602
Questions or comments about the RFP may be directed to jwilson@cityofchicago.org.